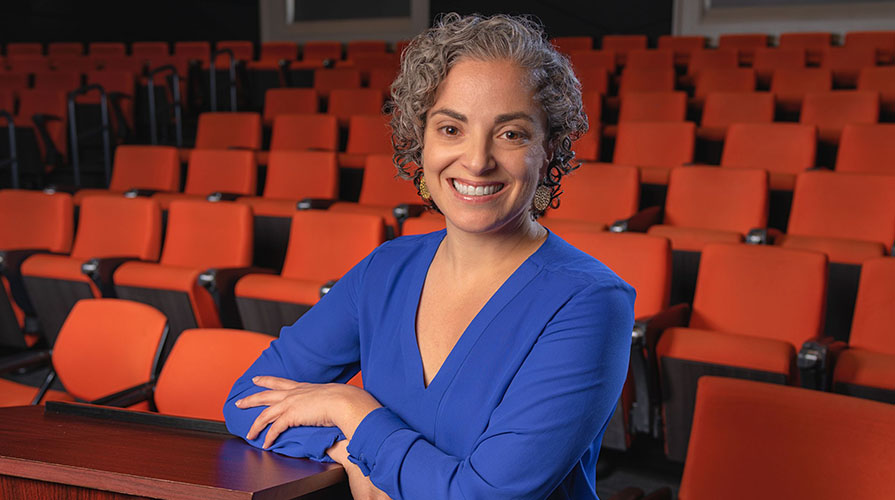 The associate professor of politics is heading the Center for Research and Scholarship (CRS), which supports, promotes, and builds community around faculty research, scholarship and professional achievement.
Jennifer Piscopo was appointed by Dean of the College Wendy Sternberg following a competitive application process among the Occidental faculty, and began her tenure on July 1, 2021. Piscopo succeeds founding director and David B. and Mary H. Gamble Professor in Religion Kristi Upson-Saia, whose post commenced in January 2017.
"Faculty at Occidental College are conducting cutting edge-research, influencing policy conversations, and setting new standards for artistic achievement, and I am so excited to help tell their stories," Piscopo says. "Three main objectives guide my work: supporting faculty at all career stages and on all contract types, expanding the resources faculty have to fulfill their research goals, and showcasing how Occidental faculty are transforming the liberal arts."
The CRS was launched in 2016 to create programs and resources for Occidental faculty with the goals of supporting faculty members as they conduct research, apply for research grants, and exhibit creative work and publish books and articles. The Center promotes faculty research internally and externally, builds intellectual community on campus, and sponsors events that celebrate faculty accomplishment. The Center also helps faculty better communicate the results and impact of their scholarship across and beyond campus. Approval for the establishment of the CRS came from former Dean of the College Jorge Gonzalez as part of the College's strategic planning process in 2015-16. 
Piscopo brings to the role of CRS director a wealth of experience as a researcher, editor, political consultant and public intellectual. She is an established scholar with a national and international reputation, having published 21 peer-reviewed research articles and 21 editor-reviewed articles or book chapters. She is a frequent commentator in the media, and her writing has appeared in The New York Times, The Washington Post, The Los Angeles Times, The Boston Review, Ms. Magazine, and The Smithsonian. She co-edits the journal Politics, Groups, and Identities, and she serves on the Editorial Advisory Boards for The American Journal of Political Science, Politics & Gender, The European Journal of Politics and Gender, and Political Studies Review. Recently for UN Women, she authored two reports on women leaders and COVID-19 response and recovery.
Piscopo looks forward to supporting the research and creative endeavors of Occidental faculty across the disciplines. She will continue existing CRS programs and expand the CRS's support for faculty in several new areas, including restarting or reorienting research affected by COVID-19, research on teaching and learning, working with undergraduate research assistants, working with the media and writing op-eds, and conducting policy-oriented research, community-based research and interdisciplinary work.