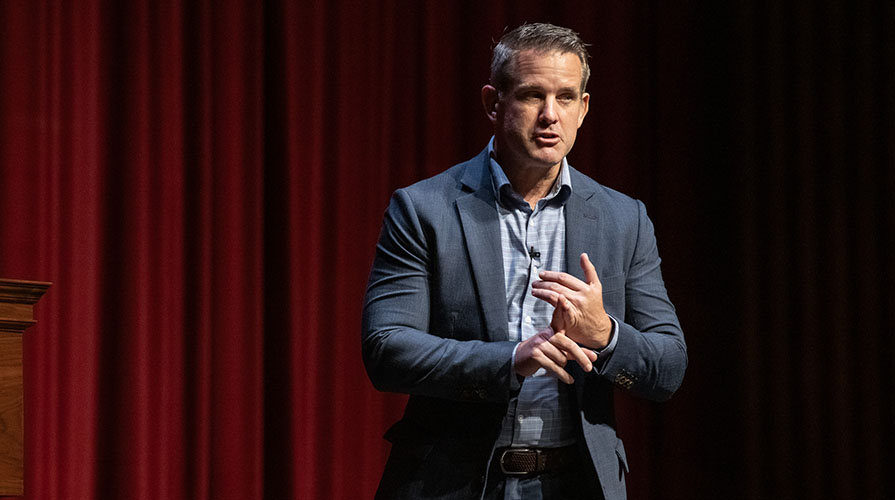 Adam Kinzinger, a former congressman and member of the Select Committee that investigated the January 6, 2021, attack on the U.S. Capitol, made his case for the protection of democracy and stressed the importance of the 2024 presidential election in a spirited address as Occidental College's 2023 Jack Kemp '57 Distinguished Lecturer.
"We're going to be going through an election season, and it's going to be pretty messy," Kinzinger said on Thursday, Sept. 7 to an audience of more than 300 in Thorne Hall that spanned eight decades of alumni, including contemporaries of Kemp's from the 1950s. "But the one thing I want you to keep in mind through all of that is that there has to be an alliance for the preservation of democracy that's basically never existed in our country before. … Disagreeing on issues is actually a luxury. Being able to have different viewpoints is actually an honor, because that's what it means to be self-governed."
The Kemp Lecture Series, made possible by the Jack Kemp '57 Scholars Endowment, strives to engage the Occidental community in dialogue on important issues of public policy such as the political economy, economic growth in the context of a market system, communitarian values, and bipartisan relations.
In his introduction, Peter Dreier, the E.P. Clapp Professor of Politics, suggested a kinship between Kinzinger and Kemp. "Jack Kemp was a conservative, a Republican, and a man of conscience, just like our speaker today," he said. Kinzinger "recognizes the difference between conservatism and authoritarianism. He's the kind of conservative who reflects the values of Jack Kemp."
Following his remarks, Kinzinger—a senior political commentator at CNN and author of the forthcoming book Renegade: Defending Democracy and Liberty in Our Divided Country—engaged in a dialogue with Assistant Professor of Politics Isaac Hale '11 around topics such as U.S. foreign policy, the political fallout from Kinzinger's vote to impeach President Donald Trump, and the future of the GOP. He later took questions from the audience.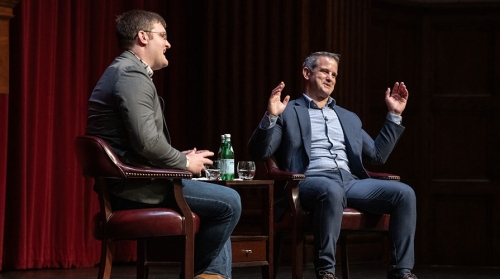 Prior to his election to Congress, Kinzinger served in the Air Force in both Operation Iraqi Freedom and Operation Enduring Freedom. As a Republican, he served six terms in the U.S. House of Representatives from 2011 to 2022, representing Illinois' 16th Congressional District. He was a member of the House Committee on Energy and Commerce and the House Foreign Affairs Committee, where he served as Ranking Member of the Subcommittee on Europe, Eurasia, Energy and the Environment in the 116th Congress. He rose to national prominence as a member of the Select Committee to Investigate the January 6, 2021, attack on the U.S. Capitol. 
"The rot on January 6 is everything that happened prior to that," Kinzinger said. He called his decision to impeach Trump—one of only 10 Republicans to do so— "actually the easiest decision I've ever made in my life. …  What was hard was knowing what the cost was going to be and just steeling myself for it." As a new father at the time, he said, "I knew [my son] would be ashamed to be a Kinzinger if I would have sold out at that moment."
While Kinzinger feels "vindicated" by his vote to impeach Trump in light of the former president's ongoing legal battles, "I truly don't celebrate the indictment of Donald Trump because I'm worried about the third of the country that truly believes the election was stolen." If he had believed that, he added, "I would have been on the Capitol [among the protesters] on January 6."
For about three weeks after January 6, Kinzinger said, "There was dead silence" among his colleagues in the Republican Conference. "We would meet, and nobody knew what to do. And I'm out there saying, 'It's time for us to vomit this guy out of our soul and just move on.'" After Representative Kevin McCarthy (R-CA) showed up at Mar-a-Lago, he said, "On a dime, the conference changed, and now people started defending Donald Trump again."
During his talk, Kinzinger revealed, perhaps for the first time, that he will "probably" vote Democratic in the 2024 election. For now, however, he said, he's not shedding his label as a Republican "because I haven't changed and I refuse to let them bully me out of the label. But I feel no identity with the Republican Party anymore because it is not something that I see eye-to-eye with."
The only way to save the Republican Party, he suggested, is for the GOP "to burn"—and by that he means lose election after election. "It's out of the ashes that it can rise again, but short of losing more and more elections, this fever will not die." The only way he sees Trump not getting the Republican nomination in 2024, he added, "is if he actually goes to trial and is convicted. I do think an actual conviction in a public trial will have an impact."
Looking to the 2024 election, he said, "There's a lot of big issues out there. But the only thing I care about personally, this election cycle, is do you believe in democracy or not? Do you believe that self-governance is important to this country or not? If you're an American in here, we don't have a right to give up on this country because there have been generations that have come before us that have sacrificed so much more than any of us in here could ever imagine."
Turning to the students in the audience, he continued, "If you're young and you're looking forward and you're saying, 'What is going to be my future? Politics is broken, everything doesn't work, and nobody gets along.' Well, that's true. But I'm going to tell you, we've been in a similar situation like this before. And it hasn't been the people in power that have come along and changed it. It's been the people sitting where you're sitting right now that are pissed off at what's going on and want to do something different.
"Some of you out there have solutions or ideas that none of us have even thought about yet," he continued. "You're part of the generation that can take this torch and fix this country. The challenge you have is you've never seen an environment where actual politicians got along. Jack Kemp was one of those guys. He knew how to respect people. He knew how to honor the fact that somebody could be very different" in their beliefs.
"You can be as negative on the country as you want, but you will be the generation that changes everything," he told Oxy students. "I truly believe that if my grandfather [an Army Air Corps sergeant in World War II] was alive today and he could tell you what he went through and what he saw and the sacrifices he made for this country, he would look at you and say, 'If I can do that, you can do it too.'"