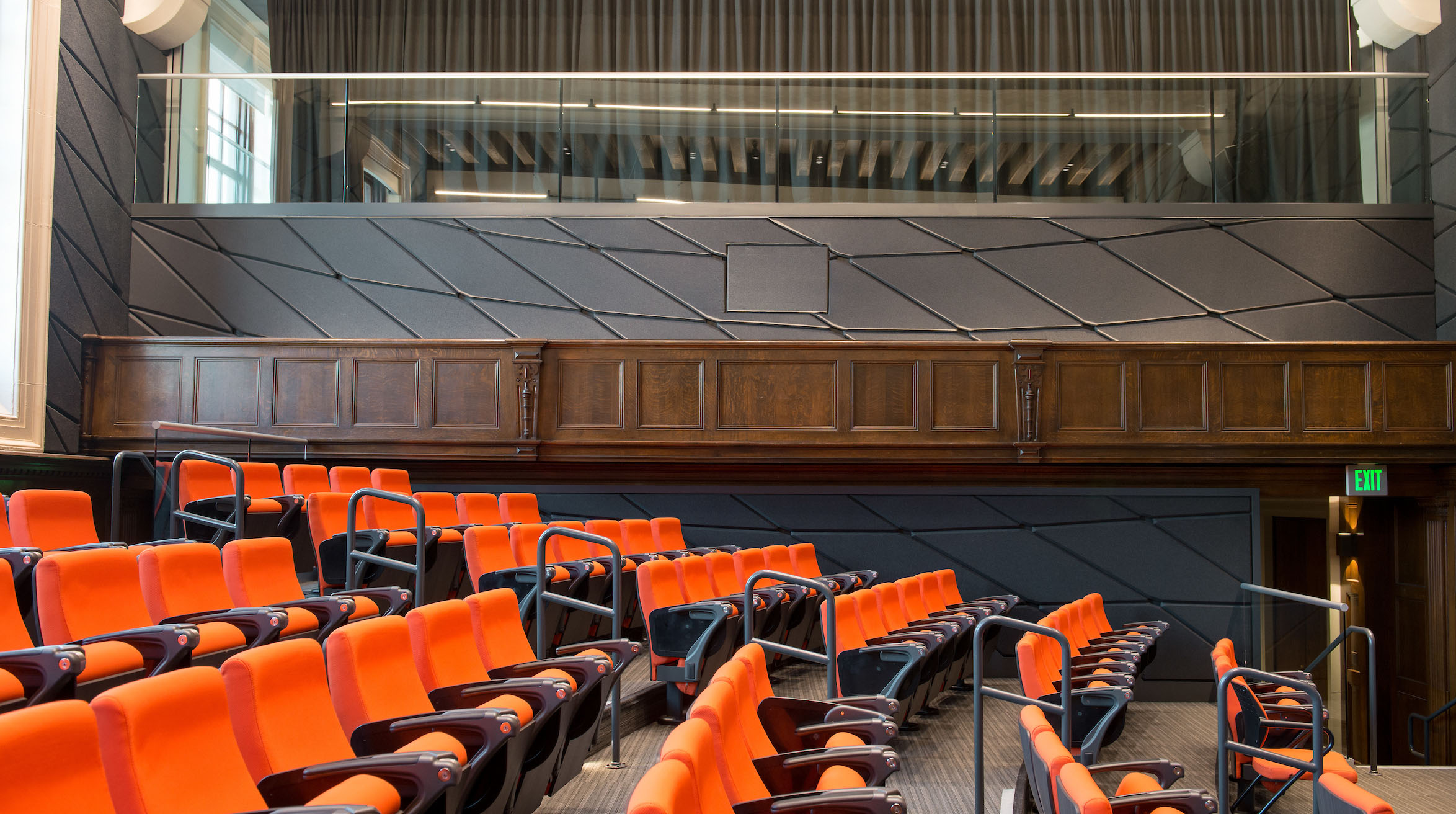 The longstanding annual tradition is being reactivated with a full series of in-person events for the first time since the start of the pandemic.
An innovative event series of film screenings and discussions moderated by Media Arts & Culture (MAC) faculty, MAC Cinematheque is designed to bring together the College and Los Angeles communities around the chosen topic, representational issues, and media forms. 
The series is organized around a new theme each year. For 2022-23, the theme is "Oxy Creates," the first time the series has focused solely on media and scholarship produced by Oxy faculty and alumni. The sub-theme for Fall 2022 is "Oxy Creates: Films by Occidental Alumni" which will include alumni guests returning to campus for three evening events, all of which are free and open to the public.
"We are proud to have continued the MAC Cinematheque series during our semesters of remote teaching," says Professor of Media Arts & Culture Broderick Fox. "Prof. Vivan Lin's completely virtual 'Oxy Cinematheque: Media Activism through Participatory Video' series was a real feat, and provided a vital space of Oxy community connection and engagement during those challenging times. But it's so exciting to be returning to fully in-person events, and it seems very fitting to do so by celebrating the work of Oxy's own alumni and faculty."
The first event is a Wednesday, September 14 screening of the new feature film God's Country (2022). Executive Producer Anthony Ciardelli '10 will be joined by writer/director Julian Higgins, co-writer Shaye Ogbonna, and producer Haylee Bernard for a post-screening conversation moderated by Assistant Professor of Media Arts & Culture Aleem Hossain. The event is at 7 p.m. in Choi Auditorium and features a pre-screening reception with light refreshments at 6 p.m. outside the auditorium.
Next is a Friday, October 21 screening of feature film The Climb (2019), which filmmaker Michael Covino '08 directed, co-wrote, co-produced, and starred in. The film had its world premiere at the Cannes Film Festival in 2019, where it won the jury's Coup de Coeur prize, and went on to screen at the world's leading film festivals in advance of a critically-acclaimed global release. The screening will be followed by a Q&A with Covino, moderated by Prof. Fox. The event is at 6 p.m. in Choi Auditorium.
The third fall event is a Thursday, November 10 screening of a newly remastered version of cult classic Cherry 2000 (1987). Director Steve De Jarnatt '74 will be in attendance for a post-screening conversation moderated by Associate Professor of Media Arts & Culture Allison de Fren. The event is at 7 p.m. in Choi Auditorium.
The sub-theme for Spring 2023 will be "Oxy Creates: Media and Scholarship by MAC Faculty," and will include screenings of Prof. Fox's latest documentary Manscaping (2022) and Aleem Hossian's feature film After We Leave (2019).
Past MAC Cinematheque themes have included "The Art and Politics of Virtual Reality," "Transnational Encounters," "Science/Fictions," "Video Art and Activism," "Remix, Reuse, Recycle!" "What is Black Cinema?" "Digital Tools for Radical Change," and "Breaking Interactivity."
The series is sponsored by the Media Arts & Culture Department (MAC) in collaboration with Institutional Advancement and Alumni and Parent Engagement, with support from the Mellon Arts & Technology Grant.
*Surgical grade or higher masks (N95, KN95, KN94) must be worn in the auditorium.