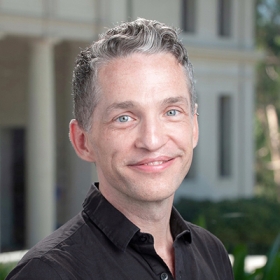 Professor, Media Arts & Culture
B.A., Harvard University; M.F.A., Ph.D., University of Southern California
Hours:
By Appointment Tuesday 3:15-4:15; Wednesday & Friday 10:30-11:30 (in-person or via Zoom)
Broderick Fox is a media practitioner and scholar whose creative work, teaching, and scholarship engage media production, documentary studies, media aesthetics, and the potential for digital media technologies to expand voice and produce social change.
His award-winning documentaries, including recent titles The Skin I'm In and Zen & the Art of Dying, foreground queer bodies, identities, and stories, including his own.  He works as a film and video editor, and his critical writing has appeared in various anthologies and journals, including Film Quarterly and Spectator. Fox's book Documentary Media: History - Theory - Practice (Routledge) is now in its second edition.