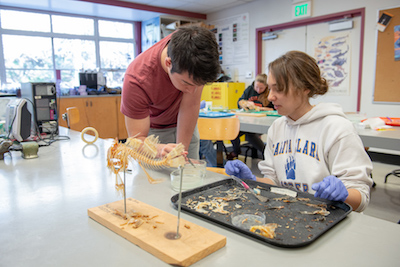 Occidental biology professor Dan Pondella has received a $346,916 grant from the National Science Foundation to digitize the College's unique fish and marine invertebrates collection and give researchers worldwide access to it.
The three-year grant, which will fund in September and run through 2021, will upgrade and digitize the Vantuna Research Group (VRG) collection of roughly 686,000 specimens, integrating the collection into the Moore Laboratory of Zoology (MLZ). The collection is currently housed on the first floor of the Moore Lab. The large collection of fish and marine invertebrates has always been curated and managed separately from the bird and mammal collections above it.
The VRG has been collecting specimens from coastal Southern California for five decades. The specimens in the VRG marine biodiversity collection contribute to a wide range of scientific research as well as play a crucial role in undergraduate coursework. The VRG marine fish, invertebrate and plankton collection has been instrumental in supporting research efforts on a variety of taxonomic and life history studies. Dozens of papers have been published that have utilized the collection. By migrating the catalog to an online database, the collection will become available to a much broader research community. In addition, all specimens will be made available for loan at no cost to researchers. 
"This grant is instrumental for integrating the fish collection with the MLZ bird and mammal collection and the Cosman shell collection," said Pondella, director of the VRG. "This will be the next step in linking our internationally known marine field programs led by the Vantuna Research Group with MLZ and the new Fletcher Jones Genomics Center, and really is an indication of the early success of the vision we have for the Anderson Center for Environmental Science." Assistant biology professor Amanda Zellmer and Moore Lab collections manager James Maley co-wrote the grant proposal. 
The specimens not only encompass the full spatial extent of the Southern California rocky reef ecosystem, but also represent over 40 years of monthly collections. Thus, these specimens provide a unique opportunity for long-term assessment of the region in the face of global environmental changes.
"By making these specimens and their associated data more accessible, we hope to increase research on the impacts of ocean warming and acidification on ecological communities. These are timely and imperative research issues that require immediate attention," Pondella wrote in the proposal.