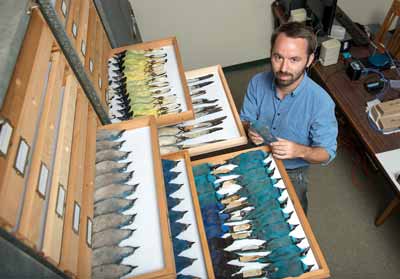 Occidental assistant professor of biology John McCormack, director of the Moore Lab of Zoology, has received a five-year National Science Foundation CAREER grant of $787,000 to fund a project that will look at how human-caused habitat change has affected birds across North America.
"The project will define the Moore Lab and Occidental's work in the environmental sciences over the next five years and beyond," McCormack said of the research, which will examine both birds' genomes and their distributions. The Cornell Lab of Ornithology, as well as Mexican collaborators, will be working with the Moore Lab on the project.
Genomics of Moore Lab specimens collected from 1933 to 1955 will be compared to modern specimens collected after 1980 to understand how the genomes of 20 bird species have changed in response to dramatic changes to their habitats.
Complementing the genomics will be an international citizen-science effort called the Mexican Bird Resurvey Project (MBRP). The MBRP will work with eBird to compare bird distributions from specimens and historical field notes to modern observations from citizen-scientists to assess distributional change in bird life on a countrywide scale.
This project will leverage the renowned Mexican bird collection at the Moore Lab, including 49,000 specimens collected at 300 sites across Mexico by a single collector, Chester C. Lamb. "This kind of research shows the importance of natural history collections. Lamb's specimens are a snapshot in time of the biodiversity of Mexico from a time period when habitats were largely intact. Some of these sites are at the bottom of a reservoir now or simply wiped off the map," McCormack said.
CAREER grants sponsor the integration of teaching and research, and undergraduates will be contributing to this important work. Occidental students will collect DNA from Moore Lab specimens in the new, state-of-the-art Genomics Center and Ancient DNA Lab to be built in the coming years. McCormack, Moore Lab staff and students will also be carrying out 15 expeditions to Mexico to resurvey sites, bringing along a videographer and others in the humanities who will document change from a narrative perspective.
"This study will give us the opportunity to explore ecological and evolutionary change over historical time periods of dramatic habitat alteration," McCormack said. "The result will be a better understanding of how — and if — animals can cope with habitat destruction. With data on their locations, we can see whether they move or whether their ranges shrink. And now, with new molecular technologies, we can see if evidence of change is also recorded in their DNA."