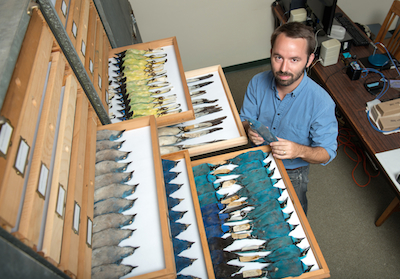 Occidental's Moore Laboratory of Zoology has received a total of $1.15 million in grants from the Fletcher Jones Foundation and the Keck Foundation to transform the 65-year-old lab into a state-of-the-art genomics center. Together with a $1.8-million grant from a generous anonymous alumnus, the College has raised $2.95 million in new funds to makeover the Lab. 
The $750,000 grant from the Fletcher Jones Foundation will be used to renovate the second floor of the Lab and establish the Fletcher Jones Foundation Genomics Center.
"This new center will allow us to make Occidental's distinct collections of birds [Moore Collection] and shells [Cosman Collection] a centerpiece of our curriculum on biodiversity," says Occidental President Jonathan Veitch. "At the same time, it will enable our students to gain valuable skills for the workplace and graduate school while they work alongside faculty on cutting-edge research in a modern laboratory."
Specifically, the new center will give students hands-on experience with new DNA-sequencing equipment, novel molecular techniques and computational skills. One focus will be on mining DNA from preserved biodiversity specimens (i.e., "museum genomics"). Museum genomics has the power not only to tell us about biological diversity today, but about how that diversity has changed over time due to natural causes and those mediated by humans.
"Natural history collections are time capsules," says Moore Lab Director John McCormack. "They record a snapshot in time of what our natural world was like 10, 50, 100 years ago. Accessing the genomes of these historical specimens is now possible and will be the work of Occidental students and staff."
In addition to the funds from the Fletcher Jones Foundation and the anonymous alumnus, the Keck Foundation has contributed $400,000 for the new center, and a previous grant from the National Science Foundation added $400,000, in part for new specimen cases. Funds from the Keck Foundation will be used to purchase new equipment for the Genomics Center and will go toward a new research vessel for the marine biology program. This will increase the capacity of the program to take larger numbers of student researchers offshore to conduct field research and collect samples that will be examined through genomic analysis in the newly equipped laboratory.
Proposed programming will merge the College's natural history collections and Southern California field biology programs with genomics research. The goal is to give students increased understanding of the scientific process and hands-on skills in new technology and bioinformatics that they can take on to graduate school and professional work.
"For a small liberal arts college to have two world-class collections is very rare," says Veitch. "Thanks to the generosity of the Fletcher Jones and Keck foundations and our generous alumnus, we can move ahead with our plans to build an environmental science program that takes advantage of our unique location at the intersection of ocean, mountains and desert."