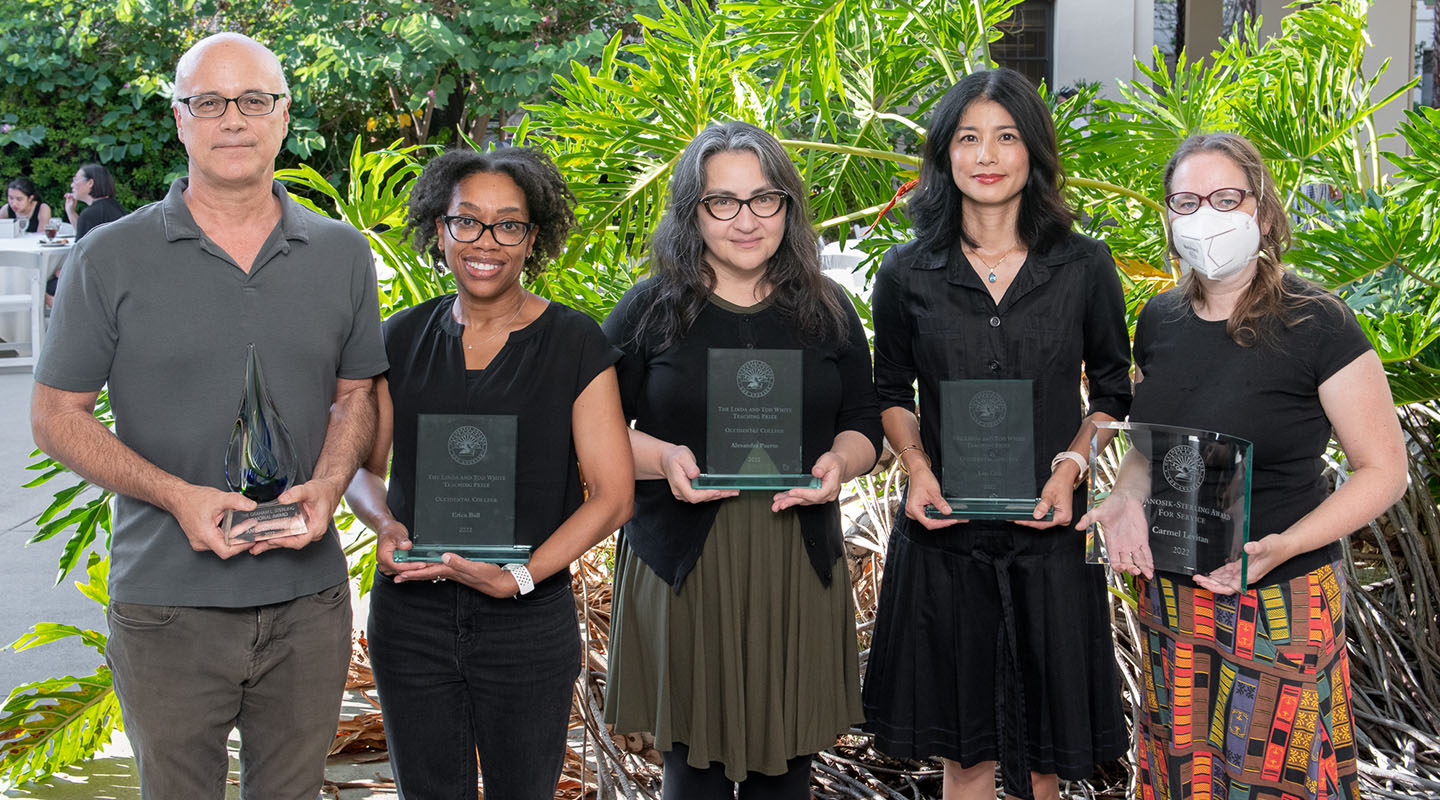 Five Occidental College professors were honored for exceptional teaching, scholarship and service Sept. 13 in the College's annual faculty awards ceremony.
Anthony Chase, professor of diplomacy and world affairs (DWA), was presented with the prestigious Graham L. Sterling Memorial Award, established in 1972 to recognize a faculty member with a distinguished record of teaching, service and professional achievement.
Erica Ball, Mary Jane Hewitt Department Chair and professor of Black studies; Lan Chu, professor of DWA; and Alexandra Puerto, associate professor of history and Latinx and Latin American studies, received the Linda and Tod White Teaching Prize, which is based on student nominations. It has been presented since 2008 thanks to the generosity of Linda and Tod White '59.
Carmel Levitan, professor of cognitive science, was presented with the Janosik-Sterling Award for Service to the College, created in 1993 to honor the memory of politics professor Robert Janosik.
In nominating him for the Sterling Award, Chase's faculty colleagues cited his record of teaching excellence, dedicated service to the Oxy community, and his scholarly achievements. Dean of the College Wendy Sternberg noted that his nominations came from faculty across the sciences, social sciences, and arts and humanities. "The high esteem in which his colleagues hold him speak to the impact of his work across the College," Sternberg said.
In recognition of his scholarly expertise on international human rights norms in the Muslim world, Chase was appointed as an associate editor of the Muslim World Journal of Human Rights, invited to edit a field-defining volume, and selected secretary of the International Studies Association Human Rights Section. As a campus leader, he has served as DWA chair, Faculty Council president, and director of the Young Initiative on Global Political Economy. "His teaching has been praised by his students and colleagues, in part for innovations in teaching that benefit not only Oxy's students but the city of Los Angeles" through the faculty-led task forces he created to address Sustainable Development Goals, Sternberg said.
Ball, one of the winners of the White Teaching Prize, was praised not just for her classroom instruction, which is described as passionate, engaging, and socially, politically, and personally relevant, but for her mentorship and encouragement. Students describe her office and her classroom as a space where they can find guidance to "embrace the joy of intellectual work," "navigate an incredibly stressful and demanding time in my life," and to "develop intellectual contributions that I felt proud of and invested in."
The students of Chu, the second White Teaching Prize winner, consider her to be a transformational and inspiring figure for her teaching, mentorship, and advising. She has taken her own experiences as a first-generation college student who attended a large university and created an approach and a teaching philosophy that provides to her students what she didn't get from her own undergraduate experience. As one student said, "When one steps foot into Professor Chu's class, they know it's going to be work. Her classes will never be an 'easy A,' but they will be some of the most rewarding classes to take at Oxy."
Puerto, the third White Teaching Award winner, was described by one student as "a passionate, hard-working, organized, knowledgeable and brilliant professor." Another wrote "I came to know Professor Puerto as not only a skilled, innovative, and experienced educator, but also a caring, kind, and gracious human being. Even after my graduation, she continues to inspire me as a role model in higher education." A third said that "Professor Puerto's intellectually stimulating courses, our charlas, breadth of knowledge, and mentorship have played a fundamental role in my passion for learning …"
Levitan's multiple nominations for the Janosik-Sterling Service Award paint a picture of the complete faculty member--an outstanding teacher, scholar, and college citizen," said Sternberg. "Carmel leans into all of her service assignments, and doesn't just serve. She leads. And she leads with compassion, clarity, and a commitment to the College's cornerstones." 
That has been particularly true of her work as director of Oxy's Center for Teaching Excellence. "In this role, Carmel led the charge in Spring 2020, helping faculty help students cope with the deaths of two students early in the semester, and then remarkably, in collaboration with colleagues in the Library and Student Affairs, to shepherd the academic program through the transition to emergency remote learning during the pandemic," Sternberg said. "She then helped plan remote learning in a way that preserved the most essential elements of the Oxy experience for our students."