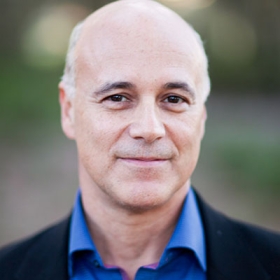 Professor, Diplomacy and World Affairs
B.A., UC Santa Cruz; M.A.L.S., Columbia University; M.A.L.D., Ph.D., Fletcher School of Law and Diplomacy
Anthony Tirado Chase's research and teaching interests focus on human rights, the work of international organizations, and the politics of the Middle East and broader Muslim world.
Anthony Tirado Chase is a professor at Occidental College and chair of its Young Initiative on the Global Political Economy. Chase has published widely on human rights in the Middle East and globally.  His more recent work has focused on city-level action, especially in projects with the L.A. Mayor's office on translating global norms – from human rights, the Sustainable Development Goals, and transitional justice – into local policy. In particular, he has led work on how to conceptualize Truth and Accountability processes around racial injustice both locally in Los Angeles and across the United States.  A Colombian-U.S. dual citizen, that has inspired him to do field research in Colombia to contribute to his next project on lessons U.S. activists can learn from social movements focused on human rights and transitional justice in the global south, including Colombia, Tunisia, Egypt, and Morocco. Reflecting the transitional connections that inform this work, Chase serves on the Boards of the Cairo Institute for Human Rights Studies' Rowaq Arabi journal; Procesos Pacíficos, which initiates community-focused Truth and Accountability processes in cities across Mexico; and The U.S. Human Rights Cities Alliance, which is leading efforts in the United States to integrate human rights into city governance.
These various strands and their interconnections are all represented in Chase's most recent book, the co-edited Human Rights at the Intersections: Transformations through Local, Global, and Cosmopolitan Landscapes (Bloomsbury, 2023). In addition to numerous articles, his previous books are Handbook on Human Rights and the Middle East and North Africa (Routledge, 2017), Human Rights, Revolution, and Reform in the Muslim World (2012), and Human Rights in the Arab World: Independent Voices (co-edited with Amr Hamzawy, University of Pennsylvania Press, 2006). Chase has received Harvard Law School, Fulbright, and U.S. Institute of Peace fellowships, among others, and has worked with transnational non-governmental organizations across the globe, as well as with the World Health Organization, the United Nations Development Program, and the Office of the High Commissioner for Human Rights.
Events
View two panels on sexuality and rights that Professor Chase organized and chaired at Occidental:
2018 Occidental Graduation Speaker, Sara El-Amine -- introduced by Professor Chase. Make sure to watch Sara's amazing speech (10 minutes)