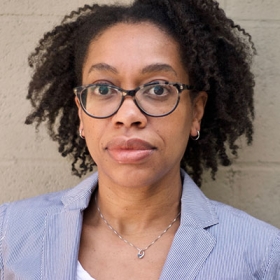 Mary Jane Hewitt Department Chair in Black Studies; Professor of Black Studies
B.A., Wesleyan University; M.A., Ph.D., The Graduate Center, City University of New York
Department Co-Chair, Black Studies
Erica L. Ball is a historian who specializes in nineteenth and twentieth-century African American history.
Her research explores two overlapping areas: she analyzes the ways African Americans have placed visual, print, and other forms of cultural production in the service of the long freedom struggle, and she examines the ways African Americans have engaged the popular memory of slavery, the abolitionist movement, and the Reconstruction era.
Ball is the author of two books. Her first book, To Live an Antislavery Life: Personal Politics and the Antebellum Black Middle Class (Georgia, 2012), interrogates the links between early nineteenth-century African American advice literature, antislavery activism, and African American processes of middle-class self-fashioning in the antebellum North. Most recently, she published Madam C. J. Walker: The Making of an American Icon (Rowman & Littlefield, 2021), a cultural biography of the groundbreaking African American hair-care pioneer, businesswoman, and philanthropist.
Erica Ball has also published two co-edited volumes. Co-edited with Kellie Carter Jackson, Reconsidering Roots: Race, Politics, and Memory (Georgia, 2017), assesses the ways that Alex Haley's wildly popular book and its 1977 television adaptation recast representations of slavery and the Black family, reflected on the promise of freedom, and generated discussion about race, gender, violence, and power in the United States and abroad. Her most recent collection, As If She Were Free: A Collective Biography of Women and Emancipation in the Americas (Cambridge, 2020), was co-edited with Tatiana Seijas and Terri L. Snyder. This sweeping and groundbreaking volume brings together the biographies of twenty-four women of African descent to reveal how enslaved and recently freed women sought, imagined, and found freedom from the sixteenth through the nineteenth centuries. The editors of Black Perspectives included As If She Were Free on their list of "The Best Black History Books of 2020."
Ball is currently writing a new book called Slavery in the American Imagination. The project tells the story of the contested popular memory of slavery in the twentieth-century United States and shows how African American activists, artists, and public intellectuals brought the fight against racism to the battlefield of popular culture.  
Courses Taught
CSP 56 – Race and Popular Culture
BLST 101 – Introduction to Black Studies
BLST/HIST 207 – Survey of African American History
BLST/AMST 256 – Race Women: African American Women's Protest Culture
BLST/AMST 268 – Style Politics: Beauty and Fashion in Black Women's History
BLST/AMST 376 – Slavery, Freedom, and American Memory
BLST 490 – Senior Seminar