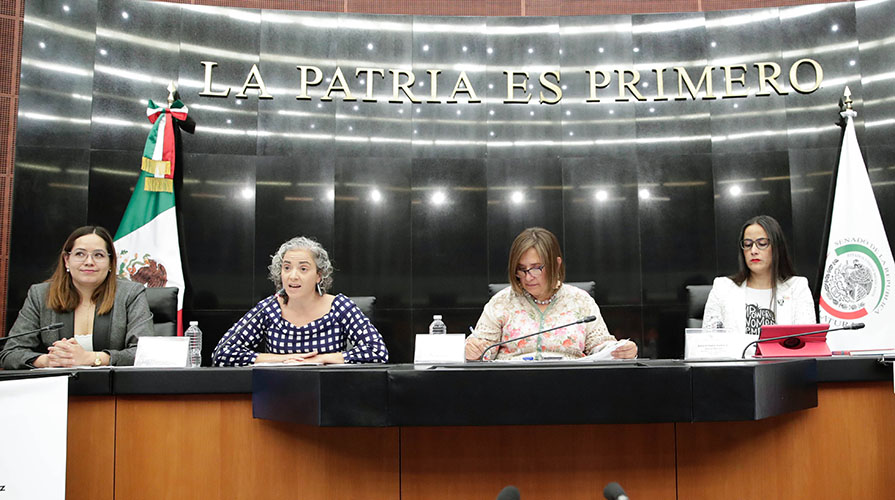 Associate Professor of Politics Jennifer Piscopo recently presented at the Mexican Senate in Mexico City on her work related to women's political representation.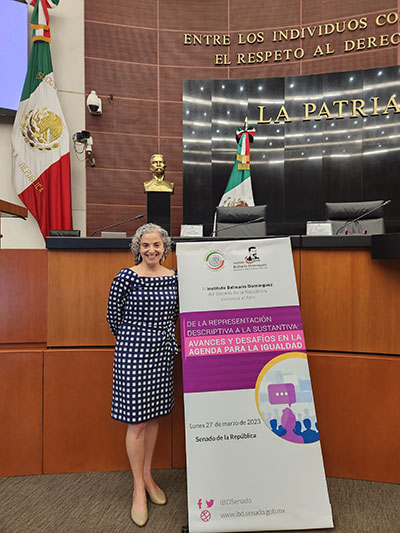 On March 27, the Belisario Domínguez Institute—a research organization that is part of the Mexican Senate—organized a public roundtable in the Mexican Senate. The roundtable marks Mexico's accomplishments in electing women and was entitled "From descriptive to substantive representation: advances and challenges on the agenda for gender equality."
Piscopo was one of the featured panelists, along with researcher Dr. Lorena Vázquez Correa, Judge Maria Silva Rojas of Mexico's electoral court, and Senator Xótchil Gálvez Ruíz from the PAN Party (National Action Party), one of the leaders of the 'gender parity in everything' reform in Congress. The event was livestreamed on the Congress's cable and internet television channel.
"For me, it was an honor to be present and to highlight the ways in which Mexico has led Latin America and the globe in achieving gender equality in political representation," says Piscopo. "Mexican women in Congress and in the courts have fought many battles to ensure they have equal chances as men to be elected. The political parties have not always wanted to share the nominations, but when women occupy half the seats in Congress, and everyone sees them working and governing alongside the men, it's very difficult for parties to say they don't have the capacities and strength to lead."
Mexico ranks fourth in the world for the number of women in parliament, and it is ranked first among the world's democracies on this same metric. Women hold 50% of seats in the upper and lower house of Congress. In 2019, Mexico passed a landmark constitutional reform called "gender parity in everything," which requires that women hold 50% of the seats in all posts in the legislative, executive and judicial branches.
Piscopo's research on representation, gender quotas, and legislative institutions in Latin America has appeared in leading academic journals and several edited volumes. She has extensive research, travel, and speaking experience in Latin America and Europe. Along with coauthor Vázquez Correa, Piscopo has a forthcoming paper in the International Feminist Journal of Politics on the subject of gender parity in everything.