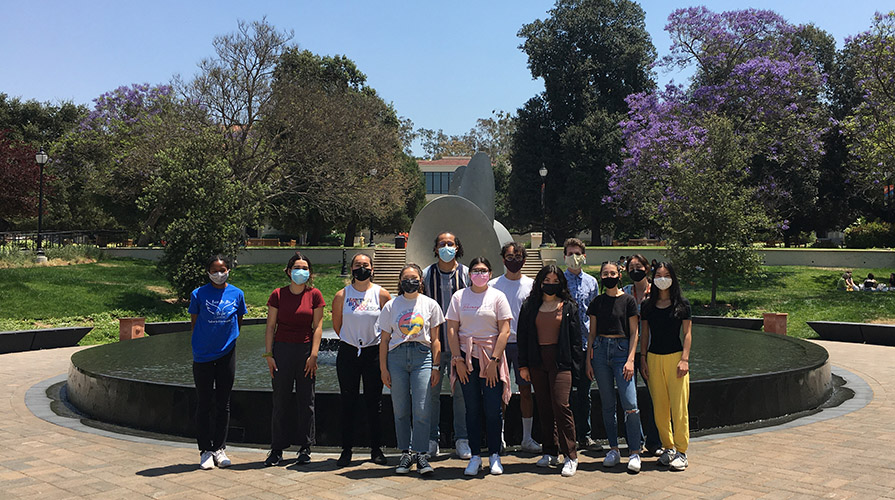 A three-year, $247,500 grant from the Sherman Fairchild Foundation will fund Occidental's latest effort to increase the number of academically talented underrepresented and first-generation students pursuing degrees in the sciences.
Paired with funding from the College, the new grant will make possible the launch of the new Research Early Access Program (REAP). Addressing a gap in Occidental's annual Summer Research Program, REAP will target qualified students during their first year and encourage them to maintain and develop an interest in science through their participation in an immersive summer research experience.
For the past five years, the Creating Opportunities in Science and Mathematics for Occidental Students (COSMOS) program, funded by the National Science Foundation, has provided financial support and mentoring to talented and financially needy students interested in science, technology, engineering and mathematics majors. But participants have to be sophomores to be eligible.
"Early hands-on research opportunities give students the chance to participate in science as it is truly practiced," says Associate Professor of Philosophy Clair Morrissey, who as faculty director of the Undergraduate Research Center is leading the program with Associate Professor of Chemistry Emmanuelle Despagnet-Ayoub. "These programs enhance learning through close mentoring relationships with faculty and develop students' critical thinking, creativity in problem-solving, and intellectual autonomy."
The first cohort of 12 REAP students from the entering Class of 2025 is already living and working on campus as participants in the Summer Research Program
Over the next three years, REAP will be able to serve a total of 45 first-year students in biology, chemistry, biochemistry, geology and physics by participating in faculty-mentored research, including participation in summer research and the associated conference.
In addition to research opportunities, REAP students will have access to trained peer mentors and participate in a speaker series featuring young science alumni and science faculty. "Through this program, we want to nurture a sense of belonging and encourage the development of STEM identity with area group discussions, peer mentor training and year-round programming," Despagnet-Ayoub says. "Building a cohort that can share, collaborate, and help each other over the years with the ultimate sense of being part of the science community at Oxy is central."
REAP will help meet a strong demand for this kind of program. Over the past three years, 79 percent of first-year underrepresented students took at least one science course. Students in these courses included 60 percent of Pell Grant-eligible and 62 percent of first-generation students.
A signature component of an Occidental education, undergraduate research dates back to the 1950s. The College's Undergraduate Research Center (URC), founded in 1998 with NSF support, won the Council on Undergraduate Research's Campus-Wide Award for Undergraduate Research Accomplishments in 2019. Over the past two decades, more than 2,100 Oxy students have engaged in summer or academic-year research in the sciences, social sciences and humanities under the auspices of the URC.