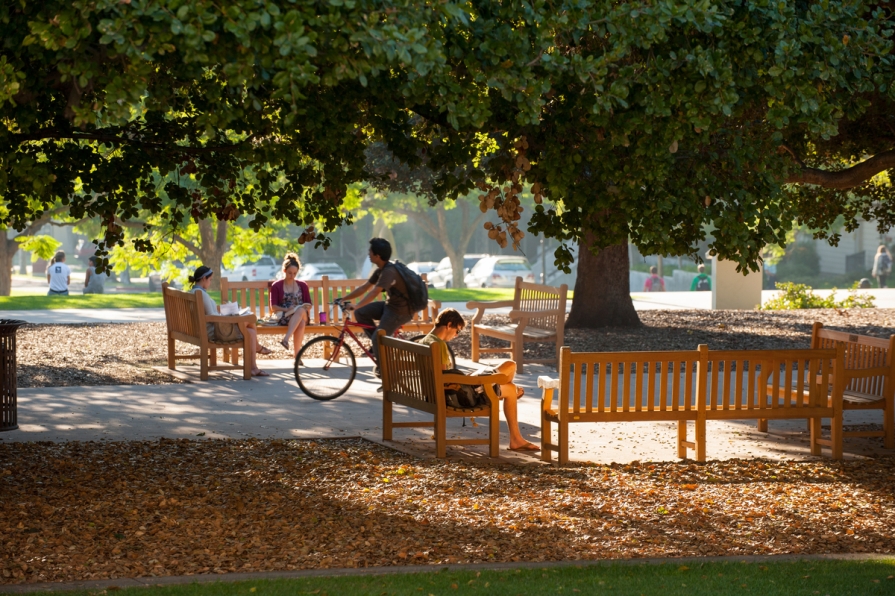 Got questions? We've got answers.
Limited on-campus parking is available for overnight guests (get a permit from your program staff at check-in).
Unless otherwise directed, day guests may park in the Visitor and Admission / Collins House Parking lot.
There is free public street parking on and around Campus Road.
Occidental College Driving and Parking Regulations
Please do pack these items:
Toiletries and personal care items
Comfortable clothes for warm weather
Sweater or jacket for evenings or air conditioning
Comfortable walking shoes
Clothes hangers
Money for laundry, souvenirs, and incidental expenses
If you have room in your luggage... your favorite pillow and a beach towel
Please do not bring these items:
Candles, incense, or anything with an open flame
Appliances with heating elements: Hot plates, coffee pots, toaster ovens, space heaters, air conditioners, halogen lamps, or anything that uses over 800 watts of electricity (hair dryers are okay)
Animals (please notify your program organizer if bringing a service animal)
Skateboards, roller skates, rollerblades, scooters
Mylar or helium balloons
Valuables
Dorms and rooms are secure and require keycard for access. Each overnight guest receives one key card that opens the exterior door to the dorm, and their assigned guest room.
Most programs include linens. Check with your program organizer to see if linens (pillow, sheets, towels) are provided for your group.
Guest room furnishings:

Bed (twin extra-long)
Desk + chair
Dresser
Mini microwave + fridge ($350 fee if not clean at checkout)
Dorm lounges and community restrooms are cleaned daily.
Guest rooms are cleaned prior to check-in; you are responsible for keeping your room tidy during your stay.
All residence halls have laundry rooms with washers and dryers.
Equipment is available for resident use, only.
Use of equipment is free and requires no special access; simply push the button to use.
Residents must provide their own detergent (available at the College Bookstore).
Regular meal service takes place at the Marketplace, on the 2nd floor of Johnson Student Center.
Present your key card to enter the Marketplace, or pay cash at entry.
Marketplace meal service is "all-you-care-to-eat."
No food or equipment may be removed from the dining room (there is no "to go" option).
Sorry, non-paying guests may not join other diners in the Marketplace.
The Marketplace is allergen, vegetarian, vegan and gluten-free conscious. Vegetarian, vegan and gluten free offerings are available at every meal. Standard labeling at stations includes the following:
V = Vegetarian → Contains no dairy or egg products
L = Lacto → Contains dairy products
O = Ovo → Contains egg products
SF = Contains shellfish or shellfish ingredients
GF = Gluten-free
Nuts = Would identify specific nut(s)
Examples:
Meatloaf = (O) due to egg
Chicken Caesar Salad = (L)(O) due to dairy and egg products
Vegetarian items may be any combination:
(V) = Vegan
(V) (L) = Vegetarian, contains dairy
(V) (O) = Vegetarian, contains egg
(V) (L) (O) = Vegetarian, contains dairy and egg
We serve a few peanut or nut containing items that are readily recognizable, such as labeled cookies and muffins.
Nuts are not put out for self-service (with the exception of a morning oatmeal bar).
Peanut butter is not available for self-service.
We do not cook with nut oils or put nuts into entrees, unless labeled.
Staff members are well trained to prevent cross-contamination from utensils, hands, gloves, or other surfaces.
Patrons with dietary preferences and/or intolerances are encouraged to make informed choices by being alert to signage and asking questions. Floor supervisors and chefs are available for assistance.
Patrons with disabilities or medical conditions that require a special diet:
Documentation from a licensed physician is required.
Please submit requirements and supporting documentation to your program organizer 4 – 6 weeks prior to campus arrival. Please do not contact Occidental College directly.
Your program organizer will submit your information and documentation to the College. The College needs to receive the information at least 2 weeks prior to campus arrival.
The College will provide information and/or instructions to your program organizer, who will work directly with you to ensure that you have the necessary information.
Location: Johnson Student Center, 1st floor
Summer hours: Weekdays only, 11 AM - 2 PM
Accepts: Cash, credit card, check
The Green Bean Coffee Lounge offers coffee drinks and beverages, sandwiches, salads, ice cream, cookies, and more.
Vending machines accept cash and are located across campus.
Free internet access is available to guests without a password in most campus locations. Contact your program organizer for details.
Guest may send or pick up mail at the Postal Operations Center (POC), on the 1st floor of Johnson Student Center, near the Conference Services office. The POC also offers UPS and FedEx services.
POC hours: Weekdays, 11 AM - 2 PM.
Incoming mail must be addressed as follows:
Occidental College
[Staff name + Program name]
1600 Campus Road
Los Angeles, CA 90041
There is one ATM located on the 1st floor of Johnson Student Center, near the Conference Services office and the Postal Operations Center. It is generally accessible daily from 7:00 AM - 7:00 PM.
Contact the Conference Services office first, as found items are often turned in to us during summer. The Occidental College lost-and-found is managed by Campus Safety.
Please report the loss to your program staff; they will inform you of temporary or replacement options and procedures.
Please contact your program staff for instructions. Lockout assistance is available 24/7.
Smoking and vaping are prohibited in the interior and patio areas of all campus facilities.
Smoking and vaping are permitted in outdoor areas, at a distance of 30 feet from any building or structure.
Smoking and vaping are prohibited in all Athletics facility areas (including outdoors).
Guests age 21 and older may consume alcohol at College bartender-served events or in the privacy of your own sleeping room, only. Outside of College bartender-staffed events, alcohol is prohibited in common campus areas including residence hall lounges, meeting rooms and outdoor areas. Please contact the Conference Services office for more information.
Occidental College Campus Safety Dispatch (24/7): Dial "5" from any campus phone, or 323-259-2599
City of Los Angeles Emergency Services (24/7): Dial "9 + 911" from any campus phone
In the event of a power outage, a dedicated emergency generator will keep College servers and telephones running. News bulletins will be posted on the front page of the College website and at the main campus phone number: 323-259-2500. Should local phone circuits become jammed or otherwise unavailable, you may call our out-of-state emergency hotline for updates: 1-866-961-3300.