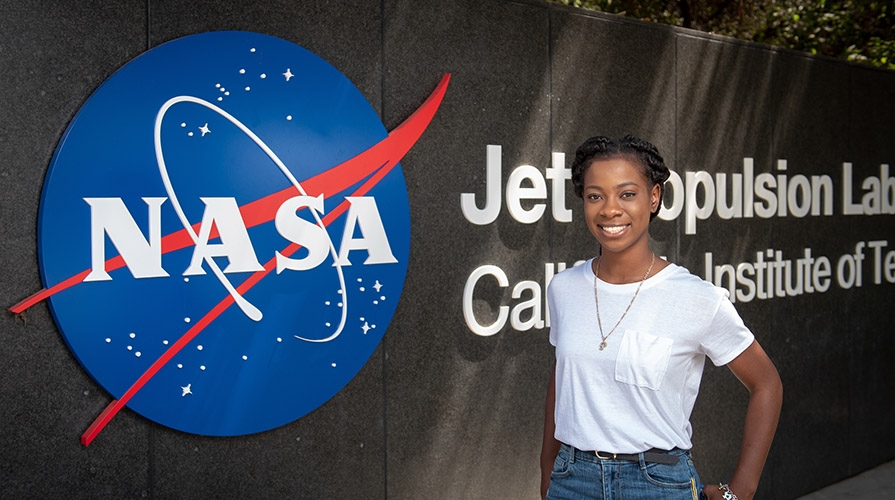 Interning in Los Angeles this summer? Come stay with us!
Applications are open! Housing is available on a first-come, first-serve basis. Apply early… we do expect to sell out.
Double room + 7 meals per week = $1,960.00 for 5-weeks / $489.00 per additional week
Double room + 14 meals per week = $2,040.00 for 5-weeks / $568.00 per additional week
Single room + 7 meals per week = $3,728.00 for 5-weeks / $853.00 per additional week
Single room + 14 meals per week = $3,808.00 for 5-weeks / $932.00 per additional week
Lucky you… Chowhound rated our food #5 out of the top 18 campus sites, and PETA gave us an "A" on our vegan report card. The Marketplace dining room is open daily, with all-you-care-to-eat options from vegan pizza and organic salads, to street-style tacos with homemade salsa.
A Meal Plan is required (7 or 14 meals per week). Housing options do not include kitchens, but every room has a microwave and mini-fridge. Meal Plans may be used for any meal during Marketplace hours (open 7 days a week).
We have your work week in mind:
Need to hit the road early? Grab-n-go breakfast options are available starting at 6:30 AM on most weekdays.
Sack lunches are available on weekdays; place your order the day before and pick up in the morning before you leave.
Dinner is served until 7:00 PM on weekdays.
Parking
Wi-fi
On-site Laundry
Fitness Center
Pool
Bus
Metro Light Rail
Lyft / Uber
Zipcar
Scooters
Taxi
JPL Shuttle Service
Interns working at the NASA Jet Propulsion Laboratory (JPL) may utilize the JPL shuttle service to travel between Oxy and JPL.
The shuttle schedule for Summer 2023 will be finalized later this Spring.
Contact JPL for info: 818-354-1260 or internships@jpl.nasa.gov
Occidental College does not provide transportation services.
What is eBill?
eBill is the electronic billing and payment system you will use to manage your account with Occidental College. You can access eBill 24/7 to view your account activity, or access and pay bills. eBill is designed to work on all your devices including your PC, phone and tablet.
What is an Authorized User?
An Authorized User is a person who is authorized to use eBill to make payments on behalf of your account. A maximum of 2 Authorized Users are permitted for each Intern account (Intern + 1 other person). Authorized Users can see all account activity but cannot view each other's bank account information.
Getting Started
Occidental College creates an eBill account for each Authorized User. Once this is done, each Authorized User receives two welcome emails from the College's Student Business Services Office (stuaccts@oxy.edu). The first email informs them that the account has been created; the second email provides a temporary account password. Each Authorized User must log in and create a new password for use.
1) Visit the eBill website at https://ebill.oxy.edu
2) Log in using Authorized User's email address and temporary password
Access eBills
Access most recent eBill (statement) → Statements box
View other eBills → View Statements
View current activity → Student Account box, View Activity link
Some users report difficulty accessing eBill using Safari. It is best to use Chrome on a dedicated browser.
Make payments
Authorized Users can make online account payments with an electronic check (ACH) or debit card. Please note that some banks might not accept pinless debit transactions.
Payment plans are not available to Interns.
How do I secure a spot in housing?
First, complete the application. Applications are typically approved within 7 days. If approved, you will receive a Housing Agreement via email. To guarantee your space, you must sign and return the Housing Agreement with a $500 deposit within 7 days.
What is the payment schedule?
$500 deposit = Due with your signed Housing Agreement
Full balance = Due 10 days before your arrival date
What type of payment do you accept?
We accept electronic payment only. Our eBill system allows you to make online payments from your checking or savings account, or use your debit card. There is no additional fee for using this service.
Do you offer payment plans?
Payment plans are not available.
What is your cancellation and refund policy?
You may terminate your Housing Agreement by providing written notice to the Conference Services Office at least 10 days before your arrival date. The $500 deposit is not refundable.
Once terms are contractualized on your Housing Agreement, there are no refunds for late arrivals or early departures.
Can I request a specific person for a roommate?
Yes. Roommates must have compatible arrival and departure dates, the same housing selection, and roommate preference.
You may request roommate(s) by name on your application, or submit a request to conference@oxy.edu up to 14 days before your arrival date.
We make every effort to accommodate roommate requests but cannot guarantee assignments. Roommates are strongly encouraged to submit their applications as early as possible and at the same time.
If I don't have a roommate, do you choose for me? How is my roommate assigned?
You will specify roommate preferences on the application; we'll use your info to identify a person(s) with compatible preferences and stay dates. Please note that we do not communicate roommate information to residents at any time.
Can I switch my room or roommate later?
Housing changes are subject to current availability. If the change is approved, you will incur a $50 change fee.
When can I check in? When is checkout?
Check-ins take place on Sundays between May 28 - July 9. Check-in time is 11:00 AM - 6:00 PM. You will receive an email with check-in instructions approximately 14 days before your arrival date.
Checkouts take place on Saturdays between 7:00 AM - 10:00 AM. The last Checkout date is August 12.
How do I get a parking permit?
You may request a parking permit on your application, or at any time up to 14 days prior to check-in. Permits are free and are issued at check-in. You must provide the following info at check-in: Vehicle make, model, color, license plate number and state of issue.
How does my Meal Plan work?
Use your Meal Plan for any meal during open hours. Meal Plans re-set every Sunday morning; un-used meals do not carry over to subsequent weeks. You may upgrade your Meal Plan at any time during your stay.
Where are meals served?
Summer meal service takes place in the Marketplace (open every day). Meals are "all you can eat" and must be consumed in the dining room; there is no "to go" option. Your keycard will be programmed with your Meal Plan info; you must bring it to the Marketplace and swipe it for entry (or pay cash at the door).
What are Marketplace (dining hall) hours?
Marketplace is open 7 days a week (Sunday - Saturday)
Marketplace hours may vary for holidays or other service needs, but you may expect 17 - 21 meals to be available each week.
Can I get food via a delivery service (DoorDash, GrubHub, etc.)?
Yes! However, please note that the College uses 1 address for the entire campus. It may not be possible to arrange for delivery to a specific residence hall (every building has the same address).
Are housekeeping services provided?
Housekeeping service is not provided to resident rooms, or bathrooms located within your room or suite. Residents are responsible for cleaning their own rooms throughout their stay. Housekeeping service is provided to communal areas: Lounges, hallways, and communal restrooms.
Is linen provided?
No. Please bring your own pillow, bedding, and towels. Beds are size twin X-Long.
Will I have access to a kitchen?
No. But each room/suite has a microwave and mini-fridge.
Can I stay in my housing after my contract ends? I am willing to pay extra.
Extended stays are not available. Please have a backup housing plan if you think your stay may extend beyond your departure date.
To submit an application for Summer Intern Housing, you will need to gather info and materials in advance. Once this is done, we estimate it will take 20 minutes to complete the application form.
You will be asked to type the following information directly onto the form:
Housing and Meal Plan needs
Check-in & Checkout dates
Internship details (address, supervisor's name and contact info, begin/end dates)
Roommate preference information
Emergency contact info (name, mailing address, contact info)
You will enter "Authorized User" info for making payments:
Payments are submitted via eBill, Occidental College's electronic billing and payment system
A person must be an "Authorized User" to make payments
You may have 2 Authorized Users for your account: You + 1 other person
Each Authorized User will have an eBill account, enabling them to view statements and make payments
Authorized Users can see all account activity but cannot view each other's bank account info
If you choose to specify another person as an "Authorized User" you will to provide the following:
Peron's full name
Email address
Mobile phone number
To submit your application for Summer Intern Housing, you must upload 3 files:
Proof of internship/employment (offer, acceptance letter, or other document verifying position)
Government-issued ID displaying your name, date of birth, and photo (driver's license, passport, etc.)
Photo of your face (will be used to create your Oxy ID card)
Instructions for the photo of your face:
Minimum 600 x 600 pixels, and at least 54 KB in size
10 MB max file size
Jpeg or jpg format ONLY
Color
Recent (taken within the past 6 months)
Include your entire head and shoulders in center of frame
Show a clear image of your face
Solid white or off-white background without shadows, texture, lines
NO filters
NO selfies
NO eyeglasses, hats, scarves or other items that might obscure your likeness
Submit a photo only; you may NOT use your driver's license or other documents
Here's what you can expect:
Day 1 = Submit application
By Day 8 = Application is approved or rejected
By Day 22 = Agreement is sent to you via email, for your signature
By Day 29 = Deadline to sign Agreement and pay $500 Reservation Deposit
All of the above must be completed in order to secure your Summer Intern Housing
If your application is closed:
If you fail to respond or complete requirements at any point, your application will be closed.
You may reopen your application at a later date (if we are still accepting applications)
There is a $50 fee to reopen your application
Reopened applications are subject to availability