Customizable templates for your everyday needs
The Office of Marketing & Communications has created a number of templates for faculty, staff and students at Oxy to view and download. We hope the templates help you create professional-looking material that is also consistent with Oxy's visual identity. Most templates have ample opportunity to be customized to meet your needs. We expect to continually add templates to this page. If you have ideas or suggestions regarding new templates or new applications of templates, contact us.   
Jump To
Email Signature Template
Email is our most common form of day-to-day communication and a wonderful opportunity to present a unified, professional appearance for official College communications, as well as a way to promote the College website and social media channels to the outside world. These guidelines are recommended for all faculty and staff.  Download the template  and follow the step-by-step instructions for customizing and updating your email signature.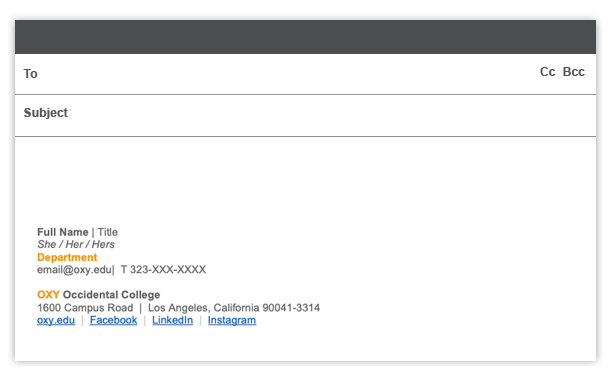 Branded Google Slides
Faculty and staff may access and copy these Google slides templates for their presentations, all branded and featuring four different themes. To use the template and save it in your Google Drive, click the links below and go to File / Make a Copy.
Powerpoint Presentations

Event Flyers
When sending flyers via email, please include your event information in the email body type as well. This ensures that everyone can read the contents of the flyer even if they can't see the image. 
Instructions for posting your event to the college calendar are available on the Web Help website. 
Digital Flyer Templates
In addition to hanging printed posters across campus, you can promote your event digitally inside the Green Bean and inside Johnson Hall.
Click on the below flyer thumbnail to download an assortment of flyer templates that you can easily edit for your event.