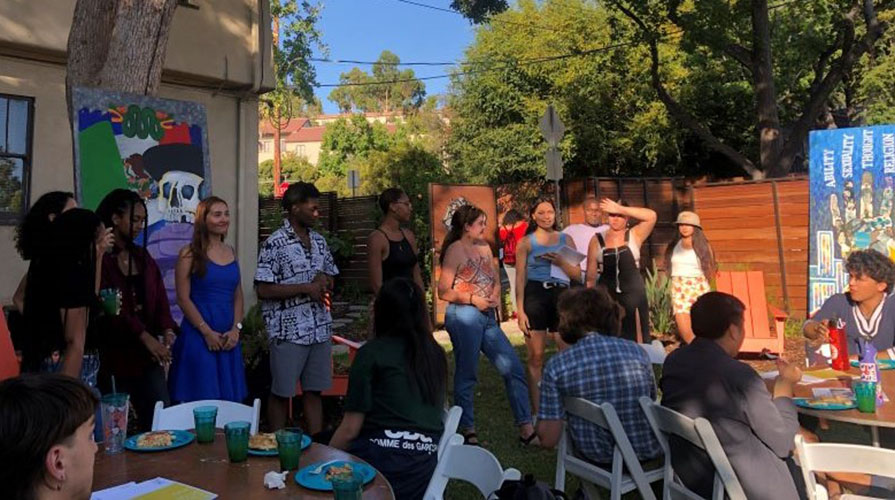 The Diversity and Equity Board (DEB) works toward empowerment and improved conditions for structurally marginalized groups on and off campus. DEB supports initiatives that foster a campus climate of inclusivity, further ASOC's commitment to equity, and lead to improved practices at Occidental College.
Mission
DEB serves as an official student-led branch of ASOC that works towards empowerment and improved conditions for structurally marginalized groups on and off campus. The purpose of this board is to support student and faculty led initiatives that foster a campus climate of inclusivity through intersectionality, the compilation of reports of offices' and ASOC branches' commitment to diversity and equity, and putting forth recommendations towards improved practices. DEB will ensure that DEB activities both minimize the College's gentrifying impact and increase the College's efforts to repair gentrifying damage done by the College and other community members. It is the role of the current board to define the parameters of Diversity and Equity responsibly through student engagement, with timely and transparent review processes. The intention of the Board is to hold Occidental College to its mission of diversity and equity.
DEB Member List and Bios
My name is Lis Jimenez. (They/Them) I am a senior Critical Theory and Social Justice major with a minor in Education. I was born and raised in Koreatown, Los Angeles. I am a dedicated coffee aficionado. I love watching a variety of movies and eating delicious food. One of my favorite pass-times is going to malls to do some window shopping, obviously with a salted pretzel in hand. Please reach out to me if you need any support.
Hey! My name is Kenya Sterns and I am a junior from Phoenix, Arizona. I am a Diplomacy and World Affairs major, and a Black Studies/Politics minor. Besides DEB, I am involved in BSA, Alpha Lambda Phi Alpha, and I work at Telefund. I love reading, being in nature, and spending time with my dogs!
Hello! My name is Clara Richardson-Omamo (they/she/clara) and I am a senior DWA major, Education minor. My family moved a lot but now I call North Kenwood Chicago home. I have been working on DEB for 3 years and I am passionate about advocacy for folx of 'marginalized' identity (and funding yall :). In LA I really enjoy going on drives and eating new foods. Please let me know if/how I (we) can offer you support!! xxx
My name is Fiona Farrell (she/her), and I am a first-year  from Namibia, Southern Africa. I  am the Academic Liaison on the Diversity and Equity Board, and I intend to major in Diplomacy and World Affairs. I enjoy meeting new people who challenge and widen my perspective. In my free time I love to write and play my guitar. If you need support, you are more than welcome to contact me!
Hello Oxy! My name is Ariel Igielski (she/her/hers) and I am a first year student from Seattle, Washington. I am Co-Student Life Liaison on the Diversity and Equity Board as well as a part of the Executive Committee. I am interested in the social sciences as a major, but I am still undecided about my path. I really enjoy making art, eating good food, and I am passionate about creating an equitable and supportive community on campus!
​​Hi! I'm Jay Shrestha (he/him) and I'm the treasurer for DEB. I'm a sophomore and undeclared math major on the pre med track from Chico, CA. I enjoy listening to music, eating burritos, and spending time in nature, which can mean hiking, riding my bike, or just sitting under a tree. Feel free to contact me anytime if you need anything or have any questions!
Hello!<3 My name is Van ("vung") (she/they/chị/chanh) and I am the Co-Student Leadership Liaison on DEB. I'm a senior DWA Major, CTSJ and prospective Education minor. Since joining in Spring 2020, I truly appreciate DEB as a space that fosters community-building, horizontal labor, and preserving institutional knowledge. Outside of my work at DEB, I love watching studio ghibli films, going on nature walks, and being silly with my kitty cat. If you ever wanna reach out and chit chat with me, please do not hesitate to do so! Sending much love and protection.
Assalamu alaikum! My name is Julia (she/her/hers); I have the honor of serving as the secretary of the Diversity and Equity Board this year. I'm a first-year hoping to major in Mathematics and Media Arts & Culture. The most important thing to know about me is that I'm Muslim and I strive for everything I do to serve Allah (swt)– including fighting for justice through the work of DEB. Outside of work, I enjoy long conversations & asking interesting questions– so please let me know if you'd enjoy those things too or just schedule a meeting with me on my disconcertingly up-to-date Google Calendar.
Bio coming soon!
---
Bylaws & House Rules
Click here to access our bylaws, house rules, and other public documents.
Agenda & Meeting Notes
Click here for meeting notes approved by the Board. These are released the week following each meeting.
The Annual DEB Report
The Diversity and Equity Board publishes an annual report on diversity and equity at Occidental College, released at the end of each academic school year.
Board members meet regularly with various offices, departments, and other groups deemed necessary to establish goals and measurable desired outcomes in alignment with Occidental College's mission statement and commitment to its four pillars: Equity, Community, Service, and Excellence. Reports summarize and note key steps each office has taken during the year and/or semester to reach their initial goals, as well as any alterations to these goals.
The reports are not designed to be comperhensive of every iniative on campus and should be considered within the context of each school year. We believe in contributing to an open, accessible record of Occidental College's history with matters of diversity and equity.
Reports
Funding
DEB funds individuals, clubs, and groups of students whose goals align with the Board's mission of promoting diversity and equity at Occidental college. We are a branch of student government, our funding comes entirely from student fees.
DEB Committees
Several board positions include a student subcommittee who help to create and achieve DEB goals; it is possible to be a part of more than one committee at a time. If you would like to be involved with DEB and our various projects, email oxydeb@oxy.edu. The respective DEB member will contact you regarding committee meeting dates and times.
Academics
Admissions & Financial Aid
Club
Community
Intercultural Affairs
Labor
Student Life