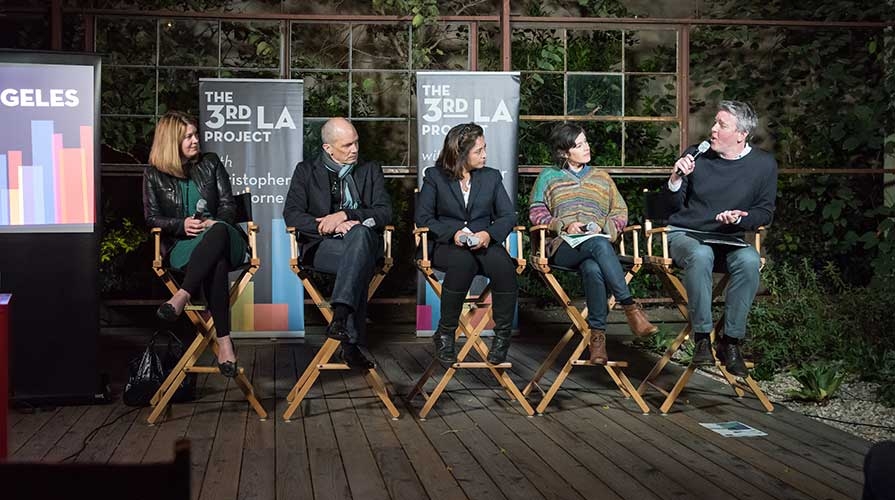 Los Angeles, as it finally builds a comprehensive public transit system and pays serious attention to its long-neglected civic realm, is in the midst of profound reinvention. 
Or perhaps it's better to call it a profound identity crisis. Either way, the old clichés about L.A. clearly no longer apply. This is a city trying, and often struggling, to define a post-suburban identity.
At the same time, it's important to remember that all of the things that L.A. is aiming to add (and in fact grew infamous around the world for lacking) in the post-war years—mass transit, places to walk, civic architecture, forward-looking urban planning, innovative multifamily housing—it actually produced in enviable quantities in the early decades of the 20th century. Contemporary L.A. also shares with that earlier city an anxiety about the environment, in contrast to the confidence about controlling nature that shaped Los Angeles in the post-war decades.
In the most basic sense, that's why we called the initiative the 3rd LA Project. We are not just entering a new phase. We are also rediscovering the virtues and challenges of an earlier one—and acknowledging the full sweep of L.A.'s modern history.
In the First LA, stretching roughly from the city's first population boom in the 1880s through 1940, a city growing at an exponential pace built a major transit network and innovative civic architecture.
In the Second LA, covering the period from 1940 to the turn of the millennium, we pursued a hugely ambitious experiment in building suburbia—a privatized, car-dominated landscape—at a metropolitan scale.
Now we are on the cusp of a new era. In a series of public events, some on the Occidental College campus and others elsewhere, the 3rd LA Project explored and explained this new city. 
The 3rd LA Project launched as a unique collaboration between Occidental College and Christopher Hawthorne, formerly professor of practice in the Urban & Environmental Policy Department at Occidental and architecture critic at the Los Angeles Times. A corresponding academic course ran concurrent with the public event series.