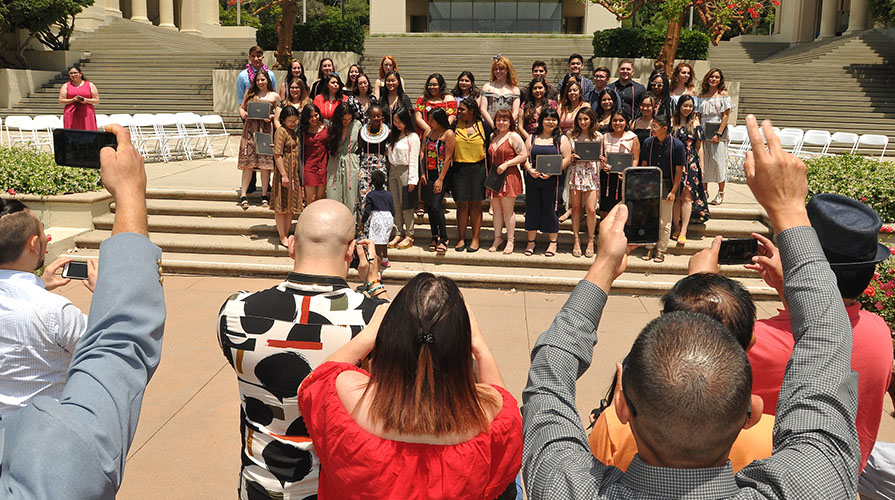 The mission of the First-Gen Coalition is to actively support and encourage Occidental students who will be the first in their family to attend and graduate from college.
We care about our first-generation students, and we know how much they contribute to our classrooms and community. We also know that they have questions, concerns and a unique set of needs.
At Oxy, we are committed to providing a satisfying living and learning environment for all of our community members. To that end, staff, faculty and administrators embrace and promote a Culture of Care, offering proactive support and tools for success in and out of the classroom.
We want to help our first-generation students effectively navigate the online learning environment, build a sense of belonging and community with peers, build familiarity with valuable campus resources and connect with mentorship. Our programming includes everything from workshops to mixer events to informal, drop-in counseling sessions.
Questions? We would love to hear from you! firstgeneration@oxy.edu
Ongoing Events, Fall 2020
1st Gen Connection
An open, supportive space for first-gen students to share and connect about their experiences. The group will touch on topics such as adjustment to college, self-care, resiliency, belonging, impostor syndrome and intersecting identities. It is space in which students can be themselves and share about issues that are often invisible or dismissed, and that they may not be able to share elsewhere. The group is drop-in and will meet 12-1 pm PST on the 1st and 3rd Thursdays of the month. Questions? E-mail Anna Rivera at annarivera@oxy.edu.
Meeting ID: 951 3928 4064  /  Passcode: 571981  /  Join by phone: (888) 475-4499  
What's the Word, Hummingbird?
A supportive and confidential space for students with marginalized identities to meet with a counselor without the need for an appointment. POC, LGBTQ+, 1st Gen, and International Students are welcome to drop in for informal 1:1 conversations about any topic or concern on Tuesdays from 1-3 pm PST. Students may reflect on relationships, identity, family, housing, academics, or any other life issue. Questions? E-mail Anna Rivera at annarivera@oxy.edu.
Meeting ID: 956 9332 2299  /  Passcode: h3LL0  /  Join by phone: (888) 475-4499