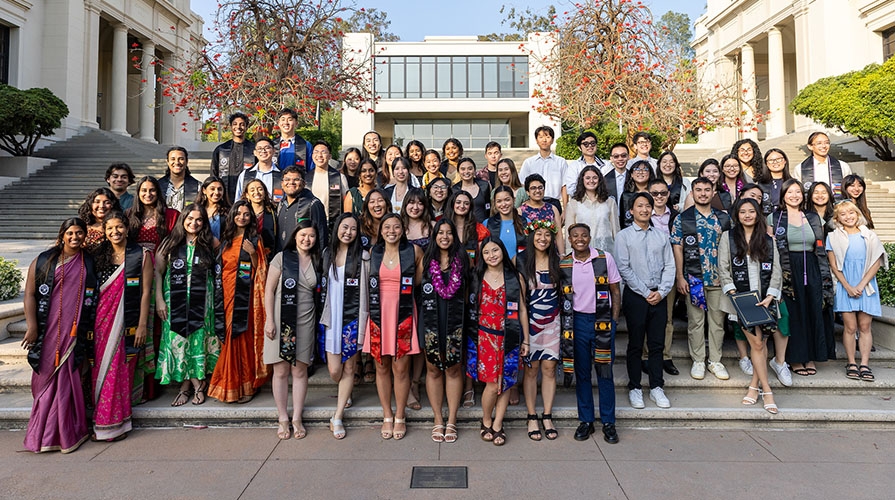 There are eight unique cultural graduation celebrations dedicated to honoring Occidental graduates: Asian Pacific Islander Graduation, Black Graduation, First-Generation Graduation, Indigenous Graduation, Latinx Graduation, Lavender Graduation, Multi-Graduation and the MENASA Graduation.
Cultural Graduation Celebrations are an opportunity for smaller groups to come together and acknowledge students' accomplishments. For many underrepresented and first-generation students, a college diploma represents a long road marked by hard work and success – not just for the individual students, but also for their family, friends and supporters. These smaller events provide more intimate settings for students to share these personal milestones with their communities.
The Intercultural Community Center partners with cultural organizations to coordinate Asian Pacific Islander Graduation, Black Graduation, First Generation Graduation, Indigenous Graduation, Latinx Graduation, Lavender Graduation and the Multi Graduation. Although they are not designed to replace the traditional graduation ceremonies hosted at Occidental College, these events bring together family and friends while celebrating the rich diversity of our campus. Please find a description of the various cultural graduations below:
Asian Pacific Islander Graduation: The Asian Pacific Islander Graduation (APIG) is an annual celebration honoring API graduating students. APIG is intended to celebrate and acknowledge the richness in diversity among students who identify as API. A rather broad term, Asian/Pacific encompasses all of the Asian continent and the Pacific islands of Melanesia (New Guinea, New Caledonia, Vanuatu, Fiji and the Solomon Islands), Micronesia (Marianas, Guam, Wake Island, Palau, Marshall Islands, Kiribati, Nauru and the Federated States of Micronesia) and Polynesia (New Zealand, Hawaiian Islands, Rotuma, Midway Islands, Samoa, American Samoa, Tonga, Tuvalu, Cook Islands, French Polynesia and Easter Island).
Black Graduation: This annual celebration gives African-American and Black identifying students and families an opportunity to celebrate blackness and the success of students who identify as members of the black community at Oxy.
First Generation Graduation: The particular ceremony is intended for first-generation identifying students in light of their persistence as students who are often less familiar with the college experience. First Gen means many things to folks, but we invite you to participate if you identify as the first to attend college or the first to complete college in your family. For some students, their parents went back to school later in life. We consider these all to be first gen experiences and invite you to participate if this term resonates with you!
Indigenous Graduation : Indigenous Grad is a ceremony to honor Indigenous graduates and their communities, whether it be Native American, or indigenous to another part of the world. Indigenous peoples, also known in some regions as First peoples, First Nations, or Native peoples are ethnic groups who are the original or earliest known inhabitants of an area. We celebrate you!
Latinx Graduation: This ceremony aims to recognize and celebrate Latinx identity. This includes but is not limited to: Mexico in North America; Guatemala, Honduras, El Salvador, Nicaragua, Costa Rica and Panama in Central America; Colombia, Venezuela, Ecuador, Peru, Bolivia, Chile, French Guiana, Paraguay, Brazil, Argentina and Uruguay in South America; Cuba, the Dominican Republic, Haiti, and Puerto Rico in the Caribbean.
Lavender Graduation : Lavender Graduation is an annual ceremony conducted to honor LGBTQIA+ (Lesbian, Gay, Bisexual, Trans, Queer, Intersex, Asexual) identifying students and their outstanding achievements and contributions to the College.
Multi Graduation : Multi Graduation seeks to recognize multiracial, bi-racial, or mixed-race identifying folks. For some students, they do not identify with a monoracial experience, but instead, identify with 2 or more races or ethnicities. This ceremony is specifically for them to be in community with other folks who identify as "multi" and celebrate their unique experience as a multi/bi racial or ethnic student.
MENA/SWANA Graduation:  Seeks to celebrate the cultural heritage of students who identify with Middle Eastern and North African descent. This includes but is not limited to: Iranian, Lebanese, Algerian, Egyptian, Armenian, Iraqi, Jordanian, Syrian, Greek, Afghani, Arab, Turk, Copt, Assyrian, Saudi, Moroccan, Kurd, Tunisian, Sudanese, Pakistani, and Bangladeshi.
Students may also participate in more than one ceremony!