Across the College, we are working to create a living, learning, and working environment that supports the success of everyone in our community. Oxy Speaks! is a powerful tool to help ensure that your voice is integral to this work. It is a comprehensive survey that was sent to students, faculty, and staff, in Spring 2022, asking questions about belonging, satisfaction, personal and interpersonal experiences, diverse perspectives, and other aspects of campus climate. The survey also included a broad range of demographic questions, which will help to understand how different groups and communities experience life at Oxy.
In Summer 2022, we created detailed data packets, disaggregated across a variety of demographic groups, which were be shared with various groups and departments across campus, including for example: the Assessment and Accreditation Committee; Council on Equity & Justice and Justice & Equity Action Team; Faculty Council; Disability Services; Human Resources; ICC; Integrated Strategic Planning Working Groups; ORSL; and the Retention and Persistence Council (RAPC).  
In Fall 2022 we shared the results and analysis of the survey with the Oxy community, and we will continue to use the data to identify and address inequities between groups, and to help support the satisfaction, belonging, and thriving of everyone in our community.
Survey Complete
Thank you to everyone in the Oxy community who responded to the survey. You helped to make this community-wide survey a success! The overall participation rate was 42%, which is higher than the national average for similar types of surveys and higher than our typical Spring student survey rate of ~30%. A high participation rate means that we have stronger representation of voices in the response data that we will use to make Oxy a better institution. Additional participation rate and demographic distribution details for the responses are shown in the infographic below. 
Survey Results At-a-Glance (download as a PDF)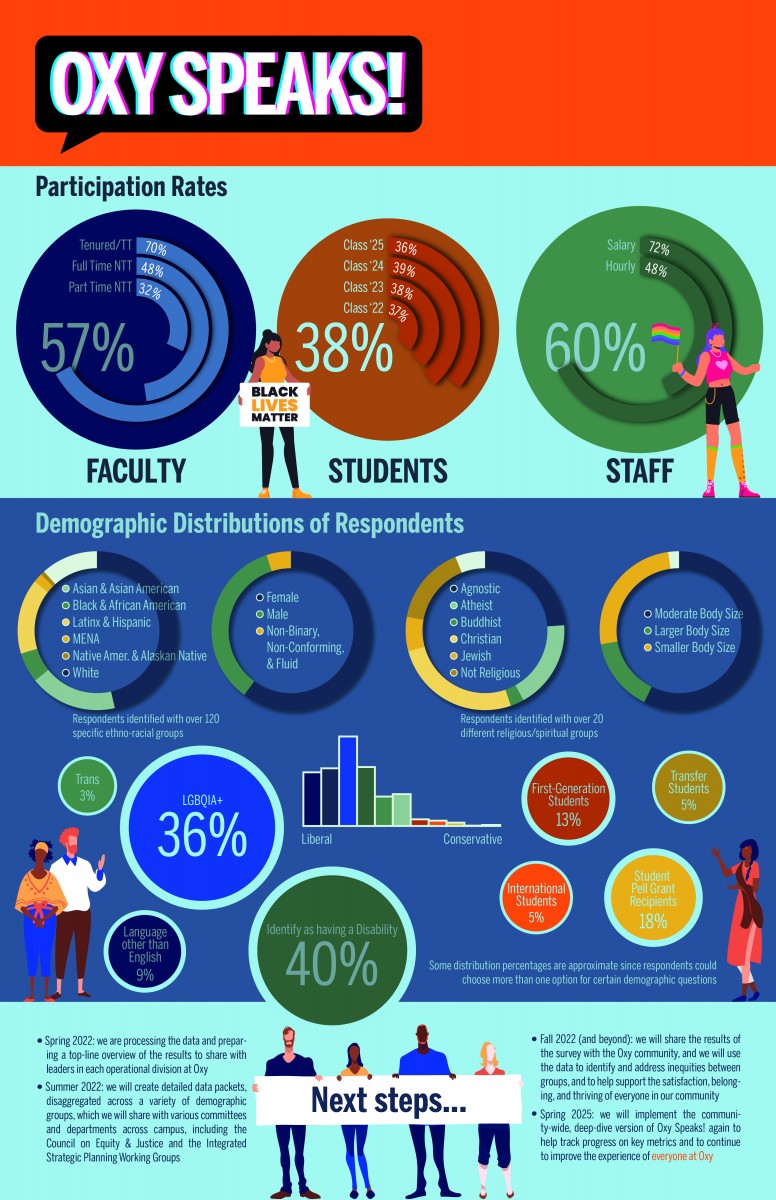 FAQs
How was the survey created?
Oxy Speaks! was informed by many conversations with many people and groups across campus. The questions in the survey cover a wide variety of aspects of campus life, and they are rooted in high-impact practices across higher education, including resources from NADOHE, EAB, LACRELA, and INSIGHT Into Diversity. Some of the questions in the survey were based on other surveys that are regularly implemented at Oxy and across higher ed, including those listed on our Institutional Research site. The survey was pre-tested by a variety of students, faculty, and staff, and their feedback was used to iterate the survey before the final version was implemented.
Why is participation in Oxy Speaks! so important?
Everyone's participation is vital to the success of the survey! To ensure that the survey responses are representative of everyone on campus, we needed as many people as possible to participate. This is especially important since using different demographic lenses to understand the survey responses require a critical mass of participants from different groups. 
Didn't I already provide my feedback during the ISP (Integrated Strategic Planning) listening sessions and other events? How is this different?
A comprehensive survey like Oxy Speaks! helps to gather feedback on a wide range of aspects of living, learning, and working at Oxy beyond what has been shared at past events. Also, providing multiple modalities for feedback helps to increase access beyond the limited number of people who have participated in past sessions. Oxy Speaks! also tracks demographic data, which helps to understand how different groups and communities experience life at Oxy. Additionally, survey data like those collected through Oxy Speaks! help to systematically track feedback over time, which is essential for assessing the effectiveness of the work we all do at Oxy.
What is campus climate?
Campus climate is defined as the current and common experience of individuals and groups at the institution, including the quality of the interaction between these individuals and groups. Oxy Speaks! is a type of campus climate survey, which allows for a comprehensive understanding of how different groups of people experience the environment on campus. 
Was the survey available in Spanish?
Si! La encuesta está disponible en español.
Yes! The survey was available in Spanish. 
Why does the survey ask about race/ethnicity, religion, sexual orientation, and other demographic categories?
Recognizing that people do not fit neatly into distinct categories, the demographic questions are extremely important in a comprehensive survey like this for better understanding the experiences of different groups of people. The questions were designed to be as inclusive as possible while still allowing for mapping to established demographic categories such as those used at the Federal level, recognizing that these categories can be problematic. To better understand the intersectionality of community experiences, survey responses are being analyzed by key demographic data, including those collected in the survey as well as those on record with the College such as first-gen college status and markers of socio-economic status. 
Are my survey responses confidential?
Yes! Confidentiality is vital to the success of this type of survey, particularly since sensitive and personal topics are covered. Your personal information will never be shared, and aggregated data will only be presented in ways that ensure your confidentiality. In addition, no group data will be reported for groups of fewer than ten individuals, because those datasets may be small enough to compromise confidentiality. Oxy's Office of Institutional Research, is the only entity on campus with access to individual responses. The office maintains high standards of confidentiality and security for all collected data. 
How were the student and staff/faculty versions of the survey different from one another?
Both versions of the survey included questions that asked about belonging, satisfaction, personal and interpersonal experiences, diverse perspectives, and other aspects of campus climate. The student version of the survey included additional questions on areas such as the academic experience, the residential life experience, and the Los Angeles experience. 
How often will Oxy Speaks! be administered?
The plan is to administer this community-wide, extended, deep-dive version of the survey every three years. This is consistent with the recommended practices for comprehensive campus climate surveys such as this. We will administer shorter, targeted surveys more regularly to check the campus pulse along the way.