Spending a summer in Los Angeles has resulted in numerous discoveries for Phillip Wong, from new art and dining spots in the city to a better understanding of local government.
With so much to explore near campus, the extra months at Oxy have given the economics major from Cupertino a new view of the resources that surround him. Participating in InternLA is just the latest in a series of new opportunities he's taking advantage of at Oxy.
Campus Conversations
I found Oxy because I was looking for an urban environment where I could still get the intimacy of learning in a community that is very small. When I first toured Oxy, it checked off those boxes: it's a small school, urban environment, has the economics major, close to home and also far enough away; but I didn't necessarily fall in love. What I've found to be one of the most meaningful things here is the community. We're all studying different things but are still engaged with what everyone else is learning, too. I think that offers a lot to the learning experience. I enjoy being in the classroom and I also really enjoy being able to converse with other people outside of the classroom about what I'm learning and what's going on around the world.
This past [sophomore] year, I started doing a lot more than in my first year. I started working for Bike Share—I started giving tours, I got involved with Peer Health Exchange; I applied for the Blyth Fund. Part of joining was just for the fun of it, but being in those communities also sounded really enjoyable—that's what I was looking for, because I didn't have that my first year.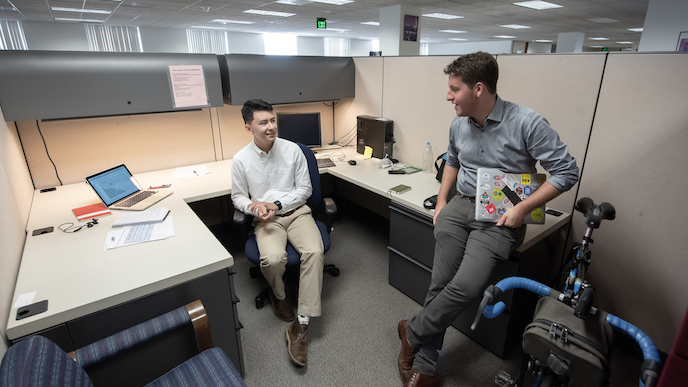 L.A. Living
This summer, living on campus during InternLA has made exploring the city a whole new experience. I didn't explore L.A. that much my first year, but I've now started taking the Metro to get to work at City Hall, which is close to Little Tokyo and the Arts District. I had this image of L.A. as this huge place that was hard to navigate, but having friends here this summer made it easier and changed my understanding of the city. For instance, a friend was working with the Japanese American Cultural Center and worked on an exhibit on washi paper, so I went and saw that and then explored that area in Little Tokyo. I also found a really cool Instagram with great food suggestions that I've been working through. Hopefully this experience transitions into my junior year and I learn how to engage with the city throughout the school year.
Adding Up Economics
I've always really enjoyed the idea of applied math. My sister was an economics major, and it was something I was familiar with, so I tried it out. Math classes had seemed a little too theoretical for me, but with my pre-economics course, I was able to make more sense of the math focus. Especially with a professor like Brandon Lehr, whom I've taken multiple classes with, including "Intermediate Microeconomics" and "Behavioral Economics"—I can be challenged by math, but it's also made very accessible.
Analyzing the Data
This summer I interned at the Data Science Federation, which is essentially the information technology agency for the city of Los Angeles. A few years ago, my supervisor, Hunter Owens, was brought on to spearhead a pilot program in which DSF partners with city and local universities throughout Southern California. I'm on the data team within the information technology agency looking at the bureau of street services and visualizing and digitizing street-sweeping routes. This also involves looking at parking citation information and trying to match those up with street-sweeping routes—which is something I had never considered doing. It's really delving into the next step after research: I'm learning about how to analyze and process the data, how I visualize it and ultimately present it. I've had to do presentations for representatives from the Mayor's Office, who in turn will take it to the Bureau of Street Services. It's given me a new interest in city government, and how Los Angeles specifically works, given that it's so massive.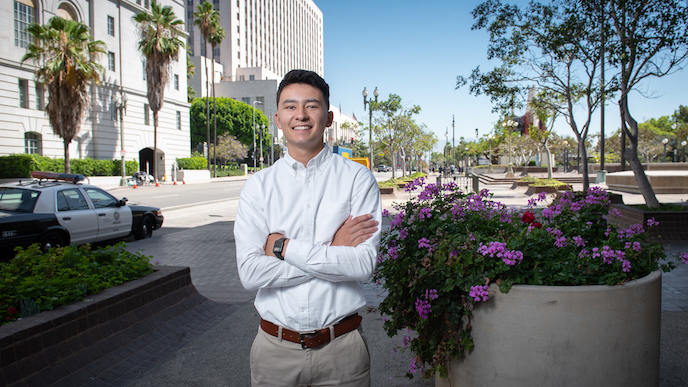 Scheduling In Extracurriculars
My first year at Oxy was a little bit rough...being in a new environment, being around people I didn't know, not having an outlet; it was a transition. Before my sophomore year, my family gave me some essential advice, which was to get comfortable stepping out of my comfort zone. That summer, I decided to try out for the tennis team, even though I had only been playing tennis for a year. I didn't make the team, but being around everyone else trying out and on the team was really fun. I was able to get to know new people on campus and met someone who worked at Bike Share, which is how I got involved with that. I decided I wanted to keep getting involved with more, so I got connected to Peer Health Exchange, which a lot of my friends were doing, and it's just carried on from there. There are plenty of opportunities to get involved on campus, but it's up to each student to decide which groups or clubs to pursue. It may not be the most comfortable transition, but taking risks can be worth it. Pushing myself beyond just academics and entering new environments is one of the most valuable things I've done while at Oxy.
Photos by Marc Campos