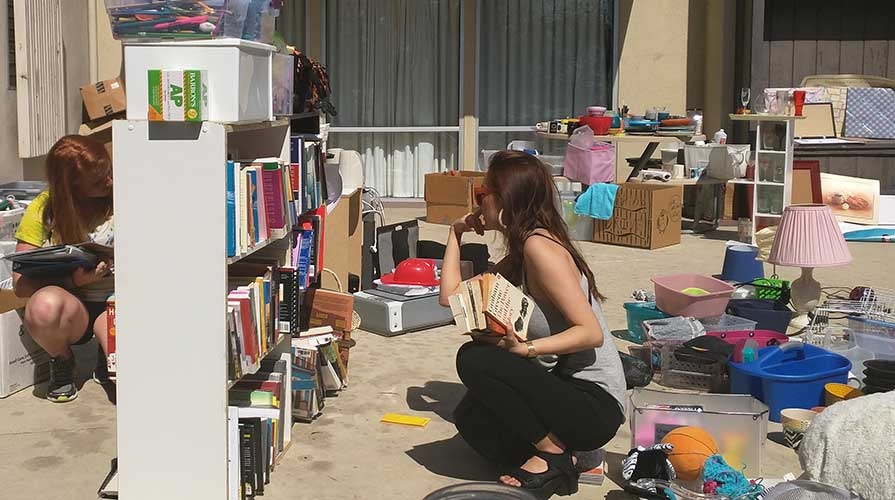 Each year, a series of events brings sustainability to life on campus.
August
Move In - Oxy Ecossentials Store Sale*
During move-in week on campus, a huge sale takes place featuring items left behind by students during Move Out the previous May. The sale is open to everyone on campus. The Oxy Ecossentials club collects, organizes, and prices the reusable items between one cent and $15.
October
Food Justice Month
October is Food Justice Month! A variety of clubs, departments and organizations collaborate to bring awareness to where and how our food is sourced—emphasizing the intersection of food laborers' rights and environmental sustainability.
December
End-of-Semester Oxy Ecossentials Collection*
As the winter semester comes to a close, there is always packing and cleaning to do. The Oxy Ecossentials club hosts a collection drive for reusable items and clothing.
Winter Break Shutdown
Over several weeks in late December/early January, buildings and energy systems are strategically powered down. The entire campus community is encouraged to unplug their appliances in their rooms and offices. These operational changes and collective individual efforts have resulted in significant energy savings—the winter of 2017 boasted a 55% reduction in electricity use.
March
Spark The Change
Every March, an electrifying 3-week competition takes place among the residential halls to see who can save the most energy. At the end of the contest, four halls will emerge as prize-winners. For electricity-reducing actions you can take (plus historical and current hall rankings), check out this shared folder.
April
Earth Month
The entire month of April is filled with Earth-related activities and events including movies, mini tours, and the Earth Month Quad Fair. Earth Day is April 22.
Photo Contest
An annual Earth Month photo contest is hosted in April. Submissions capturing the natural world through an Oxy lens are welcome from students, staff and faculty. Winning entries hang proudly in the AGC hallway, near the Career Center entrance. Contest rules as well as the contest's digital gallery can be found on the photo contest webpage.
Iron Chef Competition
Delightful and creative dishes are crafted in this team cooking competition that uses FEAST greens and local, organic produce. A fun and collaborative annual event, it encourages sustainable food practices and campus engagement.
May
Move Out - Oxy Ecossentials Collection*
When the academic year ends, students moving out can't always take everything back home. The enormous pile of leftover school supplies, miscellaneous items, and usable clothing, towels and blankets are diverted from the landfill and collected through the efforts of Oxy Ecossentials and the Office of Sustainability.
The largest collection drive of the year, there are drop-off areas in the common room of each residential hall (or the rec room in Berkus). In 2019, more than 2,000 usable items, roughly 4594 lbs of clothing and 14 boxes of shoes were collected and diverted from the landfill.
* For more information or if you'd like to help out with the collection, please contact the Oxy Ecossentials president, Sarah Yi.