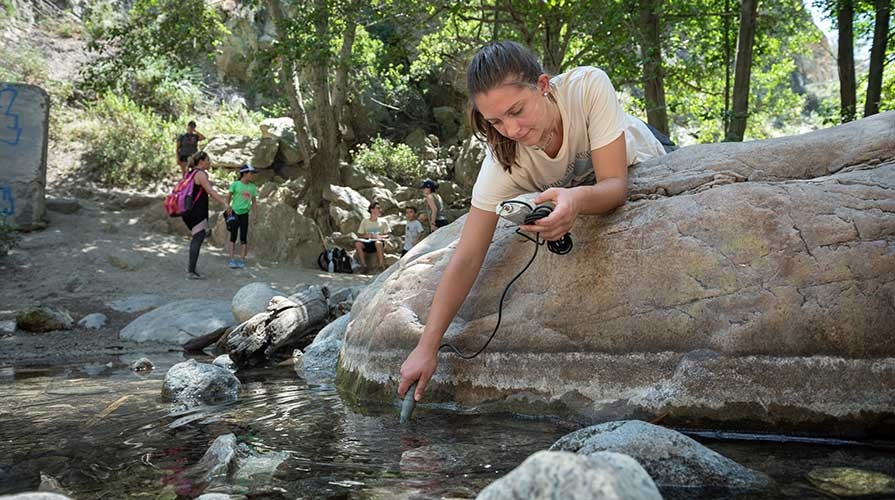 At Oxy it's easy to incorporate sustainability themes into your education. Some related academic programs and faculty researchers are highlighted below.
Major/Minor
Urban and Environmental Policy
UEP is an interdisciplinary major that combines politics, planning, environmental policy, public health, urban studies, economics, sociology, and other disciplinary approaches. Topics covered include housing and community development; food and resource issues; air and water quality; race, gender and class relations; public health; globalization; and other topics at the local, state, national and international levels.
The UEP minor provides the opportunity for students to understand the interconnection between "urban" and "environmental" and that issues of economic and environmental justice are integrally linked to where and how we live, work, play, eat, and go to school.
Minor
From a student-run organic garden to research on flavor and how the human mind processes it, the Food Studies minor at Occidental seeks to critically examine our relationship with food.
Concentration/Emphasis
Explore earth processes and ecosystems as you develop environmental analysis and problem-solving skills. Undertake an Environmental Science concentration within either the Biology or Geology major.
Biology majors can pursue a marine biology emphasis, researching topics ranging from molecular methods for classification of marine bacteria to the effects of global warming on fisheries.
Focus
Environmental Economics
The relationship between the economy and the environment can be pursued through elective courses as a focus within the Economics major.
Other Related Courses
Sustainability is a topic that traverses a wide range of fields, not limited to only the sciences. To learn more, explore Oxy's 2018-19 sustainability course list.
Faculty Research
Click on each of the following drop-down options to see a list of professors and the research they are engaged in!