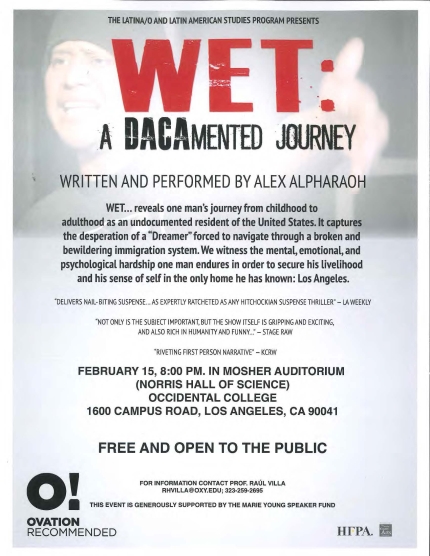 Latina/o and Latin American Studies Spring Speakers Series presents WET: A DACAmented Journey, a solo theater performance by Alex Alpharoah
WET… tells the story of one man's complicated passage from childhood to adulthood as an undocumented resident of the United States. The play captures the desperation that "Dreamers" feel as they are forced to navigate through a broken and bewildering immigration system. We witness the mental, emotional, and psychological hardship one man endures in order to secure his livelihood and his sense of self in the only home he has known: Los Angeles.
Alex Alpharoah is an award-winning stage and film actor, writer, director and spoken word performer. He has performed in important venues like Da Poetry Lounge, Sunday Jump, Washington D.C.'s Busboys and Poets, and New York's renowned Nuyorican Poets Cafe. As a teaching artist he offers classes where he mentors individuals on how to connect with their deeper selves, using their words and expressions as a form of healing.
For more information about the play, click here.
This event is free and open to the public.
Mosher Auditorium (Norris Hall of Chemistry)
1600 Campus Road
Los Angeles, CA 90041
Click here for a map and on-campus directions to Mosher Auditorium
For additional event information, contact Prof. Raúl Villa, LLAS Program Chair: rhvilla@oxy.edu; 323-259-2695
The LLAS Spring Speaker Series is made possible by the generous support of the Marie Young Speaker Fund and the Office of the Dean of the College.