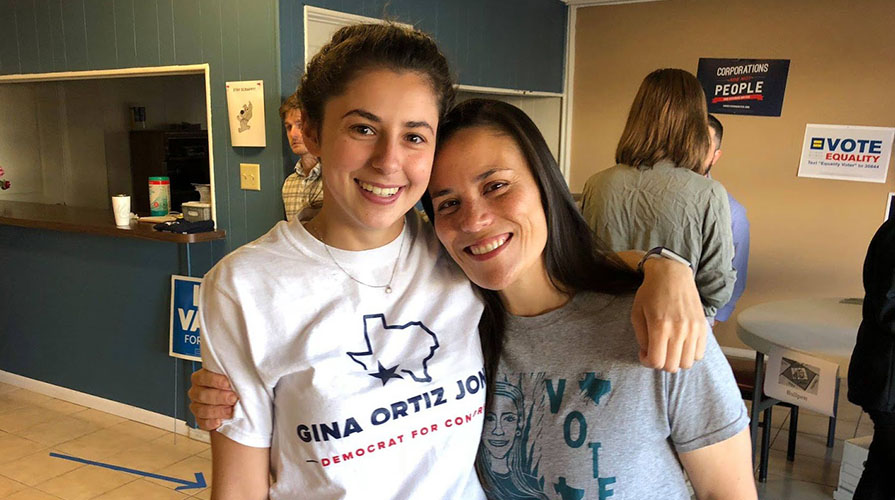 Remain fully enrolled at Occidental and earn 16 in-residence credits, while you volunteer at political campaigns. Read about the program, courses, and preparation. Consult with past participants for a full understanding of the program.  Intent to Participate due March 23, 2022 for Fall '22 participation.
FINAL Campaign Semester 2022 Information Meeting!
Tuesday, March 15 (5 - 6:30 pm)  in JSC Morrison Lounge 
Campaign Selection
Students identify a campaign they wish to work on in consultation with the program faculty advisors. You do not need to know exactly what campaign you will work on at the time of application. 
While the program officially begins on the first day of classes at Occidental, some previous participants have chosen to start work on their campaign before the first day of classes. This allows for deeper engagement with the campaign, shows initiative, and often allows students to progress within the organization more quickly.
On the Campaign
The experiential component is a 10-week practicum working on a campaign in a "swing" or "battleground" state or Congressional district.

Internship dates are the first day of classes at Occidental to Election Day.

Students are primarily responsible to secure campaign sites with the assistance of program faculty.

Activities on-site include the regular work of the campaign as determined by the on-site staff (e.g. volunteer coordinator or intern supervisor) and negotiated between the student and the site. Campaign work is highly variable and includes a wide range of tasks, large and small.
Participants are responsible for performing all work assigned by Occidental College and/or the placement site pursuant to the program. The performance of such work shall be under the immediate supervision of an Occidental College faculty member or campaign representative on site. Participants are not considered employees of Occidental College or the campaign under any circumstances during the term of the program. Monetary compensation from Occidental College or the placement site will not be awarded to program participants.
On-Campus Academic Component
Students return to campus the weekend following Election Day to begin the on-campus academic component.
Housing & Meals
Housing and meals at the campaign site are the responsibility of the student. Most campaigns provide no-cost housing to volunteers, but Occidental can in no way guarantee housing arrangements. Securing safe and appropriate housing is the responsibility of each student participant.
Students work directly with their campaign to procure housing. Housing and meal costs while on the campaign are the responsibility of the student. Upon return to campus, room and board on-campus are pro-rated for the remainder of the semester.
Cost
Participants are charged Occidental tuition and fees for the semester. Students are responsible for procuring and (if necessary) paying for their own housing while working on the campaign. Meals are the responsibility of the student while on the campaign. Room and board at Occidental are pro-rated for the five weeks on-campus component.
Except as otherwise noted, participants are responsible to arrange for the payment of all costs related to travel to, from, in and around the campaign site, including transportation to and from the placement site. See housing, above. Participants will not incur any expenses on behalf of Occidental College without prior written authorization. The college will help eligible students defray some of their travel costs to and from the campaign site.
Program Dates
Program On-Campaign Site: Mid-Aug to Mid-Nov
Program On-Campus Academic: Mid-Nov to Mid-Dec
Application Process & Eligibility
All years & majors are welcome to apply.
Complete the Intent to Participate form explaining why a student wants to participate in the program.
Neither on academic or disciplinary probation nor under investigation for code of conduct violations which may result in probation between application and departure.
All holds cleared with campus departments and offices before leaving campus
Commitment to actively participating in ALL pre-departure workshops and orientations prior to departure. This includes, but not limited to, workshops by faculty, preparatory coursework and readings, and health and safety orientations.
In the application, you will be asked to explain your interest in the program, your goals, and your expectations. Please be prepared to write a brief statement on how this program may contribute to your academic interests.