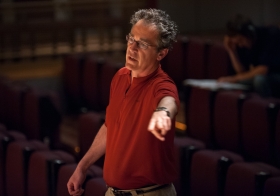 Resident Professor, Theater and Performance Studies
B.A., Dartmouth College; M.F.A., California Institute of the Arts
Hours
MWF 8:45am-9:30am and by appointment
Professor Angell teaches Performance in Action, Children's Theater, Comedy and Social Change, Audition workshop and also directs productions for the department.
Professor Angell's classes focus on acting, comedy and social change, and children's theater. Each semester Prof. Angell offers a high infusion Community Based Learning class giving Oxy students the opportunity to work in local elementary school classrooms and provide arts enrichment to NE Los Angeles youth. This work was recognized with the 2004 Community Building Award by the Urban and Environmental Policy Institute of Los Angeles. Professor Angell's theatrical productions emphasize physicality in performance with a specialization in site specific productions, one of which recently had the audience floating in the Taylor Pool.
Prof. Angell is the founding Artistic Director and writer for the professional Occidental Children's Theater. Currently in its 28th year, the Occidental Children's Theater performs on campus for seven weeks each summer, tours NE Los Angeles, and hosts the Summer Institute of Fun, a month long performing arts program for youth ages 6-15, as well as the Youth Acting Program, two Saturday morning programs teaching improvisation to 6-12 year olds.
In addition to his writing for OCT, he has written numerous books, comic books, trading cards, calendars, commercials and merchandising copy for The Simpsons and Futurama, and is currently a Story Editor on the Netflix animated series Disenchantment.