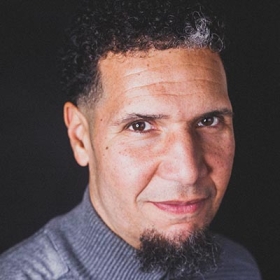 Assistant Professor, Theater & Performance Studies
B.A., San Francisco State University
Hours
MW 3pm-4:30pm or by appointment
Will Power is an internationally renowned playwright, performer, lyricist and educator.
His plays and performances have been seen in hundreds of theaters and concert halls throughout the world including Lincoln Center (New York), The Public Theater (New York), The Battersea Arts Centre (U.K.), The Sydney Opera House, as well as numerous venues in Asia, Africa, Europe and throughout North America.
Called "The best verse playwright in America" by New York Magazine, Mr. Power is an innovator and dramatic explorer of new theatrical forms. He is known as one of the pioneers and co-creators of hip hop theater, a late 20th-century art form that led the way for future iconic works such as Lin-Manuel Miranda's Hamilton, as well as dozens of education programs being established throughout the country. Power is also a master craftsman of traditionally based plays and musicals. His straight play, Fetch Clay, Make Man, has been produced in dozens of LORT theaters and regional companies including the CENTER THEATRE GROUP, McCarter Theater, New York Theater Workshop, the Round House Theater, True Colors Theater Company, The Ensemble Theater, and Marin Theater Company to name a few. Other plays include Stagger Lee (Dallas Theater Company), The Seven (La Jolla Playhouse, New York Theater Workshop, Ten Thousand Things Theater Co), Seize the King (La Jolla Playhouse, Alliance Theater), and Detroit Red (Arts Emerson). He is also the writer children's theater pieces including Five Fingers of Funk (Children's Theater Company), and Honey Bo and the Goldmine (La Jolla Playhouse). Power's collaboration with Anne Bogart's SITI Company and composer Julia Wolfe resulted in the performance piece Steel Hammer (Humana Festival, UCLA Live, Brooklyn Academy of Music, plus World tour).
Power has received numerous awards for his work as a writer and performer in the field including The Doris Duke Artist Award, a Lucille Lortel Award, a United States Artist Prudential Fellowship, an NEA/TCG Residency Grant, TCG Peter Zeisler Memorial Award, a NYFA Award, a Joyce Foundation Award, and a 2020 Elliot Norton Award (Outstanding New Script, Detroit Red).
Power is also a passionate teacher of writing and performance. He has held fellowships, residencies and faculty positions at the City College of New York, Princeton University, Wayne State University, The University of Michigan at Flint, the University of Massachusetts (Amherst), and Spelman College (Atlanta).