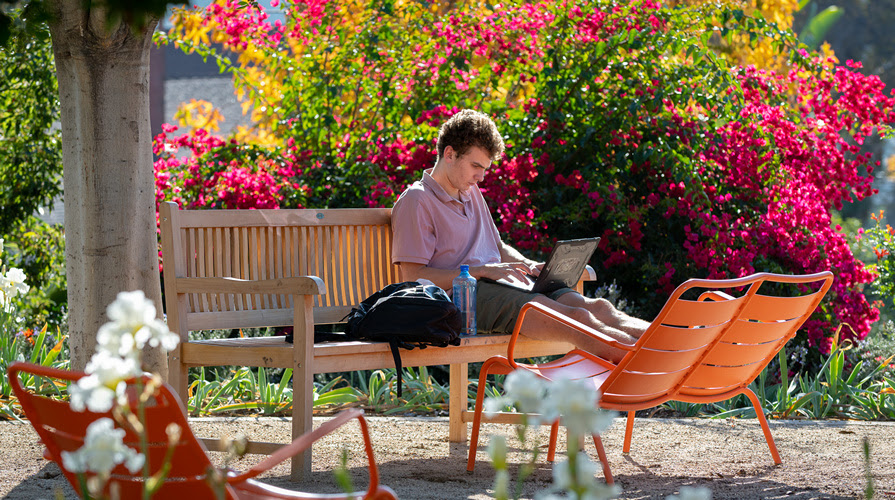 Degree Works offers real-time tracking of all of the requirements needed to complete an Occidental degree.
Degree Works is an online advising tool for both students and their faculty advisers. This page provides information about Degree Works, as well as answering some frequently asked questions.
Degree Works offers several different features that help student navigate their academic experience at Occidental College: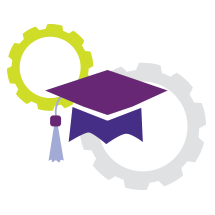 Degree Audits. The audit functionality allows students and their advisers to instantly see which requirements they have already fulfilled and track their progress toward degree completion. Degree Works audits include an analysis of the all requirements relevant to a given student, including degree, Core, major, and minor requirements.
What-If Analysis. This feature allows students to quickly see what requirements they would need to fulfill if they were to declare a given major or minor.
GPA Calculators. Degree Works offers three different GPA calculators to allow students to calculate their GPA based on both existing grades and possible future grades.
Interpreting the Degree Works Audit
The Degree Works dashboard organizes sets of requirements into "blocks"—that is, you will see a block for degree requirements, a block for Core requirements, and additional blocks for any majors or minors that have been declared. Within a block, each requirement is displayed on its own line with an icon indicating that requirement's status: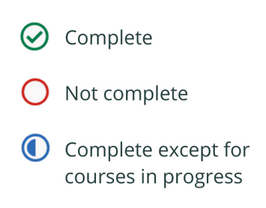 A green check mark indicates that the requirement has been fulfilled
A red open circle indicates that the requirement has not yet been completed
A half-filled blue circle indicates that requirement will be fulfilled at the end of the semester, pending successful completion of the indicated course. 
The "@" Wildcard
Degree Works uses the "@" sign as a wildcard character for both subject codes and course numbers. For example, a requirement labeled "CHEM @" could be fulfilled by any Chemistry course. Likewise, a requirement labeled "CTSJ 3@" can be fulfilled by any 300-level CTSJ course. In some cases, you'll see a requirement listed as "@ @," which indicates that it can be fulfilled by any course in any subject. This is typically used in conjunction with attributes.
Attributes
An attribute is a code assigned to a course to indicate that it fulfills a specific requirement. For example, the attribute "CPUD" is used to indicate that a course fulfills the Core U.S. Diversity requirement. When an attribute is used for a requirement, Degree Works will display a message like "1 Course in @ @ with attribute = CPLS." In this example, the requirement would be fulfilled by a course in any subject with any number, as long as the course has the Core Lab Science (CPLS) attribute. 
Frequently Asked Questions
Who has access to Degree Works?
All students and faculty advisers have access to Degree Works. Students will be able to see their own academic records, while advisers will be able to access information about their assigned advisees.
How do I access Degree Works?
For students:
Students can access Degree Works by logging into myOxy, navigating to the My Gateway section, and selecting "Degree Works." It can also be accessed by going to myOxy ⇒ Academics ⇒ Grades & Academics Records. Once you have arrived at your Grades & Academic Records profile, select the "Degree Works" link in the lower right-hand corner. 
For advisers: 
Go to myOxy ⇒ Acad Info & Advising ⇒ Advisee Listing/Advising Transcript and select the student whose recorde you wish to see. Once the student record is open, select the "Degree Works" link in the lower right-hand corner.You will need to either enter the students ID number or select their name from the drop-down menu. 
How do I access the GPA Calculators?
The GPA Calculators can be accessed by clicking the three dots on the top right corner of the Degree Works dashboard and selecting "GPA Calculator." There are three different calculator options: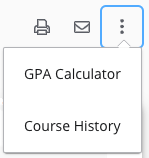 The Graduation Calculator shows the average GPA needed in future courses in order to achieve a specified cumulative GPA by graduation.
The Term Calculator calculates a cumulative GPA based on possible grades for current courses. 
The Advice Calculator shows possible scenarios that would allow a student achieve a specified GPA.
Is there a chronological list of courses?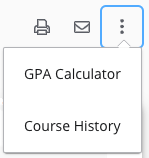 Yes! You can see a list of courses a student has taken, ordered chronologically by term, by clicking the three dots on the top right corner of the Degree Works dashboard and selecting "Course History." Note that transfer courses taken prior to a student's matriculation will typically be included in their first Occidental semester. 
Can I see placement results in Degree Works?
Not at this time. To see placement results, go to the "Grades and Academic Records" module on myOxy and select the "Placement Results" link in the bottom right corner. (Advisers can access this through the "Advisee List/Advising Transcript" link.) 
What do I do if something looks wrong?

Degree Works automatically updates each night, but there may be times when an audit does not reflect a very recent change to a student's record. If you notice something that does not appear to be correct, try clicking the circular "refresh" icon near the top of the screen. Degree Works will then check to see if there are any new records available and, if so, it will update the audit.
If after refreshing the audit still seems wrong, please make a note of the specific issue and contact either the Advising Center (advisingcenter@oxy.edu) or the Registar's Office (registrar@oxy.edu) for further assistance. 
Need help?
If you need help with using Degree Works, or if you encounter something unexpected, please contact either the Advising Center (advisingcenter@oxy.edu) or the Registrar's Office (registrar@oxy.edu) for assistance.