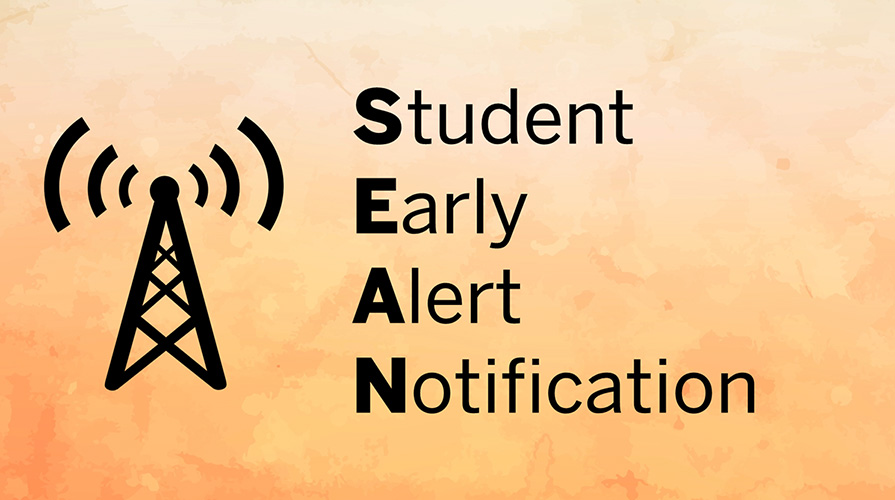 Find information about the SEAN System.
The Student Early Alert Notification (SEAN) system is an online tool that assists faculty members in communicating with students when they have concerns related to academic performance. When a faculty member submits a SEAN using the online form, an email alert is sent to 1) the student, 2) the student's faculty advisor, and 3) key people in Academic and Student Affairs. For students who participate in an intercollegiate sport, their coach will also receive the initial SEAN alert. When a student receives a SEAN alert, they are asked to respond using an online form. 
The primary goals of the SEAN system are to:
Facilitate communication between instructors, students, and academic advisors
Provide a timely notification regarding issues that could potentially result in a low course grade
When appropriate, to connect students with relevant resources and support services
All information included in a SEAN or SEAN response is treated as confidential and only shared with the student, the student's  advisor, and specific employees in Academic Affairs and Students Affairs who may be able to provide assistance. Receiving a SEAN has no direct impact on a student's grade or academic standing, and SEAN alerts are not part of a student's permanent academic record.

More Information
Information for Students
If you recieve a SEAN email, don't panic! Receiving a SEAN is not meant to be punitive; it is simply an indication that a faculty member is concerned about some aspect of your academic performance and wants to make sure you have the information and support you need to do your best. As noted above, receiving a SEAN has no direct impact on your grade or academic standing, and a SEAN alert will not become part of your permanent academic record. 
Be sure to fill out the response form linked from the SEAN alert email. This will stop the system from sending you reminders and may also help connect you with relevant offices and support services. 
Information for Faculty
Faculty members are encouraged to submit a SEAN whenever they have significant concerns about a student's academic performance. Below are some of the common reasons for submitting a SEAN:
Low Exam/Quiz Scores
Late/Missing Assignments
Poor Attendance
Poor Class Performance
Frequent Illness
The online form give you the opportunity to indicate any specific concerns you have and also provide a recommendation to the student. (For example: "Please stop by office hours so we can discuss study strategies.")
Student Academic Success Committee
In addition to being sent to the student and their faculty advisor, SEAN Academic Concerns are also reviewed by members of the Student Academic Success Committee (SASC). When appropriate, SASC members may reach out to a student to offer additional support or resources. The SASC membership consists of:
Associate Dean for Student Academic Affairs
Director of Advising
College Registrar
Associate College Registrar
Dean of Students
Associate Dean of Students
Assistant Dean of Students
Disability Services Coordinator