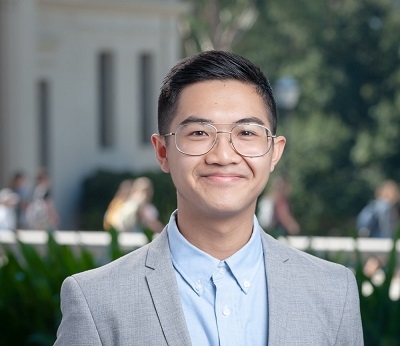 Allen Chen '19 was awarded a Fulbright English Teaching Assistantship to teach in Romania.
Why did you choose to apply for this award?
My fall semester abroad in Tokyo offered a Field Placement program. Taking advantage of the opportunity, I worked as an English Language Partner tutoring Japanese university students. Appreciative of the cross-cultural curiosities of university students, I applied to Romania because I would be working university students studying American Studies/English.
Briefly describe the work you will be doing on your fellowship.
I'll be teaching English alongside an experienced instructor to university students in Romania and will likely be housed under the American Studies or English Department.
What are you most looking forward to during your time as a fellow?
I have been lucky enough to go abroad through Oxy multiple times, and it's always difficult adjusting in the beginning. Usually, once I got comfortable, it would be time to return back to the U.S. As such, nine months as a Fulbright scholar will give me ample time to fully immerse myself in Romania.
How have your experiences at Oxy prepared you to apply for this award?
I had never traveled abroad before Oxy. It is precisely because of Oxy's global culture that helped me win the Fulbright at all. Between the Luce-funded China-Environment Program through UEPI (2012–2017), my fall semester in Tokyo, and my Young Grant to the Dominican Republic, I have had financial assistance from Oxy along the way to support my time abroad. The Sociology Department ends every year with a celebration of comps research and awards. Over the years, I have met and interacted with sociology majors who also won the Fulbright. Along with Oxy being a top-producer of Fulbright, knowing actual students, and their respective campus involvements, helped me internalize that I should apply, too. Because Romania situates ETAs in American Studies/English Departments, my time spent in the American Studies Department, which requires classes in English too, helped me develop mentorships with professors in those fields. Their teaching and letters of recommendation helped me win a Fulbright.
What advice would you give future applicants about the application process?
Arguably, the most important part of applying to any fellowship is not writing. It's revising, and lots of it. Give yourself ample time to write, outline, or even word vomit. Next, it is crucial that you work with a mentor you trust and edit the writing to near perfection. Though achievements are often inaccurately framed individualistically, my application process was deeply relational and interactional. I have Professor Villa (ENGL/LLAS) to thank for being my writer partner and my Fulbright advisor. He went out of his way to edit my writing every Sunday night for the month of September. Always leaving with sections to edit and clarify, I was excited to come back the following Sunday with improved drafts—this was a continuous process until I submitted the application. I credit this award to Professor Villa's unwavering support throughout the writing process.