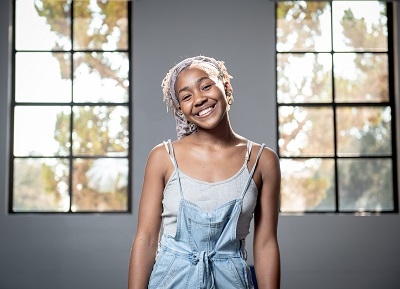 Darla Howell '20 was awarded an NYU Shanghai Speaking and Writing Fellowship to work with students in Shanghai and a Fulbright ETA to teach students in Taiwan. She accepted the NYU Shanghai award.
Why did you choose to apply for this award?
I chose to apply for the NYU Shanghai Fellowship because I have some background tutoring in English and I wanted to continue my own study of Mandarin. Being in China will allow me to immerse myself into the linguistic and cultural environment in Shanghai. I am also considering a career in higher education, and I think this fellowship will give a glimpse of how international education operates in a college setting.
Briefly describe the work you will be doing on your fellowship.
My primary responsibilities as a fellow will be to provide tutoring and academic support to undergraduate students at NYU Shanghai. I will also partner with a University department to work on some sort of Institutional Enrichment project and create a yearlong Scholarship Project.
What are you most looking forward to during your time as a fellow?
I'm definitely looking forward to returning to China and reconnecting with old friends I met while studying abroad in Nanjing. I'm excited to finally be immersed in Mandarin speaking environment so I can sharpen of my oral language skills. I am also looking forward to working directly with undergraduates at NYU Shanghai and I can only imagine the long lasting friendships I will make with students while there.
How have your experiences at Oxy prepared you to apply for this award?
I think that my work as a senior fellow in Admissions has helped prepare for this specific award. I interviewed several international students from China and they inspired me to seek out educational opportunists abroad just as they were doing in applying to Oxy. Also, I think that my work as a Teacher's Assistant during MSI and for Professor Zamorano in education department helped prepare me for the application process. I had a lot of experiences of tutoring and working with students to draw from during my interviews.
What advice would you give future applicants about the application process?
I would encourage students to apply for multiple fellowships and to start the process as soon as possible. It was nice to receive both the Fulbright and the NYU Shanghai Fellowship because it let me know that I had options and I could make my decision based off my own personal situation. Also, it's essential to start the application ASAP because it's important to hear feedback from different mentors and Professors. I had several people read over my essays and with each new draft I felt that my essays got stronger. Also! Maybe I'd tell students no to put too much pressure on themselves, the application is to find out about and all the wonderful experiences and work that students have done at Oxy and beyond. When you really reflect on your achievements it can be quite fulfilling to highlight those in an application.