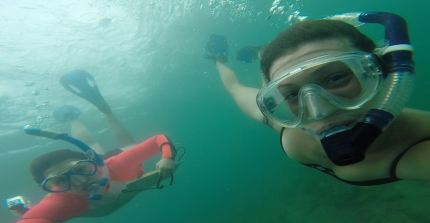 Our third day at ITEC began with quite the treat of a breakfast: pancakes! The lovely staff here at ITEC even provided our dairy-free friends with soy milk! After filling our stomachs with probably too many pancakes than one should eat before a long morning of snorkeling (totally worth it), half of us headed out to the dock. Continuing our work from yesterday, we headed to a new site, Bocas del Drago, to record all of the species we saw in order to compile a comprehensive reference list for three main sites near ITEC to use for our final projects. This area is unique as it was the first site exposed to open ocean, which included the additional difficulty of waves jostling you while attempting to classify speedy fish, write down their characteristics on a plastic board underwater, and avoid fire coral. This area also contained a mix of sea grass and coral reef habitats, making for quite a unique species list including the Cushion Sea Star, the Reef Butterfly Fish, and the West Indian Sea Egg. While the first group was out snorkeling, the second took to the trails in search of poison dart frogs , the focal species of brother man Louis' URC project. While on the trail, the group saw a Fer-de-Lance, a common, yet poisonous snake common in Costa Rica and Panama. But don't fret readers at home, the group was continuously wearing their protective (and stylish!) rubber snake boots.
After a quick lunch break, we were out in the water again, this time at a site called Punta Caracol. Continuing our site characterizations, we added many species including the Bar Jack and the Reef Squid to our lists. We also practiced our quadrat sampling skills by placing a large PVC square made up of 81 tiny squares marked off by string over a reef outcrop. In pairs, we classified each square each square as containing coral, sponge, rock, algae or invertebrate and calculated the percent cover of each. Some of us may be using this sampling technique for our final projects. Right when this mainly terrestrial creature (aka me) thought she was finally getting her sea legs, a Comb Jelly scared the sunscreen out of me as it stealthily approached my slate (aka underwater note taker). Not to my knowledge, Comb Jellies are actually stingless, and don't even belong to the jellyfish family. However looks are deceiving and I think my marine-focused classmates including Dr. Claisse got a good laugh out of my reaction.
After my close encounter with the master of disguise jelly, I got to take my first shower with soap in four days. You may be a tad grossed out, but not to fear because salt water is extremely cleansing and freshwater is hard to come by here at ITEC. We are pretty much off the grid here, with all of the freshwater we use being caught and recycled rainwater and power coming from a generator from 6am – 8am and 7pm – 10:30pm only. Since we are in the ocean for most of the day, most of us just rinse off in a quick freshwater shower in the boat house after snorkeling. When real showering does occur, we take what Pete, the ITEC director, calls a military shower, which includes a quick rinse of water, applying soap with the water of, and then rinsing off quickly after. If we take too long of showers, there will be no water to cook with, and knowing how much our crew likes food, no one would dare mess with this system.
Speaking of food, tonight's dinner was definitely a favorite, spaghetti and garlic bread! After gobbling up our second American-ish meal of the day/of the entire trip, we retreated to crunching numbers form our quadrat survey, identifying fish from our underwater chicken scratch notes, and ending the night with a movie. Part of the group watched Fight Club while others viewed Leap Year (shout out to Elise and Morgan for making it through that cheese-tastic feature by my side). I bid you adieu as I drift asleep to the deep hum of the station generator. Well, only until 10:30!
- Kristin Treat