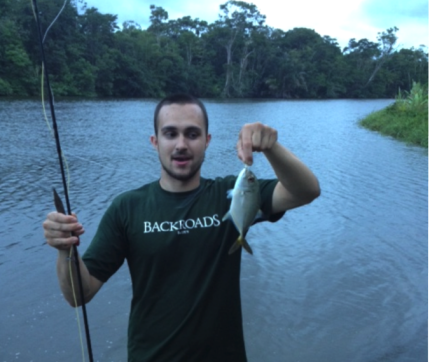 Ryan and I woke up this morning at 5:30 about 15 minutes before sunrise. As we walked down from the ITEC station to the dock the howler monkeys and birds began to replace the nighttime drone of crickets. We took an old canoe out to fish the mangroves and sea grass beds just outside the station.
After returning with one fish and eating breakfast, my project group got to start our behavior study of yellowhead jawfish. We are looking to see if their feeding increases with their colony size. We hypothesize that the security of being in a larger group might allow the jawfish to feed more frequently. As we returned for lunch a storm rolled through so we decided to visit town versus trying to collect more data in the murky water.
It was fun to visit the town of Bocas and explore. Members of our group did some shopping and I unsuccessfully searched for a barber, however, with three weeks without shaving what is just a couple more days? People from our group got a variety of things to eat. Some got Italian food and others got French fries and pizza all from restaurants that doubled as docks over the water. Everyone was glad we got to see the town and it has reenergized us to go out and get more data (aka more sweet obs).
-Connor Lewis-Smith