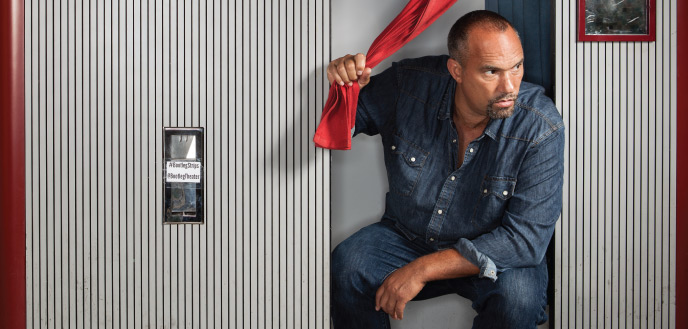 Whether it's Christopher Columbus, Frederick Douglass, Huey Newton, or Rodney King, writer-performer Roger Guenveur Smith '77 brings his subjects to life with reams of research and a touch of jazz
Family legend has it that Roger Guenveur Smith '77 was conceived at an NAACP gathering in Monterey. It seems appropriate: Throughout a decades-long acting, writing, and directing career on stage and screen, Smith has confronted issues of racial identity, politics, and history through his interpretations of events and the lives of iconic figures—many of them African-American.
Born in Berkeley and raised in the Crenshaw district of Los Angeles to a lawyer ­father and dentist mother, Smith's parents informed his social awareness at an early age. "There were political conversations all the time at the dinner table," he says. "I remember asking my dad if he was a Negro, and he said yes. And I said, 'Well, is Kennedy a Negro?' My parents were adamantly in support of Kennedy, so I figured that he must be a Negro; that was the form of support that was discussed. My father had to explain to me that no, JFK was not a Negro."
Helen Guenveur and Sherman Smith were also responsible for their son's initial exposure to acting. "I was a kid. I walked into the kitchen where my parents were arguing vociferously, and my Uncle Milton was there." Young Roger was upset, but his uncle reassured him: "Don't worry, your parents are simply rehearsing what's called a play"—namely, Edward Albee's Who's Afraid of Virginia Woolf?
"The thing that stuck with me was the emotional resonance," Smith says. "I could walk into a room, and two people that I loved—who loved each other—were yelling and screaming at each other."
Moviegoers know Smith as a character actor with a broad palette of small but memorable turns in such mainstream hits as American Gangster, Poetic Justice, and All About the Benjamins, and a fistful of films with director Spike Lee (including Lee's latest, Chi-Raq, which examines violence in inner-city Chicago and is scheduled for release by year's end). Last summer, he made a splash with a featured role as a Harvard-educated drug lord in the 2015 Sundance sensation Dope.
Yet the artist's stage work—controversial, transcendent, and wildly original, enhanced by compelling sound and visual design—is his hallmark. Smith has mounted one-man shows on Rodney King, Frederick Douglass, and Huey P. Newton, as well as works on the Watts Towers, the Christopher Columbus saga—set in 1992 with the explorer as a lounge entertainer—and Juan and John, based on the notorious Aug. 22, 1965, clash at Candlestick Park when the San Francisco Giants' Juan Marichal took his bat to the head of the Los Angeles Dodgers' John Roseboro).
"Every piece has its different challenge," Smith says. On a stage in Oakland in 1995, performing A Huey P. Newton Story—based on the life of the late activist and Black Panther Party co-founder—"I had his widow, his brother, sister, and his chief of staff all in the audience, and I'm there 'being him.' That's trial by fire."
That's a trial Smith won—Newton garnered an Obie Award in 1996 as well as a Peabody five years later "for exploring events from our past in a provocative, challenging, and enlightening manner"—thanks in no small measure to his skills as a historian and researcher. He spent nearly a year digging into Newton's life, allowing him to factually improvise in character. "I didn't dare step on that stage until I felt my archival work was done," he says.
Smith graduated from Occidental with his process fully formed—a union of his passions for American studies and theater and nurtured by such faculty mentors as David Axeen (American studies), Bob Winter ("the great scholar of L.A. architecture"), the late filmmaker Chick Strand, and Eric Newhall '67 (English). "The mentorship that I received at Oxy was just tremendous," he says.
Mary Jane Hewitt, an assistant professor of American studies in the 1970s, was a particularly strong influence on Smith. One day, he recalls, Hewitt invited a select group of students to meet a few of her friends in Morrison Lounge. Her friends included author and poet Maya Angelou, actor and director Roscoe Lee Browne, and writer and activist James Baldwin. "These people were just sitting as if in her living room, having a great conversation," Smith says. "It was then that I knew there was such a thing as a life in the arts and that it was worth pursuing."
For his senior honors project in American studies, Newhall recalls, Smith came to the department with a not-so-modest proposal: "Rather than write a standard research paper, he wanted to do what he described as a creative project about Frederick Douglass," Newhall says. "This would culminate in a one-man show open to the entire campus, and the results were spectacular."
Smith's performance made a lasting impact on Newhall, who even today includes Douglass in his survey of American literature: "I said, 'Well, I'm going to have my students read the primary document that Roger based his performance on."
Frederick Douglass Now remains a staple in Smith's one-man repertoire: He returned to Oxy with the show in 2011, the same year the College awarded him an honorary doctorate, and staged it at the Bootleg Theater in Los Angeles in August 2014 ("a personal benchmark for this remarkable artist," wrote Los Angeles Times critic David C. Nichols).
"The piece consists of essentially the same material as I did at Oxy" 38 years ago, Smith says—after judicious initial changes. In its first incarnation, "It was more than two hours long. Even my mother said I needed to edit it," he admits with a laugh.
After graduating from Oxy, Smith attended Yale to pursue a Ph.D. in history, a pursuit cut short "on a whim," he says, when he auditioned for the School of Drama. He was accepted, but "never anticipated that I would have any Hollywood career. But I was blessed to be in the same generation as this guy Spike Lee."
Post-graduation, Smith was deep into his first acting gig in legitimate theater at the Guthrie Theater in Minneapolis. "I was doing Ionesco, Shakespeare, Pinter. I went to see this film called She's Gotta Have It [Lee's 1986 feature-length debut], and I sat through it twice. I said, 'Who is this guy? I've gotta get in touch with him.'"
The fledgling actor entered a cattle-call audition for the director's sophomore film, School Daze, beating out 100 other hopefuls for the part and beginning a long and fruitful partnership (Do the Right Thing, Malcolm X, Get on the Bus, He Got Game, Summer of Sam) that endures more than 25 years later.
In 2006, Jessica Hanna co-founded the Bootleg Theater as a space for "original, boundary-defying live theater and performance born from the diverse cultural and artistic landscape of Los Angeles." The Bootleg has produced many of Smith's shows since then, and in June 2012, Hanna called him, offering three weeks of stage time.
"He said he was thinking about [a show on] Otto Frank and his daughter Anne," Hanna recalls. A week later, Rodney King died of accidental drowning (alcohol and drugs and a heart condition were also contributing factors). Otto and Anne would have to wait.
After learning of the circumstances of King's death, "I was extraordinarily moved," says Smith, who in interviews has called him America's "first reality TV star." "I never met the guy, but I felt I had lost someone very close to me and I wanted to know why. Why did Rodney King matter so much to me, and why by extension would he matter to my potential audience?"
Since developing Rodney King on the Bootleg stage, Smith has performed it to great acclaim internationally (most recently in a two-week run in Minneapolis), and the show won a Bessie at the New York Dance and Performance Awards in October. "There's an empathy with Roger," says Hanna. "He's great at speaking truth in a way that people hear."
Theater professor Susan Gratch was instrumental in bringing Smith to Oxy as the G. William Hume Fellow in the Performing Arts in 2011, when he staged Frederick Doug­lass Now and The Watts Towers Project.
In 2013, Smith returned to campus with his meditation on King. "The Rodney King piece is different every night," Gratch says. "It's really brave, really beautiful, really creative, and it's exciting to watch this live creation of poetry."
Last fall in Herrick, Smith dissected his process in a public address, Performing History, inspired by his undergraduate studies. He says his approach is greatly influenced by jazz artists "who are able to play standard tunes millions of times, never the same way, but with a certain integrity. It's what I aspire to in my work on stage."
Entertainment lawyer Bob L. Johnson '77 is a firm believer in Smith's artistic integrity. The two met as Oxy freshmen, became fast friends, and have been creative partners and business colleagues ever since. "He takes things that we think we know something about that are in the public sphere and then he gets to the underbelly of it, flips it back and forth, and presents it to us so we can do our own interpretation," says Johnson, who served as ASOC president as a senior at Oxy. "It's a compelling way of looking at history."
Despite a formidable work schedule—he's got multiple films in the can and is developing new stage material as well with his frequent collaborator, Marc Anthony Thompson of noted musical collective Chocolate Genius—Smith has always maintained strong ties with his alma mater, reaching out to educate and inspire young talent. "It's essential to share," he says, "and people from Oxy who've shared with me have changed the course of my life."
Last November, Smith directed an Oxy production of playwright Steven Berkoff's Agamemnon. "He's one of those actors and directors who can change the energy of a room to his liking," says Savannah Gilmore '15, an English and theater major from York, Pa., who played Clytemnestra. "Working with him, obviously you're intimidated, but he's very kind and thoughtful and was still able to be very artistically demanding of us."
For Gilmore, who's been auditioning for film and stage work since graduating in May, Smith epitomizes the potential of an Oxy arts education. "Basically," she says, "I just want his career!" 
Peter Gilstrap profiled professor emeritus Don Deardorff in the Summer magazine.