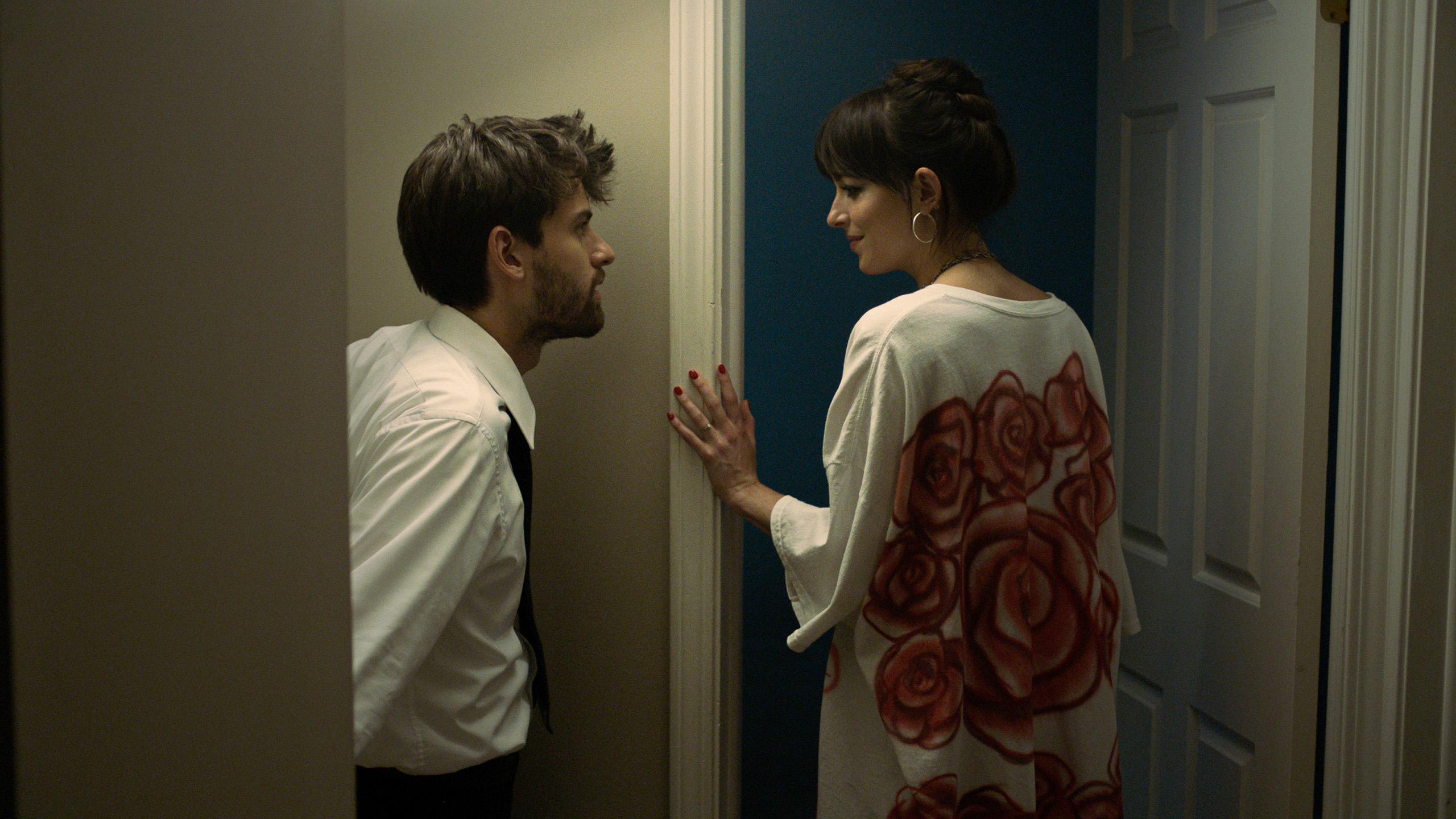 New books by Oxy alumni, and Cooper Raiff '19's sophomore film cha-chas its way to Sundance glory
Cha Cha Real Smooth, written and directed by Cooper Raiff '19 (streaming June 17 on Apple TV+). Fresh out of college and without a clear life path going forward, 22-year-old Andrew (Raiff) is stuck back at home with his family in New Jersey. But if there's one thing that belongs on his nonexistent resume, it's how to get a party started, which lands him the perfect job of motivational dancing at the bar and bat mitzvahs for his younger brother's classmates. When he befriends a local mom (Dakota Johnson) and her daughter, Andrew finally discovers a future he wants—even if it might not be his own. Winner of the 2022 Sundance Film Festival Audience Award in the U.S. Dramatic competition, Cha Cha Real Smooth is Raiff's followup to his 2020 SXSW Film Festival Grand Jury Prize-winning S#!%house.
A Rose Named Peace: How Francis Meilland Created a Flower of Hope for a World at War, by Barbara Carroll Roberts '78 (Candlewick). Francis Meilland was passionate about roses. He loved their rich perfume, their buds unfurling in the summer sun, and their petals, soft as lambs' ears. Like his father and grandfather before him, Meilland cultivated flowers on the family farm in France. In his teens, he set about grafting and experimenting, determined to create a rose no one had seen before, and as the world braced for World War II, he rushed cuttings to rose-growing friends around the globe. Six patient years later, word reached him: His rose had not only flourished; people were calling it the Peace Rose. With beautiful illustrations by Bagram Ibatoulline, this life story of a special flower digs deep into world history, botany, and the rewards of perseverance. Roberts (Nikki on the Line) lives in Virginia with her husband, two cats, and "one very goofy dog."
States of Disorder: Ecosystems of Governance, by Adam Day '00 (Oxford University Press). Today's vision of world order is founded upon the concept of strong, well-functioning states, in contrast to the destabilizing potential of failed or fragile states. This worldview has dominated international interventions over the last 30 years as enormous resources have been devoted to developing and extending the governance capacity of weak or failing states, hoping to transform them into reliable nodes in the global order. But with very few exceptions, this project has not delivered on its promise. States of Disorder addresses the question, "Why has U.N. state-building so consistently failed to meet its objectives?" It proposes an explanation based on the application of complexity theory to U.N. interventions in South Sudan and the Democratic Republic of the Congo, where the U.N. has been tasked to implement massive stabilization and state-building missions. Far from being "ungoverned spaces," these settings present complex, dynamical systems of governance with emergent properties that allow them to adapt and resist attempts to change them. Based on more than a decade of Day's work in peacekeeping, this book offers a systemic mapping of how governance systems work—and work against—U.N. interventions. Pursuing a complexity-driven approach instead helps to avoid unintentional consequences, identifies meaningful points of leverage, and opens the possibility of transforming societies from within.
Dragons in My Classroom: A Teacher's Memoir, by Barbara Kennard '80 (She Writes Press). Barbara Kennard had very high standards as an English teacher. As a dyslexic child, she had adored, even revered, certain teachers, and she wanted to be as inspiring to her own students. But over time, Kennard began to feel out of place at the Fessenden School in Boston, where she had taught for four years. Having struggled as a child to succeed academically, had she internalized an unrealistic work ethic and set of expectations and become a perfectionist? When an opportunity arose for Kennard to do a teaching exchange with the Dragon School in Oxford, England, she decided that exposure to different teaching styles would give her a fresh perspective. Her year away was inspiring and transformative, reigniting her love of teaching and also reconnecting her to her faith. Kennard taught English and performing arts from 1980 to 2015. The Barbara Kennard Sixth Grade English Prize was established in her name by a family at the Fessenden School. She lives in Texas with her husband, Brady Millican, and their cat, Piper.