Ten years after its installation, Occidental's solar array produces 12 percent of the College's energy usage
On March 4, Occidental's 1-megawatt solar array turned 10 years old. Since "first light" on March 4, 2013, the array has produced 17.85 gigawatts of electrical energy—12 percent of the College's usage over the same time period.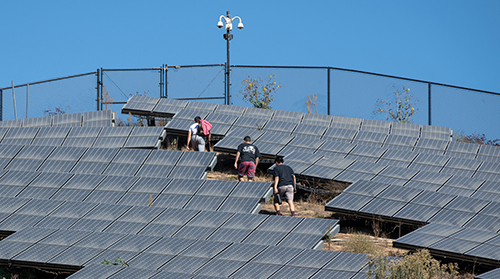 In the decade since it became part of the campus landscape in a marriage of aesthetic design and energy efficiency, the solar array has saved the College $3.25 million—97 percent of Oxy's initial $3.35 million initial outlay. Accounting for lost endowment investment opportunities, the predicted payback period for the array is about 14 years—two years longer than original projections, according to Physics Professor Dan Snowden-Ifft, who has overseen the project since its genesis more than a decade ago. (The project was approved by the Board of Trustees in 2010 and was completed nearly three years later.) As he sees it, the array "highlights Oxy's desire to see positive change in our world, our willingness to work together on hard projects, and the value of a liberal arts education and approach to life."
"In the last year the array produced 1.61 gigawatts of electrical energy, about 10 percent below our average," says Snowden-Ifft. "This was largely due to a breakdown of our main inverter for about a month and a half in the middle of the summer, during what is normally a period of peak production. The cause of the problem was a broken motherboard, and the length of the shutdown was due to the fact that these inverters are no longer manufactured and we had to get a custom board built." Throw in an unusually cloudy winter, and the array underperformed during year 10.
Looking at 10 years of data, Snowden-Ifft notes, "When all the inverters are working and right after a big rain—i.e., likely clean—I find that the efficiency of the system (actual energy produced divided by predicted energy) has always been better than 98.8 percent. The hardware is good and doesn't seem to be aging at all."
The biggest ongoing challenge, he adds, has been optimizing the cleaning of the array.  Yearly efficiencies (actual over expected) have varied from 85 percent to 96 percent and depend on rainfall and cleaning. A student effort called ARRCS (short for A Rainwater Capture and Cleaning System) is in the works that will drastically lower the cost of cleaning and bring these efficiencies up closer to 100 percent. Another maintenance item is to keep the big bushes trimmed down on the hillside, which keeps the panels from being shaded and allows wildflowers to flourish.
Created by Lettuce of Highland Park in collaboration with Occidental art faculty, the array has served as a backdrop for mayoral press conferences and drawn significant attention as a creative model for future ground-mounted urban infill projects. Perhaps more remarkably, as Snowden-Ifft noted in a presentation about the array's circuitous journey to first light, "No one has complained about it." 
Worth Noting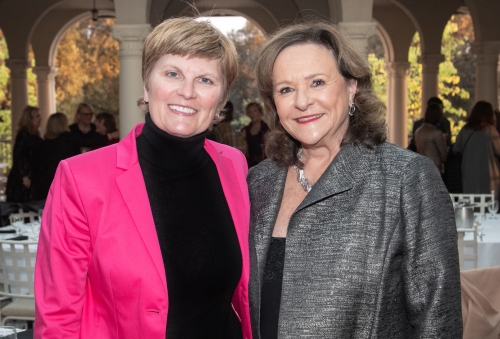 Lynn Mehl, professor emerita of kinesiology and psychology, was honored by the Southern California Intercollegiate Athletic Conference (SCIAC) with its 2022 Distinguished Service Award at a March 16 ceremony. Mehl served Oxy and the SCIAC in many roles, overseeing 18 varsity sports as director of athletics and leading the Tigers women's tennis team to the Division III national championship in 1982. Mehl (pictured with Athletic Director Shanda Ness) is the third recipient with ties to Oxy to earn the honor since its inception in 1985, joining Grant Dunlap '46 in 1993 and Richard C. Gilman in 1988.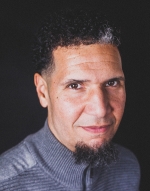 Will Power, assistant professor of theater and performance studies, will be making his Center Theatre Group debut in June with his acclaimed play Fetch Clay, Make Man, directed by Debbie Allen. First staged in 2013, the play is set in 1965 and examines the unlikely friendship between heavyweight boxing champion Cassius Clay and controversial Hollywood actor Stepin Fetchit. Produced in association with LeBron James' and Maverick Carter's SpringHill Company, the play runs from June 18 to July 16. (Allen will discuss the play in an in-depth conversation with Occidental President Harry J. Elam, Jr. at The Gathering Spot Los Angeles on June 26.)