Summer reading possibilities from Breanne Fahs '01, Susan Coll '81, and Désirée Zamorano; and a new mini-history of Oxy baseball
Valerie Solanas: The Defiant Life of the Woman Who Wrote SCUM (and Shot Andy Warhol), by Breanne Fahs '01 (Feminist Press; $22.95). Valerie Solanas inhabited Andy Warhol's Factory scene, circulated among feminists and the countercultural underground, charged men money for conversation, despised "daddy's girls," and outlined a vision for radical gender dystopia. Solanas (who died in 1988) is remembered for shooting Andy Warhol in 1968 and for writing SCUM Manifesto, a 21-page diatribe that anticipated ATMs, test-tube babies, the Internet, and artificial insemination long before they existed. In writing the first biography of Solanas, Fahs conducted interviews with family, friends, foes, and numerous living Warhol associates. She reveals surprising details about Solanas' life: the children nearly no one knew she had, her drive for control over her own writing and copyright, and her elusive personal and professional relationships. Valerie Solanas depicts an iconic figure whose life is at once tragic and remarkable. Fahs is an associate professor of women and gender studies at Arizona State University.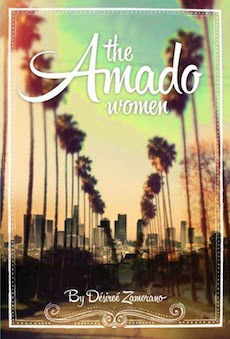 The Amado Women, by Désirée Zamorano (Cinco Puntos Press; $16.95). Southern California is ground zero for upwardly mobile middle-class Latinas. Matriarchs like Mercy Amado could raise three daughters and become a teacher. Now she watches helplessly as her daughters drift apart as adults. The Latino bonds of familia don't seem to hold. Celeste, the oldest daughter who won't speak to the youngest, has fled the uncertainty of her growing up in Los Angeles to seek financial independence in San Jose. Her sisters did the same thing but very differently. Sylvia married a rich but abusive Anglo and immersed herself in the suburbia of her two young daughters. And Nataly, the baby, went hip deep into the free-spirited Latino art world, working on her textile creations during the day and waiting on tables in an upscale restaurant by night. Everything they know comes crashing down in a random tragic moment, and Mercy must somehow make what was broken whole again. A Pushcart Prize nominee for fiction, Zamorano is director of the Community Literacy Center at Occidental. She lives in Pasadena.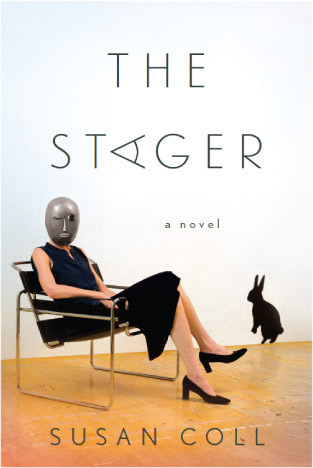 The Stager, by Susan Coll '81 (Sarah Crichton Books/Farrar Straus & Giroux; $26). Dominique is one very bitter rabbit. His owner, Lars Jorgenson, is a former tennis pro who has blown out both knees, become obese, and is now addicted to a cocktail of prescription drugs, one weird side effect of which is that he has developed an omniscient point of view. Both Dominique and Lars are going crazy in the affluent Maryland suburbs, where their faux Tudor home is up for sale. Idle on the market for months, the home is now being staged—that is, redecorated and depersonalized so that others can imagine themselves living there. Into the messy personal life of Lars and his wife, Bella, comes Eve, an unemployed journalist-turned-stager who immediately realizes that she is in the home of her former best friend, Bella—about whom she knows way too much. Questions of friendship, loyalty, fidelity, sobriety, and sanity are raised in this dark comedy set in the age of planned communities, cookie-cutter mansions, and cutthroat careerism. The Stager is the fifth novel by Coll (Acceptance, Beach Week), events and programs director at Politics & Prose Bookstore in Washington, D.C.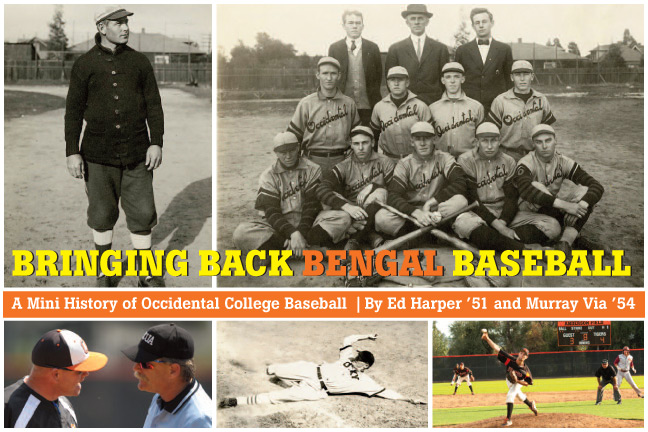 Bringing Back Bengal Baseball: A Mini History of Occidental College Baseball, by Ed Harper '51 and Murray Via '54 ($25; available at the Oxy bookstore and as a free PDF online). Oxy's baseball tradition is as rich as any small school in the country. Dating back to 1889, the Tigers have won 28 conference titles and fielded a host of decorated players, thanks in large part to a triad of legendary coaches (Wilkie Clark, Bill Anderson, and Grant Dunlap '46). A one-of-a-kind history, Baseball Hall of Famers Harper and Via worked countless hours to put together this 52-page overview of the program, which jumps off the page with images from personal archives and the College's Special Collections.