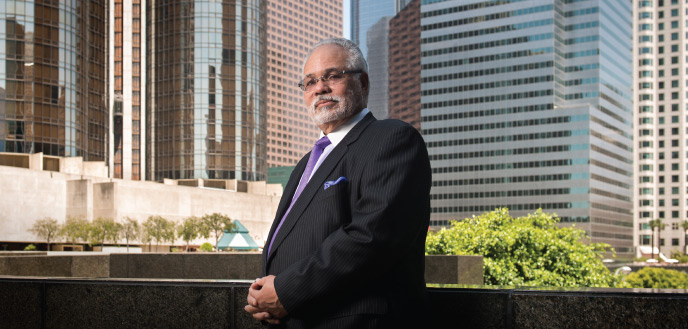 Gene Grigsby '66 left a successful career in urban planning to take a flyer on fixing an ailing National Health Foundation. With an innovative program that addresses healthcare costs for homeless patients, he found a new lease on life 
By George McIntire '11 | Photos by Marc Campos and Max S. Gerber
Twenty years ago—around the time of his 50th birthday—J. Eugene Grigsby III '66 found himself at an impasse. Grigsby realized that he had passed the midpoint of his life expectancy, "which made me feel mortal," he recalls. "I asked myself, 'Do you want to do for the next 15 years what you been doing for the last 30—and if the answer's no, then what are you going to do about it?'" This dilemma left Grigsby, who had devoted his career to urban planning, depressed for a solid month.
In 2002, Grigsby was invited to play in a charity golf tournament benefitting National Health Foundation, an L.A.-based organization founded in 1973 to address healthcare issues of the underserved. It turned out to be more than just a day on the links. Grigsby was asked by his playing partner if he was interested in running NHF, to which he laughed and replied, "I don't know anything about healthcare or running a nonprofit foundation. Why would you even think I could do this?"
By the 18th green, his hesitation had faded, and he agreed to an interview. Grigsby was promptly offered the position of CEO and president. He credits "good old Oxy persuasiveness and analytical ability" for locking down the NHF job: "I convinced them I knew what they were trying to get at and that I had the ability to deliver on it if they invested in me." 
Grigsby arrived in a time of uncertainty at the foundation, whose $1.7-million budget suffered a massive blow in 2003 when the state of California canceled a $1-million contract. Not willing to let a crisis go to waste, Grigsby saw this as an opportunity "to have and create a teachable moment" and to fundamentally change NHF with a systems-based approach to problem-solving couched in his urban planning background.
When Grigsby took hold of the organization, government funding accounted for about 80 percent of NHF's annual budget. Today, NHF's budget is $7 million, less than 8 percent of which is government-funded. "Changing people's mindsets around the notion of diversifying revenue sources was not something people were receptive to until we lost all of our revenue in one fell swoop," he says.
Grigsby and the NHF board identified three themes as the organization's strategic initiatives: uninsured children and families, chronic disease prevention and management, and healthcare delivery systems. It is on the last front that NHF has made arguably the greatest impact, implementing a recuperative care system in Los Angeles and Orange counties that recently earned Grigsby and Paul Leon, president and CEO of the Illumination Foundation, the James Irvine Foundation's Leadership Award for addressing the cost of healthcare for homeless patients.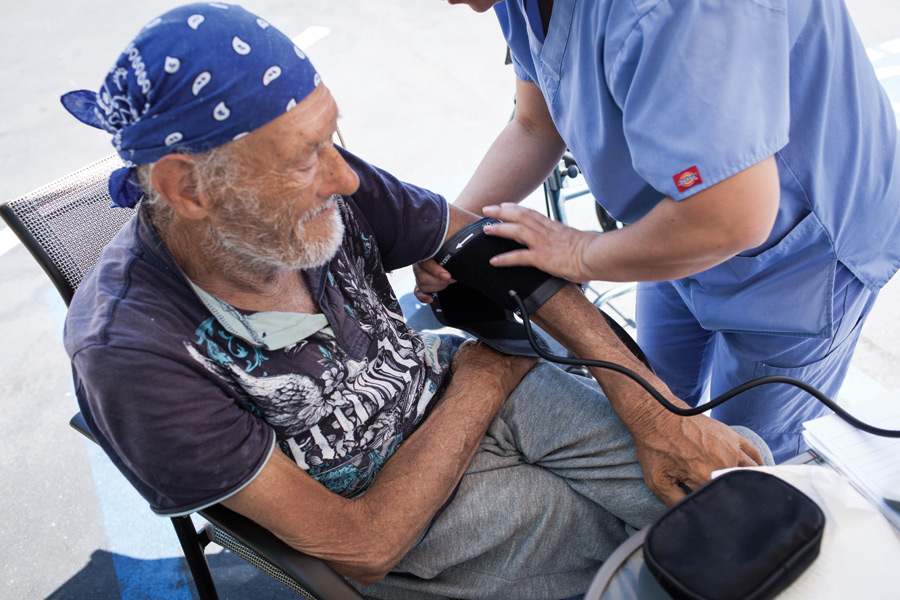 According to Grigsby, the program grew out of "a discussion about what hospitals should be doing with homeless people who did not need to be in acute-care hospitals but still needed oversight for up to 10 days." (One study showed that hospitals were holding such patients an average of four days later than necessary.) Started in 2008, the program assists homeless patients who have been discharged from hospitals by putting them up in local motels. There they have access to a team of registered nurses, a site coordinator, and a social worker—all of whom work to provide housing and social services, and address other needs specific to their situation.
The cost to NHF and its partners: about $250 a day, a fraction of the average hospital stay. Today, 64 hospitals in Los Angeles and Orange counties (which have a combined homeless population of around 71,000) participate in NHF's recuperative care program. In 2013, more than 800 referrals were submitted and 5,821 recuperative care days provided. The partnership between NHF, Illumination Foundation, and the Hospital Association of Southern California helped hospitals avoid an estimated $4 million in unnecessary costs last year, and more than $13 million since its founding.
NHF board chair Jess Womack, who worked closely with Grigsby on the development and implementation of the Recuperative Care Program, calls him "a pragmatic manager who works well with his staff and with his board members in developing creative solutions." In exploring economical ways to address one of the most vexing issues involving healthcare for the homeless, he adds, "We have developed a program that has the potential for national replication and which could also have a dramatic impact."
Grigsby—who was awarded emeritus status in June after serving for 31 years on the Occidental Board of Trustees—is quick to credit the College ethos as an instrumental factor in the success of the care centers: "Our philosophy, a good old Oxy one, is that you learn how to learn so you improve constantly, as opposed to set something up and run it exactly the same way from the day you set it up."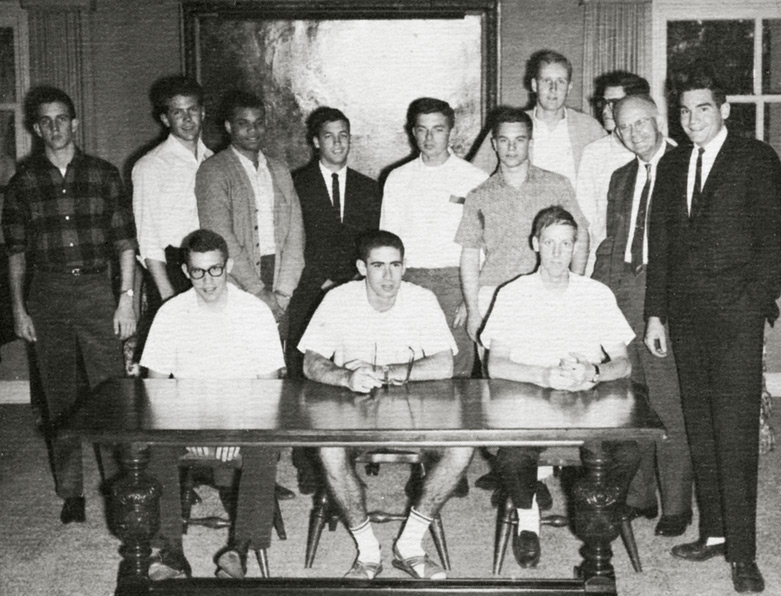 The son of African-American artist and educator J. Eugene Grigsby Jr. (who died last year at age 94), Grigsby enrolled at Oxy from Phoenix Union High School, a diverse high school of 6,500 students. "I actually wanted to go to Redlands, where Amos Alonzo Stagg coached football, because I was a football player," he told interviewer Sara Mooney '13 in a 2012 oral history for OxyCorps. Grigsby was accepted to Redlands, but Occidental offered him a $1,000 scholarship (one-third of the total cost of tuition). Arriving in Eagle Rock in 1962 as a freshman, he was one of two African-Americans in his class.
As an undergrad, Grigsby was a three-sport athlete, lettering in football, basketball, and tennis. He made history at Oxy by helping to break the color barrier among the Greek organizations. "At that time, being a member of a fraternity or a sorority was a really big deal," he recalled in 2012. "So when I first got here, because I was in athletics, the guys who were associated with an athletic fraternity became my best friends, until they got word that if they pledged me that fraternity would be kicked out of the national fraternity. Overnight I lost all of my best friends." During Hell Week, Grigsby was approached by the brothers of Kappa Sigma, which in 1963 would renounce its national charter over its decision to admit its first Black member—ASOC president Baltimore Scott '62. Grigsby joined Kappa Sigma, which subsequently went local, becoming Phi Sigma Omicron.
A sociology major, Grigsby also participated in Operation Crossroads Africa, spending three months in Egypt in 1965 with a delegation of African-American athletes. Taking in an enormous amount of history in one trip proved to be overwhelming for the Oxy junior. "It was an eye-opening experience," he says. "I had no concept of what a Muslim and male-dominated country was like. And I didn't know a single word of Arabic."
After graduating, Grigsby completed a master's in psychology at UCLA in 1968. While working on his doctorate in Westwood, he was invited back to Oxy to create and teach in an urban studies program, which he did for three years. He subsequently began a 31-year stint as a professor of urban planning and director of the Advanced Policy Institute at UCLA's Luskin School of Public Affairs. As founder and president of the Planning Group, Grigsby also consulted for the UCLA Medical Center, the California Hospital Medical Center, and other government and private sector clients across North America. For a time, he was also director of what is now known as the Ralph J. Bunche Center for African American Studies at UCLA. Along the way he somehow found time to publish three books (including Regions That Work: How Cities and Suburbs Can Grow Together, with co-author and Oxy professor Peter Dreier) and 45 articles.
After 12 years at his current position, Grigsby is close to making NHF financially self-sufficient—a concept that once seemed as elusive as a hole-in-one on the golf course. So what's his secret for managing multiple careers? He insists it's nothing out of the ordinary. "I'm a very organized person and a good delegator," Grigsby says. "I start each day with a list of things to do, and I also make good use of mobile technology." Having reached another milestone birthday in May, he seems quite happy with Act 2 of his life—and the final curtain is nowhere in sight.
San Francisco-based freelancer George McIntire '11 wrote "Take a Bow" in the Winter issue.