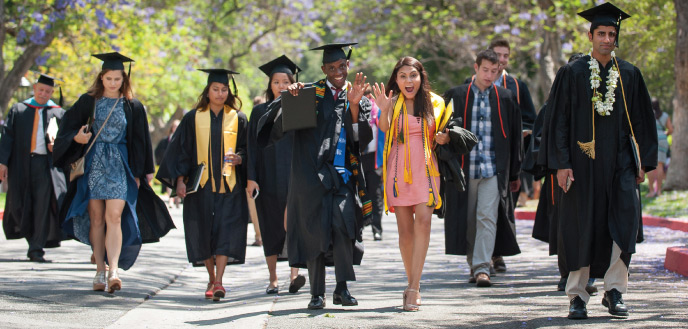 Words of advice to Oxy's graduating Class of 2014: Step out, take chances, and embrace life's journey
At first glance, a food critic, a civil rights activist, and an architect would appear to have few commonalities. But as Jonathan Gold, Odessa Woolfolk M'73, and Elizabeth Diller spoke to Occidental's Class of 2014, a common thread became clear. Each engages their communities and appreciates and embraces urban life. And each emphasized the need for today's graduates to do the same.
Gold—the Pulitzer Prize-winning restaurant critic of the Los Angeles Times—spoke of his hometown as an "extraordinary multicultural mosaic" that prepares students to learn and live in the world. "I can attest to the outside influence Oxy has had on me. Then, as now, Oxy is remarkable with its advanced emphasis on social activism. Something is clearly going right in Eagle Rock."
Woolfolk—educator, civic activist, and founding president of the Birmingham Civil Rights Institute in Alabama—echoed similar sentiments. Speaking of her time as a grad student in urban studies at Oxy, she said, "The City of Los Angeles was our laboratory" and "a cauldron of social activism."
And keynote speaker Diller—a founding principal of Diller Scofidio + Renfro, the New York City-based design studio that integrates architecture, the visual arts, and the performing arts—describes her projects, such as the adaptive reuse of an abandoned Manhattan railway line into the High Line Park, as "surgical interventions into existing structures and logics."
DS+R's other projects include the renovation of the Lincoln Center for the Performing Arts and the controversial expansion of the Museum of Modern Art in New York; the Institute of Contemporary Art on Boston's waterfront; the Museum of Image & Sound on Copacabana Beach in Rio de Janeiro; and the Dongguan Factory and Housing Complex in Shenzhen, China.
Diller extolled the need to retain an independent voice among the voice of an institution. "I didn't want to be a problem-solver," she said. "I wanted to be a problem-creator. I was a misfit in architecture because I was a border-crosser. I didn't fit neatly in boxes but instead fit between the cracks."
The recipient of a MacArthur "genius" grant and an associate professor of architecture at Princeton since 1990, Diller overcame her "phobia of pomp and circumstance" to join the graduates as they take the next step on their journey. She assured the 476 graduating seniors that this was no time to be nervous about the future.
"Very few people nail it early," Diller said. "They bumble their way through the first years. I, for one, ended up doing what I thought I'd despise. I have true reservations about punctuating one's education with a period, or even a comma or a colon. School prepares us for education."