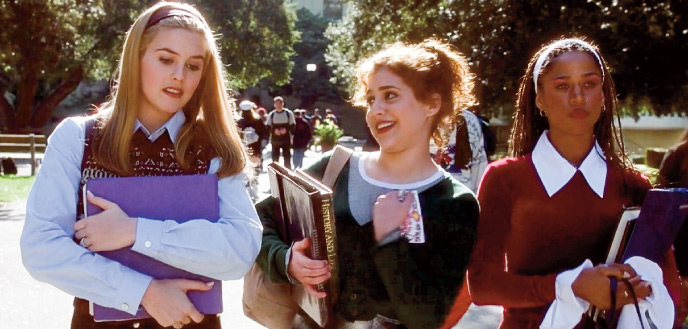 Two decades after Alicia Silverstone and crew stormed into shopping malls and cinemas, a new book and a popular blog document the timelessness of Clueless—and Oxy's role in its making
Has there ever been a more totally Oxy movie than Clueless? As if! Star Trek III: The Search for Spock may have immortalized the Lucille Y. Gilman Memorial Fountain, and Jurassic Park III and a host of other films have put Thorne Hall on the big screen, but for sheer Occidensity—that's a word we just made up—it's hard to imagine a more immersive cinematic experience than Amy Heckerling's 1995 riff on Jane Austen's 1815 novel Emma. 
Maybe it's because filming took place over the holiday break—or maybe the ­College was in a post-Beverly Hills 90210 hangover—but the making of Clueless went largely unnoted in the Occidental media of the day. This was no fly-by-night production, though: From Dec. 20, 1994, to Jan. 6, 1995, the film shot on the Oxy campus on weekdays while taking three days off (for the Christmas holiday, for New Year's Day, and for one insurance day when star Alicia ­Silverstone was ill).
A genuine sleeper in the summer of 1995—the season that also brought us
Babe
,
Braveheart
, and
Batman Forever
—
Clueless
continues to win over new audiences on cable and Netflix. The film's 20th anniversary this summer has prompted a new wave of nostalgia for
Clueless
. Jen Chaney, a former
Washington Post
writer, has published
As If! The Complete Oral ­History of
Clueless (Touchstone; $16.95), ­documenting the making of Heckerling's second seminal contribution to pop culture (following
Fast Times at Ridgemont High
).
By her own best estimate, Chaney watched Clueless "between 15 and 20 times" over the course of writing As If! But that number pales next to superfan Lindsay Blake, who makes her living blogging about filming locations on iamnotastalker.com, the site she started in 2007. By her own precise ­calculations, Oxy pops up in no fewer than 19 different scenes in Clueless, which she ­recently detailed online. "I typically only ­document locations from movies and TV shows that I am passionate about," she says. "Clueless, obviously, is one of those movies."
What is your own history with Clueless?
Lindsay Blake: I grew up in San Mateo, the same place where Alicia Silverstone grew up. She was a year ahead of me and went to public school, while I went to private school, but we had some friends in common. When she started filming Clueless, all I knew was that it was about a rich Beverly Hills high schooler. I was excited to see it because of Alicia, but had no idea how much I'd end up loving it.
Jen Chaney: I first saw Clueless on VHS not long after it came out. I was 23 then, so generationally, more of a Josh than a Cher. But I remember really liking it. When I was in middle and high school, the teen movies that really struck a chord with me were the John Hughes movies: The Breakfast Club, Pretty in Pink, Ferris Bueller's Day Off. Though the sensibility of Clueless was different, it made me feel like a teenager again.
Why has Clueless become a touchstone of pop culture?
Chaney: For those who were pre-teens or teenagers when it came out and saw it repeatedly in theaters or at slumber parties, the experience of watching Clueless is intertwined with memories of being young. All the references in the movie to mid-'90s-era popular culture—"Beavis and Butthead," the Cranberries, Marky Mark—make watching it a nostalgic experience. But I also think the story of a girl attempting to figure out how to become a better person is a timeless one.
Blake: It spoke to my generation, but it speaks to kids of today just as well. It also stands out as being markedly different from most teen movies. It's not raunchy, it's not sex-driven, it's not low-brow. It is a really smart film. The dialogue is incredibly witty and sharp. All of the characters are so kind-hearted, too. Clueless portrays an idealized version of high school. There are no mean girls in Cher's world. And it's such a happy movie! I think that's why so many people revisit it again and again. And the clothes! The clothes were (and still are) amazing!
Jen, when did you realize that there was a book in the making of Clueless?
Chaney: The credit belongs to my agent, Allison Hunter. I had written a piece for Vulture that was an oral history specifically focused on the Val party scene in Clueless. Allison reached out to see if I thought there was a potential book in looking at Clueless as a whole, using the same oral history treatment.
You conducted more than 80 interviews for the book. What was the most surprising revelation about the film?
Chaney: I didn't realize just how many now-prominent actors [Gwyneth Paltrow, Ben Affleck '95] were part of the casting conversation, or that it rained heavily during certain stages of production, something one would never guess since practically every scene in the movie is bathed in sunlight.
Maybe the biggest surprise was discovering that, from Heckerling's perspective, making Clueless was a pretty smooth experience. Trying to get it made was difficult, but once the wheels were in motion, it seemed like Heckerling was able to execute her vision, develop good relationships with the actors, and cut the film [with editor Debbie Chiate] the way she wanted with minimal agonizing. That's a rare thing.
Lindsay, what prompted you to document "The Clueless Guide to Occidental College" (and now, "The Complete Clueless Guide to L.A.") for your blog?
Blake: I had long known that Occidental was used as Bronson Alcott High School in Clueless, but specific parts of the campus that appeared in the movie had never been chronicled. One of my readers grew up in Eagle Rock and knows Occidental like the back of her hand, so over the years she helped me track down a few different spots on campus that had appeared in the movie.
Last July, I happened to tag along with one of my good friends who is a ­location scout on a tour of Grant High School in Van Nuys. At one point, we turned a corner and found ourselves in a long hallway with ­orange lockers and an orange-and-white tiled floor, and I knew immediately we were standing in the Clueless hallway. I was floored! I started doing research and realized that there was a lot of misinformation out there about Grant's use in the movie. I wanted to correct all the wrong information, so I set out to document all of the spots on the Oxy campus that appeared in the movie. Thus "The Clueless Guide to ­Occidental College" was born.
A couple of months ago, I pitched the idea of "The Complete Clueless Guide to L.A." to my editor at Discover Los Angeles in honor of the movie's 20th anniversary. 
I wasn't sure it would be possible to nail down every single location, but after a lot of knocking on doors, countless phone calls, and help from some Oxy staff members, I was able to. I don't think I have ever worked harder on an article, or had more fun in doing so.
What was the biggest challenge?
Blake: Many of the movie's locations had already been tracked down years prior (some by me and some by other location websites), so I was only trying to find about 10 missing places in writing the piece, including the missing Occidental locations. The biggest challenge was the passage of time. The two ­remodels of Johnson Student Center made things especially challenging. It is extremely hard to verify what the interior of a building used to look like after two remodels.
What kind of reaction have you had from the cast or crew?
Blake: I spoke to both location manager Jeffrey Spellman and production designer Steven Jordan in my ­research, and both were very helpful. Prior to speaking with Jeffrey, I had tracked down the classroom used at Grant and the specific hallway, and he seemed pretty amazed by that—or maybe he just thought I was nuts for caring so much about a location.
Jen, now that the book is out, what kind of crowds are you seeing? How broad is the Clueless demographic?
Chaney: I've done a few events so far, and the crowds are somewhat broad. For example: I attended a Jane Austen conference in Chapel Hill, N.C., last month, where obviously the interest in Clueless was very Emma-based. The crowd there skewed female, but ranged from teens and early 20s to people in their 60s. I would say the most ardent Clueless fans tend to be females in their 20s and 30s. But again, I talk to guys who love it, as well as people who are both older and younger than that demographic.
Anything else of interest to Oxy readers?
Blake: Jeffrey told me that the ­library masqueraded as a DMV office for a scene that wound up on the cutting room floor.
Chaney: I am sure plenty of people would eagerly go on a Cher Tour of L.A. 
Think you know your Clueless? Match these scenes to their Oxy location. (We didn't include the Patterson Field scene (where Cher convinces Ms. Stoeger to raise her P.E. grade from a "C" to a "B," because, duh, that would be way too easy.) Scroll down to the bottom for the answers.
Clueless
1. Bronson Alcott High Walkway (where Cher first says "As if!")
2. Mr. Hall's Pathway (where Cher observes Mr. Hall, natch)
3. Bronson Alcott Teachers Lounge (where Cher covets a Snickers bar)
4. Bronson Alcott Faculty Parking Lot (where Mr. Hall and Miss Geist share their first kiss)
5. Bronson Alcott Tennis Courts (where Cher first meets Tai)
6. Grassy Knoll (where Travis and his fellow "loadies" hang out)
7. Fountain Photo Shoot (where Tai poses like "one of those ­Botticelli chicks")
8. Heather's Dorm (where Josh's girlfriend lives)
9. Art Museum (which Cher ­visits with Christian during a montage scene)
10. Pismo Beach Food Collection Drive (where Travis donates some unusual kitchenware)
Clue List
a. Admission and Visitor Parking (between Newcomb Hall and Collins House)
b. Arthur G. Coons ­Administrative Center
c. Booth Music and Speech Center (rear)
d. Booth Music and Speech Center Courtyard
e. Central Quadrangle
f. Gresham Dining Room
g. Johnson Student Center/Freeman College Union interior (pre-1998 renovation)
h. McKinnon Family Tennis Center
i. Samuelson Campus Pavilion
j. Weingart Center for the ­Liberal Arts
Pencils down! Here are the answers to our Clueless quiz:
1) e 2) c 3) f 4) a 5) h 6) i 7) d 8) j 9) b 10) g