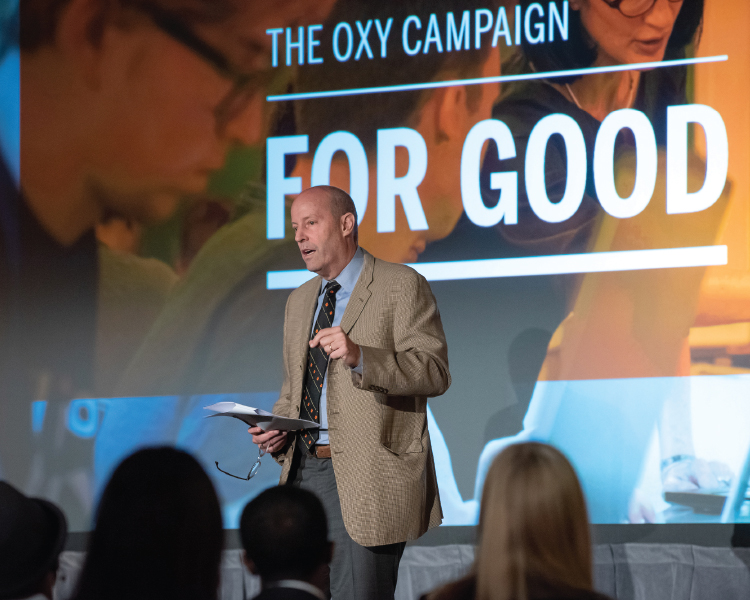 A Vision of Tomorrow, and a Call to Arms
Spring is always a joyful time of year at Oxy as we celebrate the many accomplishments of the graduating class. That joy shone through this May despite the unseasonable rain that fell during Commencement as we watched hundreds of future entrepreneurs, diplomats, scientists, public servants, artists, and educators receive their diplomas, poised to change the world for the better.
A powerful sense of optimism was equally palpable the day before Commencement, when we launched the public phase of The Oxy Campaign For Good—the College's first comprehensive fund­raising effort in more than 20 years. Spirits were lifted by the news that more than half of the Class of 2019 contributed toward the senior class gift, which supports student scholarships. Participation among graduating seniors has almost doubled over the last four years, which shows just how much Oxy has meant to them and confirms our belief that we have an exciting opportunity to build a new culture of philanthropy.
Fundraising is central to that culture and the success of this initiative. We call it The Oxy Campaign For Good out of admiration for the good our alumni are doing in the world and because we want to secure the future of Oxy—for good—so that future generations of students can enjoy the same opportunities that benefitted the Class of 2019. Our ambitious goal of $225 million represents a threefold increase over the sum raised during Oxy's last campaign under President John Slaughter—more money that the College has ever sought before. Access is the campaign's No. 1 priority—represented by our goal of raising $100 million for student scholarships.
For generations, Oxy has excelled at identifying and educating talent, acting as a powerful engine of upward mobility. Steve Rountree '71, the new chair of the Board of Trustees, is a classic example: a first-generation college student, the son of a used-car salesman and a secretary, whose scholarship-funded education made it possible for him to become a nationally known arts administrator responsible for the design and construction of the Getty Center as COO of the Getty Trust and instrumental in the building of Walt Disney Concert Hall as CEO of the Music Center. As Steve's story demonstrates, upward mobility is nothing less than the promise of the American Dream, the glue of our democracy and the guarantor of our freedom. Without it, we are nowhere. Without it, everything we care about falls apart.
In addition to scholarships, The Oxy Campaign For Good offers many other opportunities to have a genuine impact, whether that's strengthening academic excellence through endowed professorships and support for undergraduate research, investing in the modernization and renewal of our beautiful campus, or providing annual support to underwrite the Oxy experience for current students.
To be able to continue this vital work, we are seeking to build a culture of engagement and stewardship, one that requires a broader community involvement and shared ownership of our goals. Oxy already has raised $123 million during what we refer to as the quiet phase of the campaign—funds given primarily by those closest to Oxy in acknowledgment of the many ways in which the College has changed their lives. Their support is a labor of love and a continuum that dates back more than 100 years, when alumni decided to create the College's first endowed scholarship and raised the funds needed to landscape the then-bare Eagle Rock campus.
The generosity of a small group of our most generous donors has made it possible to launch the public phase of the campaign with considerable momentum. But now we need the help of all alumni. All of us believe in the power and value of a liberal arts education to change lives and in this institution, which has been built with alumni resources. The Oxy Campaign For Good can succeed only if new generations of alumni take up the challenge. This is a call to arms on behalf of an institution that has given all of us so much—a call that has been met throughout Oxy's 132-year history. While this is not the first comprehensive campaign in College history, we need to broaden and deepen our collective effort to sustain the institution that means so much to all of us.
Which leads me back to the Class of 2019 and its support for the senior class gift. Their firsthand experience over the last four years inspired 253 seniors to help make that experience accessible to other talented students who in turn will join them in being a force for good in the world. It's a model we hope other classes will follow. I can't think of a more powerful endorsement of what we are trying to achieve—for Oxy, and for good.
Jonathan Veitch
President