An immersive exhibit at Descanso Gardens underscores the diversity and proximity of Southern California wildlife—and the efforts under way to improve their mobility
Not long after he was caught and tagged by wildlife biologists in 2012, P-22—a mountain lion who migrated from the Santa Monica Mountains to Griffith Park, a 20-mile odyssey that crossed the 405 and 101 freeways—became the face of urban wildlife in Southern California. Photographer Steve Winter's photo of the big cat walking in front of the Hollywood sign, published in National Geographic in December 2013, cemented his iconic status.
After being struck by a car, found injured in a Los Feliz backyard, and diagnosed with a host of health issues, P-22 was euthanized by state officials in December 2022. His lifespan exceeded many of his peers: A recent study reported that 535 mountain lions were reported killed on California highways in the last eight years—a rate that threatens to decimate the puma population in the state.
While most Southern California residents have never seen a puma in the wild, sightings of deer, bobcats, and the occasional bear in the backyard are not uncommon. "We live within a wildlife corridor," says Joe Rohde '77, whose 40 years of work with Walt Disney Imagineering frequently revolved around natural history and wildlife conservation. "If you sat on your own front porch at 3 in the morning, you'd have a very different perception of where you live than you do at 4 in the afternoon."
Prior to moving to Santa Barbara in 2021, Rohde was a longtime board member of the Arroyos & Foothills Conservancy (AFC), a nonprofit group founded in 2000 to conserve lands in the communities along the foothills of the San Gabriel Mountains. (Oxy connections run deep throughout the organization: In 2010, AFC co-founder and president Nancy Steele hand-picked executive director John Howell '71, a real estate attorney and lifelong Pasadena resident, "to take this organization to the next phase," she told Occidental magazine in 2014.)
Having secured around 140 acres of open space since its founding, the Conservancy is pressing ahead with its most ambitious project yet: the Hahamongna to Tujunga Wildlife Corridor Initiative, a series of passageways that would enable wildlife to travel between the San Gabriel Mountains and the isolated open space of the San Rafael Hills, Verdugo Mountains, and Griffith Park.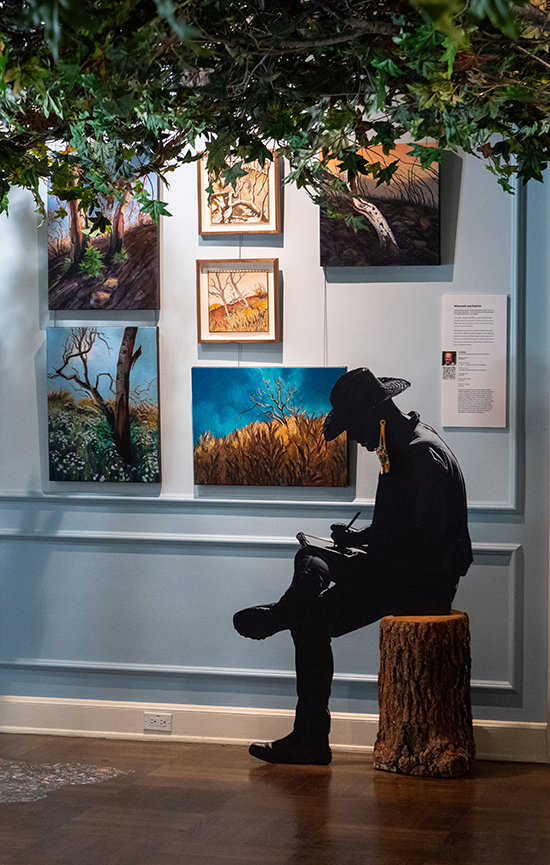 The importance of that initiative is driven home by Living in a Wildlife Corridor, an interactive and immersive exhibit on the grounds of Descanso Gardens, a 150-acre botanical garden located in La Cañada Flintridge, just eight miles from the Oxy campus. Occidental is one of multiple partners with the Conservancy for the exhibit, which incorporates the work of well over a dozen artists, photographers, and sculptors.
Following the success of a smaller exhibit, Growing Habitat: L.A.'s Wildlife and Descanso, at the gardens' Sturt Haaga Gallery in 2018, "There was this idea that we could do something bigger, grander, and more all-encompassing," Rohde says. "We also had more to say: As Arroyos & Foothills is expanding its purview, acquiring more land, getting closer to being able to create these corridors, there's a bigger story to be told."
Rohde developed the exhibit concept and experience with Rich Toyon of La Crescenta, a 14th-generation Native Californian, cinematic production designer, and conservationist who frequently represents the Tongva Nation on environmental and public issues. "Rich did the lion's share of the actual design," Rohde says. "What you're looking at with your eyeballs is mainly his work.
"It's a very visual dominated presentation—it's not that textual," he adds. "One of the best things that exhibitions like this can do is simply make enough impact that you remember you are interested. Often with exhibit design, it can take weeks before people internalize and process what they saw, and then it comes back to them when they see a bird, or a tree. They remember something, and now it's integrated into their life experience."
Many of the images in the exhibit were captured by camera trap photographer Johanna Turner, who moved to Los Angeles in 2000 and started trail camera photography in 2009. "Some of Johanna's best photographs of Nikita the mountain lion were taken from somebody's backyard looking over Glendale," Rohde says. Part of what we're trying to do is get people to experience the immediacy of the natural world around them—to think about ways in which they might slightly modify the space they live in to make it easier for these animals to move through."
Among the exhibit's installations is a collection of Rohde's paintings, titled Aftermath and Rebirth, depicting the area devastated by the La Tuna Fire, which began on Sept. 1, 2017, and consumed 7,194 acres through the Verdugo Mountains. "I did a whole series of paintings tracing the recovery of this habitat," he explains. The paintings span roughly nine months—from the first sprigs of green emerging just weeks after the fire to the start of the following summer, "by which time the landscape looked so much like a California landscape that there wasn't much point in continuing," he says.
"So much California landscape painting in the classic plein-air tradition celebrates what appears to be the eternal unchanging landscape—the oak trees, the eucalyptus, the rolling hills," Rohde notes. "My paintings were kind of a counterpoint to that tradition in that they represent the trauma and recovery of the way this landscape actually works."
As a "big believer in incremental action," Rohde hopes that the exhibit motivates visitors to consider small changes in their own relationship to nature. "The simplest choices—planting three plants that butterflies like in your yard, or being careful what you put on your lawn—can have big repercussions for the success of the natural system around you," he says. "Change does not necessarily involve becoming a scientist and going off to live in the forest."
Growing up, Amanda Zellmer spent many summers in the northwoods of Wisconsin exploring nature. She took an interest in the effects of habitat fragmentation on wildlife populations as a doctoral student at the University of Michigan. "I started by studying frogs in Southeastern Michigan, and how converting lands into urban areas, agricultural areas, prevents them from being able to disperse and move to other ponds," says Zellmer, an associate professor of biology at Occidental. Using computer modeling and spatial data analysis, she became interested in analyzing how wildlife move across the landscape and what is—and isn't—a barrier to their movement.
Much of Zellmer's research is conducted in partnership with the Conservancy. "We look at how wildlife are using green spaces around Los Angeles, what conservation approaches are best for them, and what happens if they wind up in isolated habitat patches where they're surrounded on all sides by urbanization. How do they get out if they need to? What if they run out of resources, or mates, or water? They need a way to get out."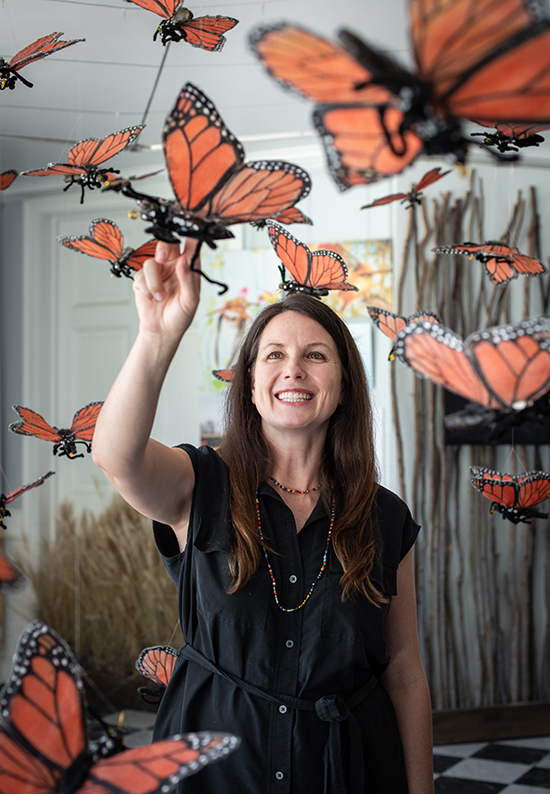 Zellmer's involvement with the AFC began in 2018, when Steele contacted her about being a scientific adviser on a camera trap project designed to study wildlife moving throughout the foothills. "I wasn't working on camera trap images at the time, but it had to do with wildlife connectivity, so I said, 'Sure,'" she recalls.
During the early days of the pandemic, Zellmer and her research lab students started having weekly Zoom meetings with Conservancy staff and community volunteers to discuss the mechanics of urban wildlife research. Several biology majors have since done yearlong internships with the Conservancy, and in 2022, four Occidental students presented their work with the AFC at the Southern California Academy of Sciences. "I'm really happy with the collaboration," Zellmer says. "A lot of the work that we do supports the material that is presented in the exhibit."
At the International Urban Wildlife Conference in Washington, D.C., in June, Charlotte Whorton '23, a biology major from Seattle, presented her research in a talk titled Burgling Bobcats: On the Potential for Leveraging a Global Network of Security Cameras for Scientific Wildlife Observations and Conservation. Whorton was awarded best undergraduate research for her presentation, which suggests that home-security camera footage posted to neighborhood forums such as Nextdoor and Ring Neighbors has the potential to fill in gaps in biologists' understanding of wildlife activity in urban areas.
Currently, Zellmer and her students are working with the California Association of Resource Conservation Districts to plan out a bridge over the 5 Freeway that would enhance wildlife connectivity between the Santa Susana and San Gabriel Mountains. "We're doing all the connectivity modeling for that—trying to figure out the best place to put a bridge for wildlife movement," she says. "If you put bridges in different places, can you find a place that's better than others?"
The Conservancy's initiative is one of several under way to enhance wildlife connectivity between Southern California's green spaces. In April 2022, construction began on the $87 million Wallis Annenberg Wildlife Crossing over a 10-lane stretch of the 101 Freeway near Liberty Canyon in Agoura Hills. (The 200-foot-long, 165-foot-wide bridge is scheduled for completion in 2025.) Last November, a proposed $4.3 million Newhall Pass I-5 Wildlife Crossing Design Project was presented to the state Wildlife Conservation Board by the Mountains Recreation and Conservation Authority.
"We've had several students working in my lab this summer who are interning with AFC and they've been docents at the exhibit as well," Zellmer notes. "They've gotten a lot of experience on how to do research that informs conservation, interact with the community, and interact with community partners."
Exhibit docent Ian Becker '24, a biology major from Chicago, became interested in urban wildlife research after he began working in Zellmer's computational biology lab in January. This summer, he ended up working with the Conservancy for a wildlife occupancy study of an AFC-owned property in the foothills of Altadena that connects to National Forest property as well as to Hahamongna land in the Verdugo Mountains.
Becker led a field team that set up 17 camera traps, which they monitored from May 13 to June 14. "We ended up seeing a lot of bobcats and mule deer, and there could be some mountain lions that are actively using the corridor because we know historically they've been out there," he says. "The biggest surprise was how readily wildlife was using the corridor, especially in an area that's pretty heavily trafficked by humans." He presented his findings at Oxy's Undergraduate Research Conference in August.
After graduation, Becker hopes to "dive into the larger world of urban ecology" in pursuit of a Ph.D. As his research mentor, "Professor Zellmer has pushed me to do a lot of different things," he says. "I'm so much better off as a researcher and a student because of it."
Zellmer hopes that visitors to the exhibit come away with a better understanding of the connections between humans and their four-legged neighbors in Southern California. "People are having meaningful interactions with wildlife, and I want them to get involved in conservation. This is our backyard as humans and we should have access to wildlife as well."
Top photo: Mother of Lions, by Robert Martinez. Additional photos by Marc Campos.