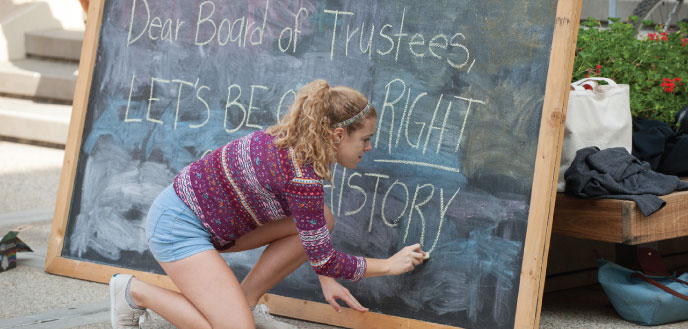 A student-led campaign to divest the College 
of fossil-fuel investments raises questions about 
institutional priorities and practices
Reflecting a growing national movement on college campuses, a group of Oxy students and faculty have launched a new campaign to persuade the Board of Trustees to divest Oxy of fossil-fuel company stocks. But the practical realities of institutional investment, coupled with the board's responsibility to maximize the return on the endowment, suggest that finding common ground on the matter may  require deeper drilling on both sides.
Both sides agree on the reality of global warming and the role fossil fuels play in climate change. The debate focuses on the symbolic value of taking a moral stance to try to shift public opinion versus concerns about the actual impact on targeted companies. While welcome, Occidental's multi-million-dollar investment in sustainable practices just isn't enough in the eyes of campus critics.
"As an institution that teaches social and community change and action on your beliefs, why are we putting our money in investments that not only support what these companies are doing, but also add to our climate crisis?" asks Lauren Breynaert '16 of Fossil Free Occidental, which formally launched its divestment campaign in September. "We can't just turn a blind eye and indirectly support the largest perpetrators [of climate change]."
"Of course, we're open to a discussion that takes into account the complexities of this issue and the most effective ways of reducing fossil fuel consumption," says Chris Calkins '67, chair of the Board of Trustees. "Given that a significant amount of Oxy's footprint is based on student demand for everything from air conditioning to bandwidth, we'd also welcome a conversation about what steps students could take in that direction."
At a November 17 meeting with Breynaert and other Fossil Free Occidental members, trustee Dave Berkus '62, a member of the board's investment committee, and Amos Himmelstein, vice president for finance and planning, explained the board's perspective. First and foremost, Berkus said, the board's job is to produce the greatest return for the College. While the endowment has outproduced the higher education average over the last decade, its relatively small size—$406 million as of June 30—means that it generates less than one-fifth of Oxy's operating budget each year.
Because roughly 76 percent of Oxy's endowment is commingled with funds from other investors, the College has no direct control over or day-to-day knowledge of how that money is invested, they explained. When the board established a new policy last January to avoid knowingly investing in companies that manufacture military-style assault rifles, it did so because its investment adviser, Cambridge Associates, was able to determine that the endowment had no such investments. That wouldn't be the case with such a large market segment as fossil fuels.
Driven by the dual desire to reduce its carbon footprint and generate budget savings, Occidental has accelerated its investment in sustainable practices over the last several years. The success of the College's $6.8-million hillside solar array that produces 11 percent of Oxy's power helped persuade trustees this fall to create a $3.5-million Green Revolving Fund to invest in energy and water-efficiency upgrades, renewable energy, and other cost-saving sustainability projects.
"All of those things are important, and we're really stoked about the Green Revolving Fund," one student replied. "But in terms of what we're facing in our lifetime, climate change is terrifying and serious. Changing light bulbs isn't enough—we have to go to the root of the problem."
While the College has no direct influence over the mutual funds the endowment is invested in, there is roughly 5 percent of the endowment that the College manages directly, according to Berkus. "If we recognize the difference between the two kinds of investments, and recommend active investigation into our direct investments," he said, "that's something we could have a dialogue about." 
Since 589-student Unity College in Maine ("America's Environmental College") pioneered the movement in November 2012, ­fossil fuel divestment has struggled to gain traction. Here's how trustees at other schools have voted on the issue:
Yes: Pitzer and Hampshire colleges 
No: Harvard, the University of ­California, Pomona, Swarthmore, ­Middlebury, Brown, and Bowdoin 
In the Middle: Stanford, the ­University of Maine, and San Francisco State have divested their endowments of all direct investments in coal-mining ­companies