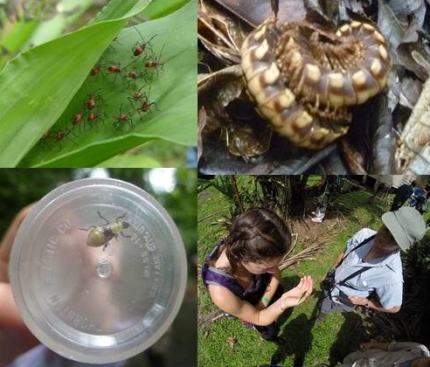 Today was a busy and eventful day filled with an insect walk and facility inventory tour in the morning, an extensive plant walk in the afternoon, and our very first group night walk! Wahoo!
As you can imagine, La Selva has an extensive insect population with many species yet to be identified. One of my favorites was the batch of 20 or so bright red stink bugs on a single leaf and the mating millipede pairs that littered the forest floor. I also caught my very own lady bug as it flew right in front of my face! We also caught many butterflies, army ants, leaf cutter ants, and a cryptic caterpillar.   During our planned insect tour, we nonchalantly came across a tiger rat snake and an ebony keel back snake that another researcher captured for his project.
During our facility tour, the director of La Selva, Carlos de la Rosa, personally showed us the insect inventory and taxidermy room. He enchanted us with an amazing story of how he and his colleagues observed a new species of dragonfly nesting and growing on bromeliads.  In fact, he caught the first adult holotype of the species just 15 minute before talking to us. Carlos also specializes in catching and identifying midges, a type of insect that is found in river foam.  My favorite was this special microscope with the left lens focusing on an insect specimen and the right lens focusing on a blank piece of paper so that you can see where your pencil is on the blank sheet of paper superimposed on the specimen in the left lens, making it easier for you to use your pencil and trace over the specimen lines for an accurate drawing.
On our plant walk in the afternoon, we identified my all time, favorite plant at La Selva with the most gorgeous leaves with a beautiful, intricate venation. The venation is often commonly referred to as cow's tongue and is found in the family Melastomatacea and the genus Miconia. We also saw these very interesting fern plants that didn't look like traditional ferns at all! The ones at La Selva are very rare and only one species of three that exist in the world.
As for the night hike, all I can say is that it was pretty awesome. We saw tons of snakes (even one eating a bird!), red-eye tree frogs, spiders, grasshoppers, armadillo, possum, bioluminescent fungi (the whole stick was glowing!), fire flies. One group even saw red eye tree frogs mating---don't forget to check out the picture on it, you definitely want to see that one.
-Adrienne Mikovari