Individual faculty profile pages are flexible, single pages containers for faculty information.
Each faculty profile includes a certain amount of required information, e.g. job title and education, that is managed by the dean's office. In addition faculty members and department administrators can add as much additional information as desired, such as publications, courses taught, research specialties, etc. The body of faculty profiles can contain text, tables, links, images, and video.
Anatomy of an Individual Faculty Profile page
Individual faculty profile pages have 4 parts
A photo space for one high quality headshot

The intro copy field for a one sentance faculty bio

Job title, education, year appointed, and other details managed by the dean's office (note: please contact the dean's office directly if you need to update any of this information)

The contact information field for faculty contact information

The body copy area for the majority of the page content
Optional Features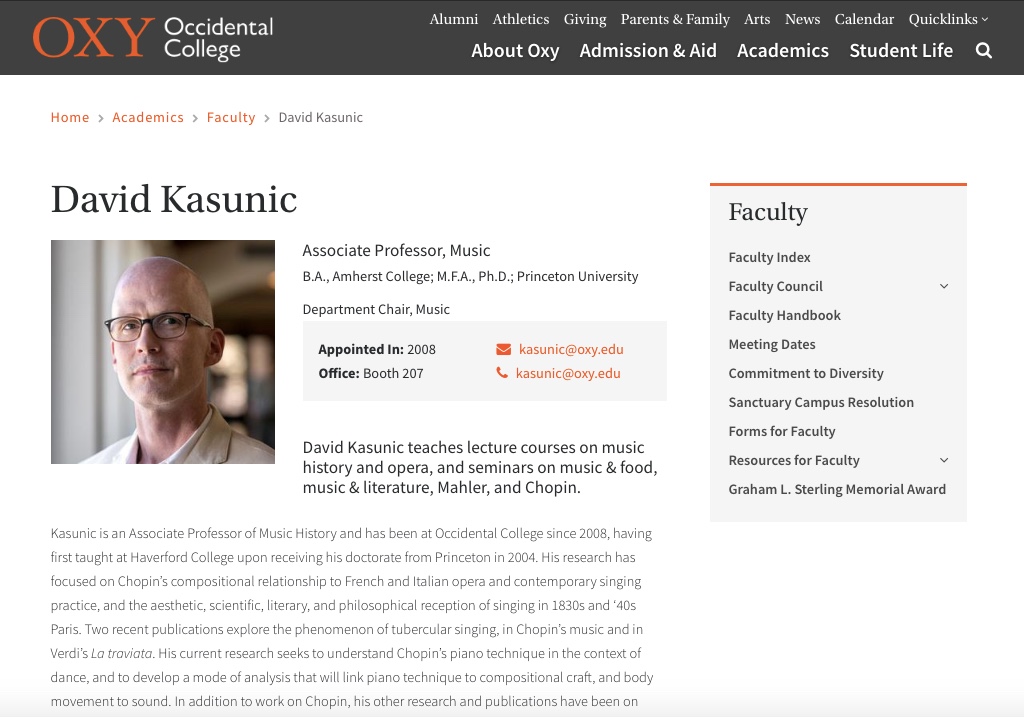 Examples of faculty profiles: 
To add a new individual faculty profile page
If you need to add a profile for any new faculty in your department please contact the dean's office.
To edit an individual faculty profile page
With permission from the dean's office, the web team can update the following fields for you:
Steps
When logged in to the CMS, navigate to the individual faculty profile page your want to edit. Locate an individual faculty profile via the faculty index or your department people page.
Click on your name or a faculty member's name to go to their profile. 
Click the "Edit" link. If you do not see the option to edit please email the webteam to request an update to your permissions.
Prepare your image for the web. 
Need a new headshot? Please contact Marc Campos, college photographer.
Follow the "direct upload" image instructions.
Type or paste a brief bio (1-2 sentences) into the intro copy field.
Type or paste your body copy into the body copy field.


Suggested content:

​​​​​​​

long bio
list of courses usually taught (Keep this general! Do not include specific semester or year.)
research interests
publications


If desired, type an optional quote into the Quote field. If populated this text will display instead of your intro copy when your profile is pulled into the Meet Our Faculty rotator on academic department homepages.

Type or paste any contact information you want to share in the Contact fields. The following fields are available (all are optional):

Office (building and/or room number)

Office hours (use abbrefiations, e.g. T/Th 2-4pm

Email address

Phone number

Website name and URL