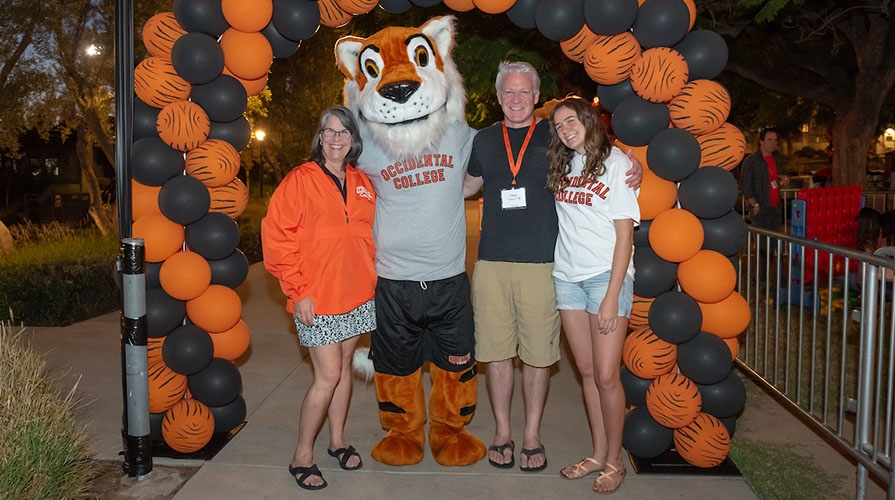 Oxy provides a variety of opportunities for parents to be involved in and support the mission and priorities of the College. We encourage you to connect with us to continue to enhance the Oxy community!
Stay Connected
To ensure that you receive information, invitations, and updates, keep your contact information updated with the College. You may also email updates and general questions regarding your student's Oxy experience to parents@oxy.edu. Please do not use this email address for concerns or questions regarding an individual student's physical or mental health and wellbeing. The Dean of Students Office is available at (323) 259-2661 to offer support to students struggling with a variety of issues. If your student should seek emergency care, the Campus Safety Department should be contacted at (323) 259-2599.
Check out the monthly @Oxy Parent e-newsletter for happenings on campus and in a region near you.
Admission Volunteers
The Volunteers in Service of Tiger Admission (ViSTA) program gives parents and alumni the opportunity to connect with the College and to represent Oxy in discussions with prospective students, families and high school counselors. The time and nature of the commitment to the program is flexible in order to accommodate a wide variety of obligations and agendas. For more information, please contact Courtney Stricklin Burgan '03, Associate Dean of Admission, Manager of Volunteer Relations and Campus Visit Experiences.
Regional Event Support
You don't always have to come to campus to enjoy the best of Oxy. Throughout the year, be on the lookout for invitations for parents and family members to join fellow Tigers at regional Oxy events. If you're interested in helping plan events in your area, please consider joining a regional engagement committee. For more information contact Dana Brandsey '02, director of alumni and parent engagement. 
Internships
Since 2013, more than 250 students have successfully completed summer internships through Oxy's InternLA and OxyWorks programs. Every summer, 30-40 students have the opportunity to gain valuable work experience with a variety of organizations and companies throughout the Los Angeles area and across the nation. Students who obtain a summer internship through these Oxy programs participate in a tailored career advising program provided by Hameetman Career Center staff that includes career-development advisement networking events, workshops and touring employer offices. Participants also create  presentations to inform faculty, administrators and internships supervisors about their internship experience. Parents interested in partnering with the Hameetman Career Center to provide internships and/or funding to support InternLA and OxyWorks can contact Brigette Young at byoung2@oxy.edu.
Occidental College Women's Club
The Occidental College Women's Club (formerly Las Amigas) is an organization of parents, alumni, faculty, staff and friends, devoted since 1939 to the welfare of Occidental students and the College. Over the years the OCWC's endowed scholarship, largely funded by annual silent auction boutiques and quilt raffles, has grown to a market value of $2 million. Annual events include the Boutique during Homecoming and Family Weekend, the spring luncheon and quilt raffle drawing. To learn more visit the OCWC website.
Parents Council
The Parents Council (PC) is the principal parent fundraising body for Oxy Fund support. Comprised of current and past parents who understand the unique experience of having a student at Oxy, PC members work with Oxy Fund staff to build support for the College's programs and initiatives. As ambassadors of the College, PC members develop relationships with fellow parents to deepen their engagement with Oxy and encourage philanthropic contributions at or above the William Stewart Young Society level of $1,000. PC members lead by example in making their own leadership gift to Oxy, and raise awareness about how parent support impacts the student experience. For more information about the Parents Council, contact Jenna Aliya Hanson, associate director of the Oxy Fund, at jhanson2@oxy.edu or (323) 259-2567.
Philanthropy
Oxy has much to celebrate - an acclaimed undergraduate research program, world-class faculty, a robust Career Center and a stunning campus. Last year, over 2,000 parents came together to support these Oxy hallmarks. Parent philanthropy is essential to ensuring that an Oxy education provides students with the tools they need to excel, both personally and professionally, once they leave campus. On a small, intimate campus like ours, gifts of every size make a big difference. To learn more about making a gift to Oxy, or to join this generous community of parents with your own philanthropic contribution, please visit our giving page.