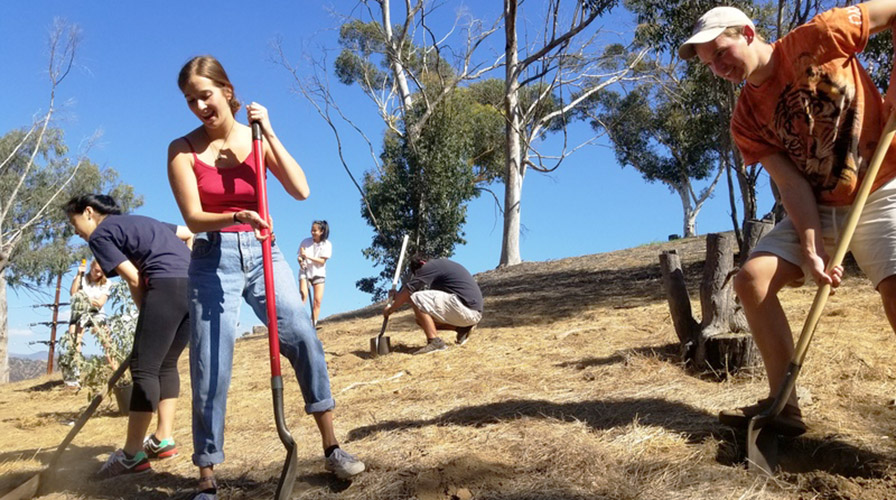 Join the call to protect our planet and future generations!
Each year, in the weeks leading up to Earth Day on April 22, Oxy departments and student groups partner to encourage action and participation in initiatives that focus on the urgent need for environmental protection and climate solutions. As the month approaches, check back to see what's being planned.
Events and Initiatives
EARTH DAY QUAD FAIR!!! 
Thursday, April 28 at 11:30-1:30pm
Join us for a (belated) day of festivities, workshops, free food, and tabling from all your favorite Sustainability Clubs on campus!  
LA Compost - No registration required
Thursday, April 7 at 1:30-3:30pm - FEAST Garden 
L.A. Compost is a non-profit community-based organization that aims to restore lost connections to the soil and one another. Their mission is to equip and empower people to reduce their food waste, compost at home or in the community, and promote healthy soils in LA. Cooperatively with a diverse network of partners within LA County, we co-create spaces for local compost access and engagement, regenerative practices, and community empowerment. Join Michael Martinez Founder and Executive Director of LA Compost at the FEAST Garden for an overview of "Compost Basics" and a discussion on the state of composting in LA.
All About Waste with Denise Braun - No registration required
Monday, April 11 at 4:00-5:30pm - Keck Tent 
As the head of All About Waste, Denise Braun has led her team in performing waste audits for over 40 million square feet of buildings in the US. Denise has presented at numerous lectures, workshops, and conferences, including MGBCE, ULI, and other conferences. She has also been involved with numerous charitable causes related to the environment since 2001. Denise was part of the Living Building Challenge Los Angeles Collaborative steering committee for two years, where she was responsible for the Zero Waste Forum. Denise sits as a USGBC-LA Board Member and at the LA Metro sustainability committee. She also serves as a zero waste and circular economy expert for the LEED MR TAG (Material and Resources technical advisory group). 
Howie Hawkins - Register here
Tuesday, April 12 at 11:30-1:00pm - Zoom Webinar
Howie Hawkins is a retired Teamster in Syracuse, New York who has been active in movements for civil rights, peace, labor, and the environment since the late 1960s. He was a co-founder of the Green Party in the US in 1984 and the party's candidate for President in 2020. Hawkins will be speaking about climate activism, political organizing, and the power of students to create change. 
Kiss the Ground Film Screening - No registration required 
Wednesday, April 13 at 7:00-8:30pm - Cooler Lawn
Narrated by and featuring Woody Harrelson, Kiss the Ground is an inspiring and groundbreaking film that reveals the first viable solution to our climate crisis. Kiss the Ground reveals that, by regenerating the world's soils, we can completely and rapidly stabilize Earth's climate, restore lost ecosystems and create abundant food supplies. Using compelling graphics and visuals, along with striking NASA and NOAA footage, the film artfully illustrates how, by drawing down atmospheric carbon, soil is the missing piece of the climate puzzle.This movie is positioned to catalyze a movement to accomplish the impossible – to solve humanity's greatest challenge, to balance the climate and secure our species future.
ARCCS Presentation - No registration required
Thursday, April 14 at 11:30-12:30pm - Fowler 202 
A Rainwater Collection and Cleaning System (ARCCS), aims to help increase the efficiency of Occidental's solar array, which was initially installed in 2013, by creating a process using filtered tap water to clean the dust off of the solar panels, according to Mara Kristiansson (senior), a student worker on the project. ARCCS is managed by Kristiansson, physics professor Daniel Snowden-Ifft and economics professor Bevin Ashenmiller. Join us for a talk by student workers Mara Kristiansson and Cole Lewis explaining the project, its progress, and future steps.
Finding Our Way Home with Fungi w/ Aaron Thompson - No registration required
Thursday, April 14th from 1:30-3:30pm - FEAST Garden
How can the teachings of fungi help us heal our broken relationship with the land? Fungi have a historically impressive record when it comes to relationships and the land. For millions of years they have cultivated relationships with algae through evolution to form plants and life on land as we know it. To this day, fungi sustain all of the life we depend on for food, materials, and medicines. Fungi can offer us insight on how life works from the view of ecology — the scientific study of the interconnected relationships of living things. Perhaps from this fresh perspective, we can learn how to work with fungi, and their relationships, to live responsibly on a damaged planet. Join us and Aaron Thompson from the Los Angeles Mycological Society to learn all about fungi! 
Winona LaDuke, a Phi Beta Kappa Speaker - No registration required 
Thursday, April 14 at 7:00-8:30pm - Choi Auditorium
Winona LaDuke is the co-founder and program director of Honor the Earth, the only Native organization that provides both financial and organizing support for Indigenous environmental initiatives. A Native land rights activist, LaDuke also founded the White Earth Land Recovery Project, an award-winning grassroots organization dedicated to land recovery, preservation and restoration for the Anishinaabe people in Minnesota. She works with the Anishinaabeg to revive traditional practices and protect Indigenous plants and heritage foods from patenting and genetic engineering. Event is free and open to the public. Proof of vaccination is required. 
Hollywood Farmers Market Trip - Register here
Sunday, April 17 and 24th at 9:30-12:30pm 
The Hollywood Farmers' Market, founded in 1991, was one of just a few farmers' markets in all of California when it opened for business on May 5 of that year. It became an immediate success – bringing together farmers and producers from as close as Ventura County and as far away as the Central San Joaquin region. Join us for two trips to the market and $10 vouchers for those who need it. 
SolarPunk Park Trip - Register here
Thursday, April 17 at 1:15pm-4:00pm 
SolarPunk Park is a creative space in Los Angeles that hosts creatives, entrepreneurs, educators, and environmental experts so that they can work together to build a SolarPunk world. Most of you may be familiar with "CyberPunk," that digital world aesthetic that seems more dystopian than anything else. "SolarPunk" is CyberPunk's angelic twin that is a beautiful envisioning of a world where technology, nature, and individuals are all in balance. SolarPunk Park is a natural space for creative leaders in art, music, business, environmentalism, and technology to come together and collaborate on projects that contribute to creating a SolarPunk World. All of us are aware of our society's current state, and we must work together and harness the power of culture, environmental well-being, health, and technology to change its course to something universally healthy and creative. Join us for a field trip with free lunch to the Solar Punk Park for a talk, tour, and a safe space to imagine and create. 
South Central Farm Documentary Screening - No registration required 
Thursday, April 19 at 6:00-7:00pm - TBD
A PBS documentary in the Emmy Award Winning Natural Hero's series. This is the struggle to save the South Central Farm in Los Angeles. The hero is the farm. Many struggled to save it. Includes: commentary from the owner of the land, Daryl Hannah, Martin Sheen, Willie Nelson, Tom Morello, Don White, Tezozomoc, Jerry Rubin, Mike Feinstein, Joan Baez, John Quigly, Julia Butterfly Hill, and many others. With additional footage by Daryl Hannah and Haskell Wexler. Produced by award winning PBS & Sundance filmmakers Sheila Laffey and Geoffrey Pepos. Join us for a panel with Alberto Tlatoa and Sandra Luna about the farm and discover why Land Access is Food Justice. 
Chickens 101 - No registration required 
Thursday, April 21 at 1:30-3:30pm - FEAST Garden
Come meet the FEAST hens and learn the basics of backyard chicken keeping with Lauren Uy '22 and other student workers!
Plant Walk with Prof. Gretchen North - No registration required 
Thursday, April 21 at 11:30-12:30pm - Sycamore Glenn 
Come one, come all! Join Biology Professor Gretchen North for a tour of the native plants around our own campus on Thursday, April 21. Oxy's campus is full of wonderful life, and nobody knows our plants better than Professor North! We will be walking around campus and up to Mount Fiji exploring and learning about all of the different native species that surround us every day. 
Hand-Mending Workshop - No registration required 
Monday, April 25 at 4:00-5:30pm - TBD 
Learn creative mending techniques and turn a tear or hole into a piece of art. Students will be repairing their old clothes while adding newfound flair to pieces simultaneously. Bring something to mend! 
Let's Talk About Bees! w/ Bruce Steele '71 - No registration required 
Thursday, April 28 at 1:30-3:30pm - FEAST Garden
Learn about bees with the famous Environmental Health and Safety Manager Bruce Steele ('71)! 
Loreto Elementary School Garden Workday - No registration required 
Saturday, April 30 at 9:00-12:00pm - Loreto Elementary School 
(3408 Arroyo Seco Ave, Los Angeles, CA 90065)   
Join the LA Master Gardeners School Garden  cohort to work on a garden at the Loreto Elementary School. Students will need to provide their own transportation.  
---
In 2020, we published an online Earth Day magazine highlighting Oxy's sustainability initiatives and student eco-inspired art. See and read about efforts led by our own environmental activists and educators.
---
Learn more about Sustainability at Oxy or contact sustainability@oxy.edu