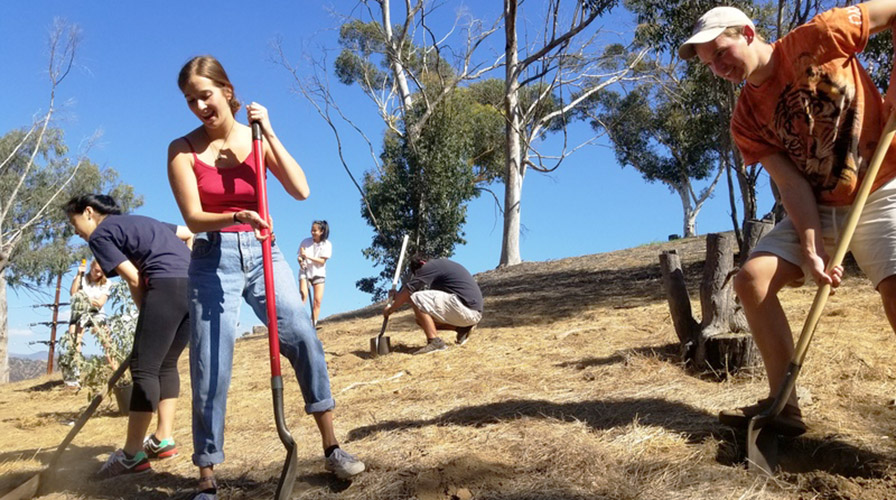 Join the call to protect our planet and future generations!
Each year, in the weeks leading up to Earth Day on April 22, Oxy departments and student groups partner to encourage action and participation in initiatives that focus on the urgent need for environmental protection and climate solutions. As the month approaches, check back to see what's being planned.
Film Screenings
This Land with talk from Associate Producer Addie Thompson on April 8th from 12:30 to 1:30 pm PT
The film follows runner and advocate Faith E. Briggs as she runs 150 miles through three U.S. National Monuments that lay in the thick of the controversy around public lands. It is a story about land access told through a journey of inclusion and empowerment. Associate Producer Addie Thompson will give a talk following the screening.
Addie Thompson has built her career around storytelling: first with Ashoka, amplifying leading social entrepreneurs, and later with Patagonia and Nike, working to craft and execute some of the brands' most prominent sustainability and social impact campaigns. She currently leads communications for a team at the United Nations Development Programme, elevating Indigenous communities on the frontlines of climate action. Growing up in Maine instilled Addie with a love of outdoor spaces, a love that has only continued to grow through the years of trip leading, ultrarunning and climbing. In addition to a WFA and WFR cert, Addie holds a BA from Brown University and a MPA in sustainability and climate policy from Columbia University.  
Zoom link: https://occidental.zoom.us/j/88237337097 
Meeting ID: 882 3733 7097 
Passcode: 206714
More information and registration link: https://occidental.zoom.us/meeting/register/tZwvdO6rrTwqE9POgWxErnm-hEXKBN6xC1AI 
Trailer: https://vimeo.com/365153898 
---
Kiss the Ground (date/time TBD)
Narrated and featuring Woody Harrelson, Kiss the Ground is an inspiring and groundbreaking film that reveals the first viable solution to our climate crisis.
Kiss the Ground reveals that, by regenerating the world's soils, we can completely and rapidly stabilize Earth's climate, restore lost ecosystems and create abundant food supplies. Using compelling graphics and visuals, along with striking NASA and NOAA footage, the film artfully illustrates how, by drawing down atmospheric carbon, soil is the missing piece of the climate puzzle.
This movie is positioned to catalyze a movement to accomplish the impossible – to solve humanity's greatest challenge, to balance the climate and secure our species future.
Trailer: https://youtu.be/K3-V1j-zMZw 
---
Gather (asynchronous viewing), link coming soon
Gather is an intimate portrait of the growing movement amongst Native Americans to reclaim their spiritual, political and cultural identities through food sovereignty, while battling the trauma of centuries of genocide.
Gather follows Nephi Craig, a chef from the White Mountain Apache Nation (Arizona), opening an indigenous café as a nutritional recovery clinic; Elsie Dubray, a young scientist from the Cheyenne River Sioux Nation (South Dakota), conducting landmark studies on bison; and the Ancestral Guard, a group of environmental activists from the Yurok Nation (Northern California), trying to save the Klamath river.
Trailer: https://vimeo.com/428548755 
---
In 2020, we published an online Earth Day magazine highlighting Oxy's sustainability initiatives and student eco-inspired art. See and read about efforts led by our own environmental activists and educators.
---
Learn more about Sustainability at Oxy or contact sustainability@oxy.edu