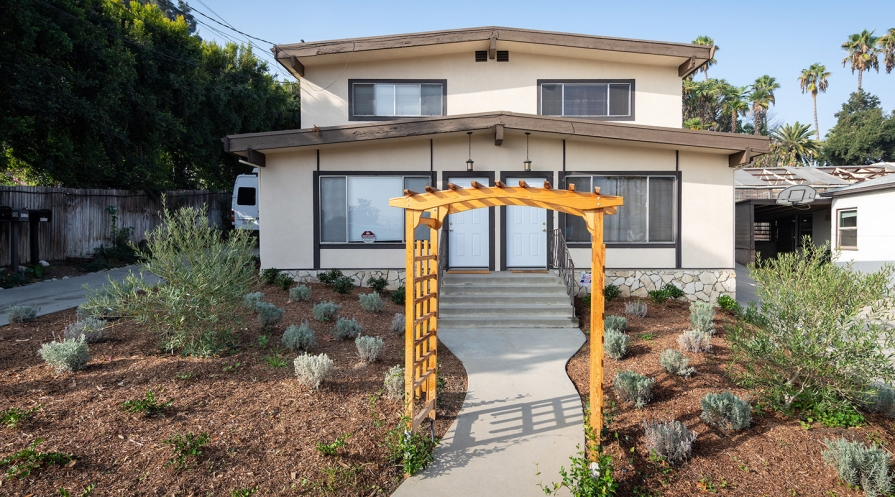 Near campus, on the other side of York Boulevard, a new community is forming. In Spring 2019, Occidental welcomed the first wave of student veterans with affordable housing, a return to its World War II roots.
Transitioning out of the military can be hard. For many student veterans, going back to school means more than just focusing on academics, it's also about trying to make ends meet. This is why Oxy, thanks in large part to the generosity of donors, has invested in affordable, off-campus housing that accommodates veterans' unique needs and life circumstances.
With a view of Toland Way Elementary School across the street—and Solar Hill and the majestic San Gabriel mountains in the distance—stands a fully renovated duplex with an attached back studio apartment. Behind that structure is the Main House, featuring additional living spaces plus communal areas for special events and hanging out.
The housing complex is designed to provide community and a sense of place for Oxy's veterans, and as more units are renovated, Oxy will welcome an even more diverse community of vets and their families. Nathan Graeser, the director of Occidental's Veterans Program, leads the initiative and his office is located on the property. "I think most veterans will be surprised at what a truly life changing experience a liberal arts education at Oxy can offer."
Veterans Housing History
In 2018, Occidental finalized the purchase of five housing structures on a sprawling, lushly vegetated property on Toland Way, about a mile west of campus. The purchase was made possible through the Ahmanson Foundation, and the labor and commitment of Professor Woody Studenmund, Occidental Trustee Emeritus Jack Samuelson '46 (a veteran), and his son Reid '72, an Occidental Boardmember, continues to breathe life into the property.
But the idea of veterans housing at Oxy is not new. The end of WWII meant a huge influx of enrollment due to returning soldiers. The preponderance of veterans on campus, some of whom were married with small children, created a need for veteran-specific housing. Starting in 1947, functional family units were constructed on the southeastern border of campus.