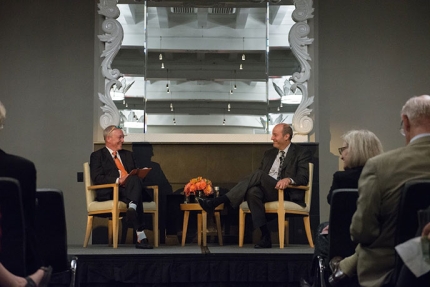 A Memorable Visit to D.C.
I'm grateful to Ted Mitchell, Occidental president emeritus and former under secretary of education under President Barack Obama '83, for joining me in Washington, D.C. recently for what as billed as a "fireside chat" about the current state of higher education in general and the liberal arts in particular. Given the setting, it's not surprising that the conversation turned to the importance of higher education, as Ted put it, in the creation of a thriving, diverse democracy. That, in turn, eventually led to Oxy's new Barack Obama Scholars program, a full four-year scholarship program aimed at talented students from all backgrounds who have a demonstrated commitment to the public good. It's a wonderful way to honor President Obama's legacy — not in a partisan way, but as a means of creating citizens writ large, regardless of their political beliefs. 
DC Fireside Chat with President Jonathan Veitch and President Emeritus Ted Mitchell from Occidental College Alumni on Vimeo.