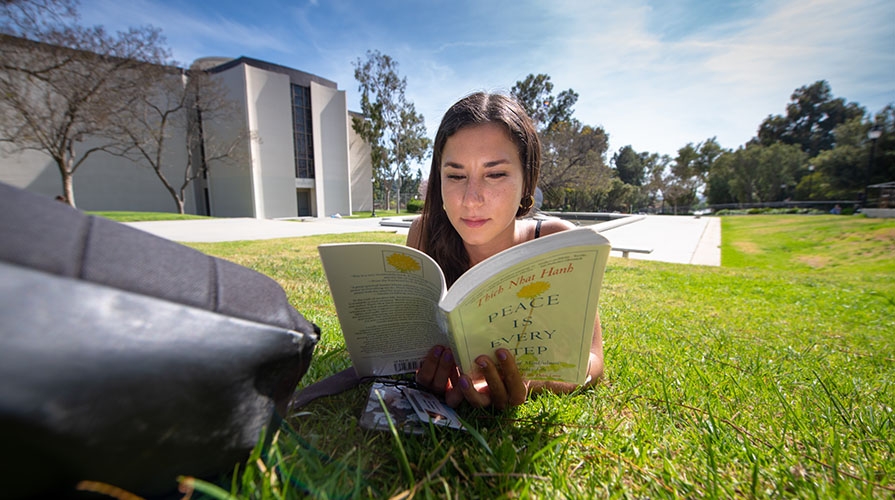 The Community Book Program promotes the mission of the College by empowering our students, faculty, staff, alumni, parents, and other members of the broader Oxy community to experience the joy of reading and learning together.
The College will purchase an e-book for each student wishing to participate. The book is required Core Program Summer Reading for first-years.
2022-23 Theme: "Equity"
Steph Cha's Your House Will Pay has been selected as this year's Community Book. Winner of the Los Angeles Times Book award, Cha's 2019 powerful novel about racial tensions in LA follows two families—one Korean-American, one African-American—grappling with the effects of a decades-old crime based on the actual death of Latasha Harlins. Cha weaves a compelling story about how this traumatic event affects both families involved as well as the entire Black and Asian communities in Los Angeles by depicting events in 1991 and in 2019.
Steph Cha is the author of Your House Will Pay, winner of the Los Angeles Times Book Prize and the California Book Award, and the Juniper Song crime trilogy. She's a critic whose work has appeared in the Los Angeles Times, USA Today, and the Los Angeles Review of Books, where she served as noir editor, and is the current series editor of the Best American Mystery & Suspense anthology.
Read full message from Dean Sternberg
Watch a recording of the Aug. 8 conversation between President Elam and Steph Cha:
---
2021-22 Theme: "Oxy Reads Together"
Heather McGhee's
The Sum of Us: What Racism Costs Everyone and How We Can Prosper Together
has been selected as this year's Community Book. A nonfiction title published in February 2021,
The Sum of Us
is quickly receiving excellent reviews and national attention. McGhee argues forcefully that racism hurts everybody and that the way forward is by building multi-racial collaborations and coalitions, resulting in a "solidarity dividend."
Heather McGhee is an expert in economic and social policy and contributor to NBC's Meet the Press, McGhee currently chairs the board of Color of Change, the nation's largest online racial justice organization. She holds a BA in American studies from Yale University and a JD from the University of California at Berkeley School of Law.
Read full message from Dean Sternberg
---
2020-21 Theme: "One College, One Book"
President Harry Elam chose Oxy's first community book:
Red at the Bone: A Novel
(New York: Riverhead Books, 2019) by Jacqueline Woodson. From the dust jacket: "As it explores sexual desire and identity, ambition, gentrification, education, class and status, and the life-altering facts of parenthood,
Red at the Bone
most strikingly looks at ways in which young people must so often make long-lasting decisions about their lives – even before they have begun to figure out who they are and what they want to be."
Jacqueline Woodson is the best-selling author of more than two dozen award-winning books.  She is a four-time National Book Award finalist; a four-time Newbery Honor winner; a two-time NAACP Image award winner, and a two-time Coretta Scott King Award winner.  Her New York Times-bestselling memoir, Brown Girl Dreaming, received the National Book Award in 2014.
Related News Article (Aug. 24, 2020)
---
Program Goals
Through thoughtful selection of book titles and innovative and inspiring programs, the Community Book Program (CBP) provides an intellectually engaging and rewarding experience for the entire Oxy community. The CBP furthers current students' academic success and excellence, while supporting lifelong learning for all of our community participants. To that end, we seek to:
Create a strong and meaningful sense of community and common purpose among our diverse Oxy constituencies
Foster a close relationship between Oxy's curricular and academic programs and our broader community
Inspire and encourage participants to read, learn, and engage with other Oxy community members in stimulating educational pursuits
Select a book title each year that is closely aligned with the college's mission and that will have broad appeal to our entire community
Provide a series of topical and engaging remote and in-person educational programs that are designed to stimulate thought, conversations, and further intellectual engagement among our community members